Welcome to the Victoria's Secret Fashion Show jungle, where just for the night, you suspend all doubt and live in a fantasy world. You might think that sounds like total BS, but it's not. I sat just three rows away from last year's VS runway and was completely mesmerized by what unfolded right before my eyes. As a fashion editor, I've watched plenty of models stroll down catwalks, but this was nothing like that. Instead of a designer debuting his Spring '17 collection, world-famous supermodels were debuting impeccably crafted lingerie, which, in reality, looked a lot more costume-like than you'd imagine. (Seriously, I'm not sure how Adriana Lima and Alessandra Ambrosio, two Angel veterans, have gone so many years without missing a step, lugging those hefty wings behind them.) But my biggest takeaway, having experienced the taping of the spectacle so many people enjoy watching on TV, was this: the VS Fashion Show is not real life. Recently, there's been an industry push for model diversity we saw a handful of curvy women take the runway during Fashion Month, and it seems like the Internet's in uproar every time a model comes out with the sad truth that she was rejected from yet another gig because of her size.
But at the Victoria's Secret Show, we embrace the bombshell, ignoring, for a second, that other body types exist because, simply put, you won't find them here. Perhaps it's because the Angels have become known for their figures we see them so often in cheeky ads and catalog product shots. It's not that their signature looks seem attainable when you're immersed in this fantasy world; it's just that somehow they feel right. In the moment, we accept their perfect curves, tanned skin, and long, flowing hair not as a standard we can imagine living up to, but as the fulfillment of a role. The Angels are like characters in your favorite movie you expect them to look the same whenever you go back and rewatch. Looking back with a fresh mind, I believe there are eight major reasons I slipped into Victoria's Secret's land of make-believe the evening I attended the show eight instances when I was blinded by the illusion of perfection that, at the time, seemed so plausible. Read on to learn why it was impossible for me to resist the magic as I sat on the sidelines, an innocent VS newbie.
1. The Models Look a Lot Like High-Fashion Runway Models, but With More Makeup and Sexier Outfits
Even though the models who walk the runways at Fashion Week are dressed and beautified to portray a very specific look one that speaks to the designer's collection they're all still gorgeous. At this point in the game, many of them still have very small frames and boast unattainable qualities, like height, for example. The Angels don't look all that different. In fact, they're only sprayed with more glitter and more makeup. When you're admiring their beauty, it's hard to take a step back and tell yourself the truth: these girls have their "Angel face" on. They're wearing costumes that lift their features in all the right places and cinch them just so at the waist. They've sat through countless hours of prep before taking the stage, too.
2. It Seems Impossible, but They Look Even Sexier at the Afterparty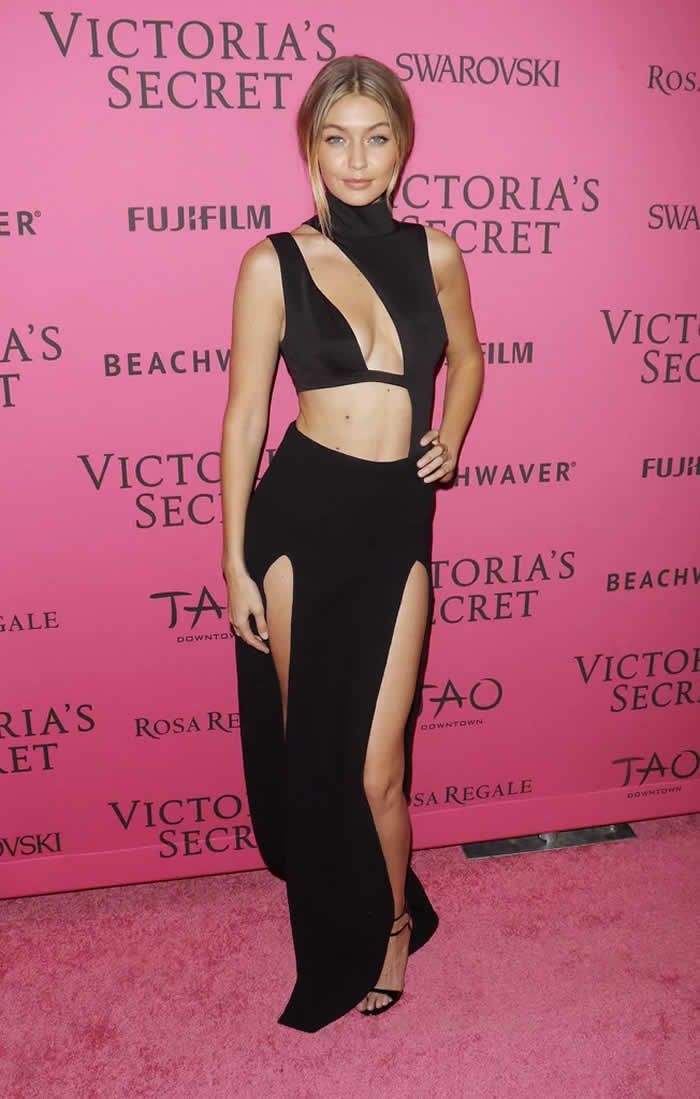 Gigi Hadid hit the runway in lingerie just like the rest of the Angels, but how strikingly sexy did she look on the pink carpet? The It girl paired a cutout high-neck House of CB bodysuit with a Sally LaPointe slit skirt and totally stole the spotlight. It was almost as if the afterparty was an extension of the show. Gigi flaunted an edgier outfit than the ones she wore on the catwalk, but the fact that she was standing in front of me, appearing just as flawless as I imagined her to be, confirmed what I always knew to be true: Gigi is hot whether up close or from afar.
3. The Angels Make Navigating the Stage in Heavy Wings Look Easy-Breezy
The wings, gadgets, and long capes the models wear on the runway are just as big, if not bigger, than they appear on television. These ladies need their core strength to slip them on, and then to interact with the performers on stage. Plus, there's the added pressure of making it to the end of the catwalk in order to twirl around and blow a kiss. You'd think that, at the very least, these ladies would lose their smiles, but they've perfected the art with grace.
4. The Evening Celebrates the Most Iconic Angels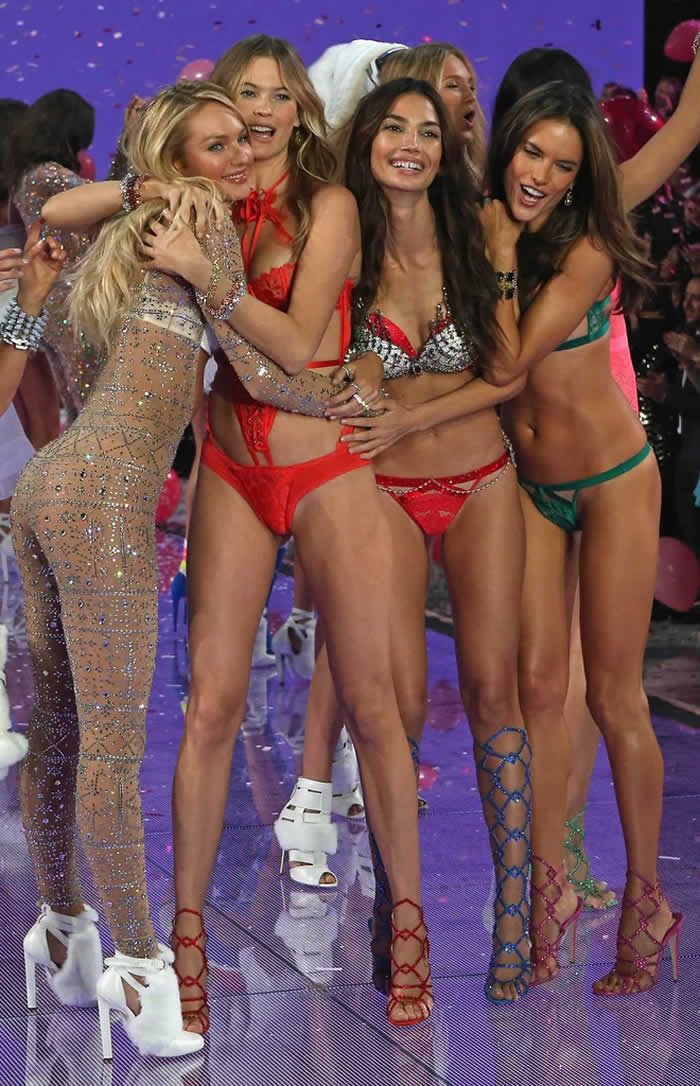 Even though everyone welcomed new VS models Gigi Hadid, Kendall Jenner, and Rachel Hilbert to the stage with open arms, veterans like Candice Swanepoel, Behati Prinsloo, Lily Aldridge, Alessandra Ambrosio, and Adriana Lima were especially celebrated. During the finale, they led the pack, emerging from backstage first and rejoicing in their hard work, which extends throughout the year. These women have become the faces of Victoria's Secret, and there's something about seeing them pull off the same routine each season for 10 or more years that seems almost too good to be true. How can they all look just as fierce, just as sexy, just as young as they did when they made their VS debuts so long ago? Even more inspiring is how friendly everyone appeared to be. Somehow, these supermodels don't compete against one another, even though they're working in an industry that, in reality, is so very competitive.
5. The Crystal-Covered Bras and Panties Are Mesmerizing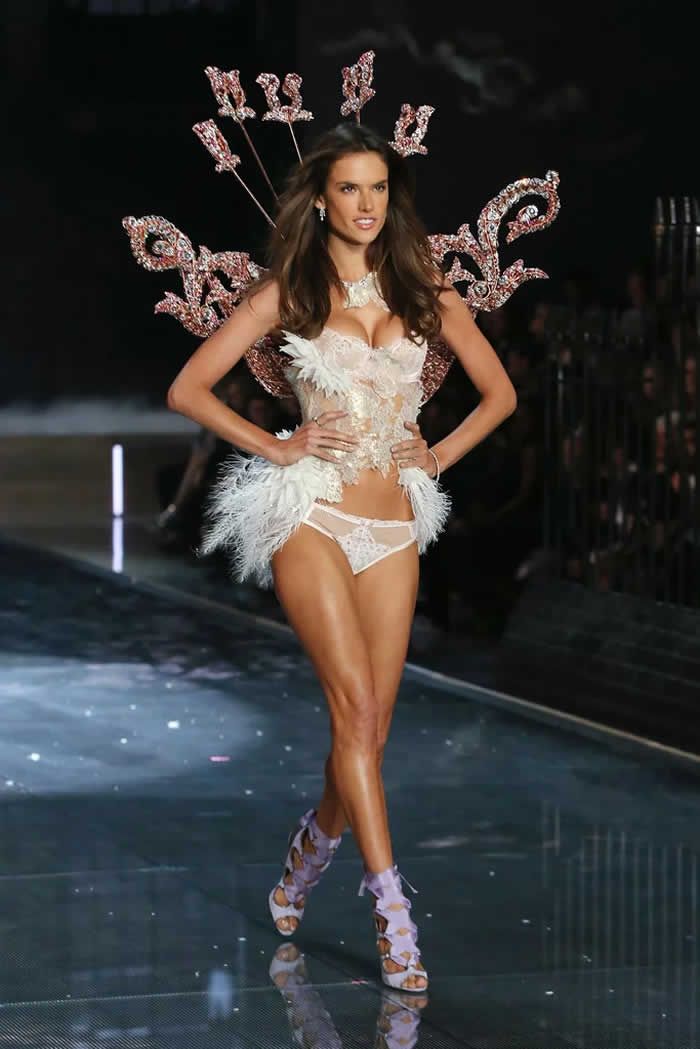 Leave it to models like Alessandra Ambrosio, who's been walking the VS runway since 2000, to nail the perfect strut. While all of the Angels have become personalities in their own right and industry leaders we love to follow when they hit the catwalk, they're there to show off their unique outfits. Finding out which look they're going to debut must be half the fun! They master their poses so that the photographers can capture every little detail on their lingerie, each crystal embellishment for all it's worth.
6. There's a Reason the Musical Guests Were Chosen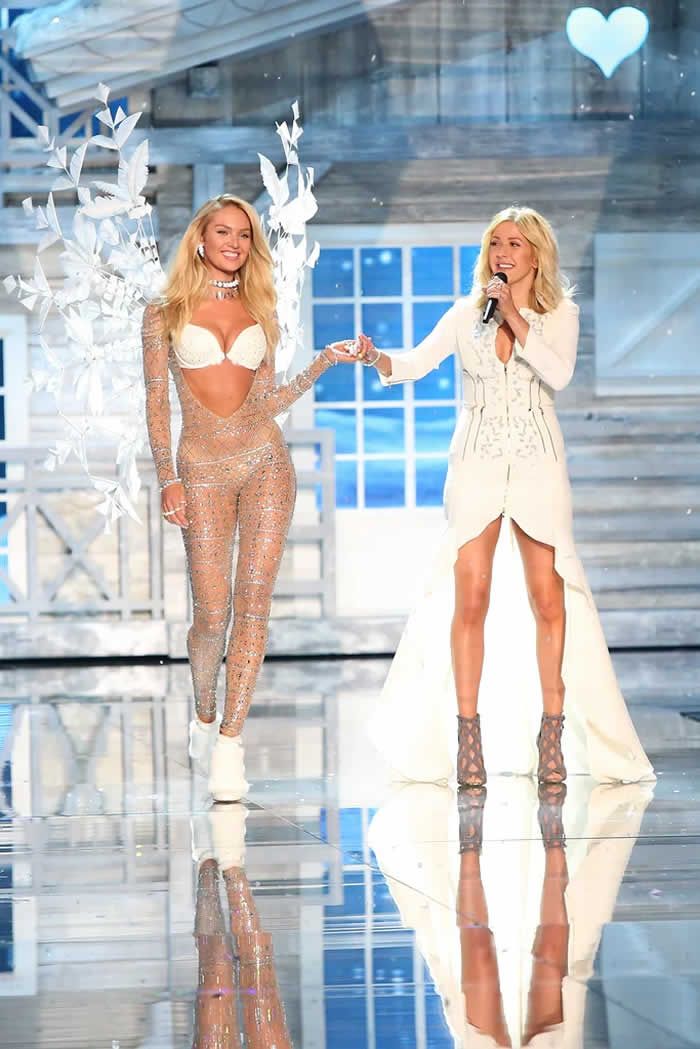 The performers are there for background music, which always complements the changing themes of the show. Even though everyone was super excited to hear Ellie Goulding, Selena Gomez, and The Weeknd belt out tunes, (seeing as that they are international pop stars), they were chosen for a reason. It's the lyrics in their songs and their distinctive melodies that coincide with the "mood" of the specific collection that's being shown, giving the show the flow it needs to feel like pure, candy-coated entertainment.
7. You Immediately Accept the Bombshell Body as "Normal"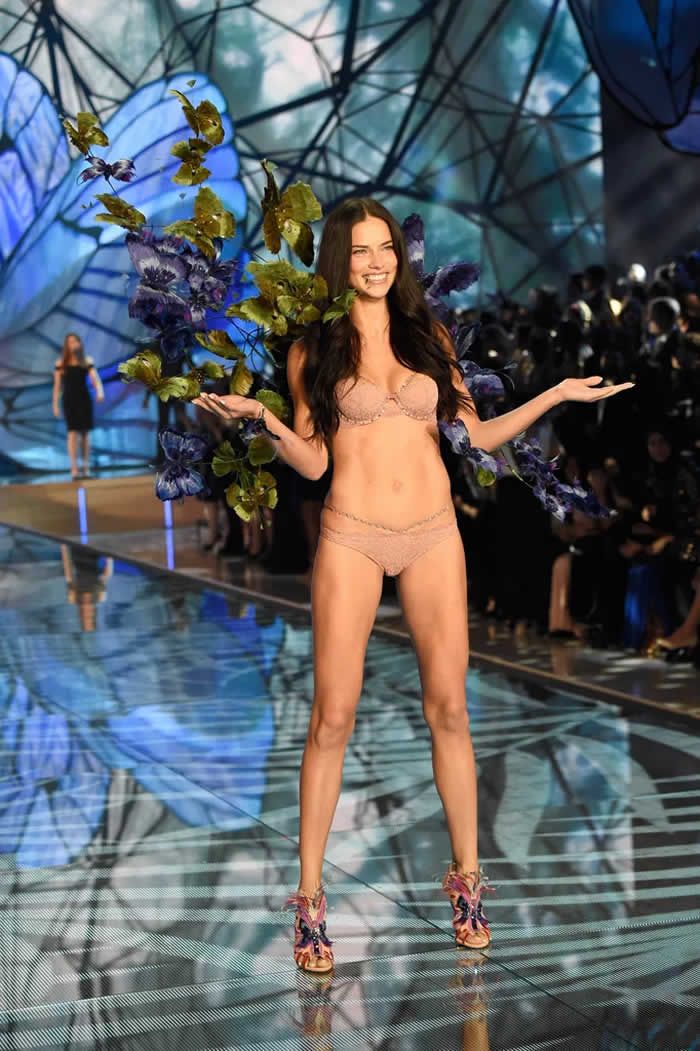 As a fashion editor who addresses body-image issues almost daily, I couldn't believe how easily I accepted the flawless figures on the runway. When the VS show rolls around, everyone seems to eat up the "bombshell" look, perhaps ignoring the mixed emotions they feel about industry standards and the push toward model diversity. Guilty as charged, I lived in the Victoria's Secret fantasy world. Just like I sometimes find myself admiring glossy retouched photos from magazines, which definitely do not depict reality, I kind of loved it.
8. Selena Gomez Is So. Friggin'. Hot
Unbelievably so. Like, hotter than I ever thought humanly possible and she was standing right before me! There was no screen between us! The second the lights flashed on and I took in her outfit and her curves and proceeded to watch her command attention on stage, I was hooked. Don't get me wrong I've watched plenty of Selena's music videos and always expected her to be stunning, but seeing her pull off a performance with ease in a strappy slitted gown was just as miraculous as watching the Angels maneuver their over-the-top costumes. Selena was a bombshell, too. In fact, there was no one at the show who wasn't. Looking all around me, I felt as though I was slipping into an inescapable fantasy. One where I became a #Selenator, accepted the Angels' beauty as the norm, and, as corny as it sounds, found myself hoping the night would never end. So maybe that's Victoria's secret.