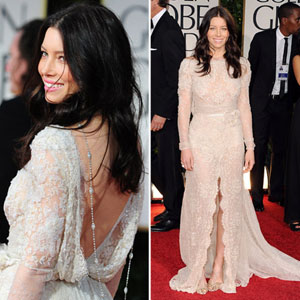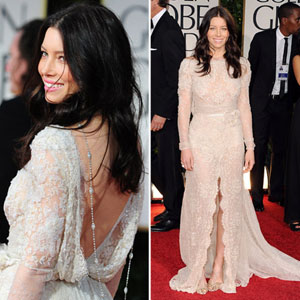 Jessica Biel was reportedly "showing off" the engagement ring given to her by Justin Timberlake on Saturday night (18.02.12).
Jessica Biel was reportedly "showing off" her engagement ring on Saturday night (18.02.12).
The '7Th Heaven' actress is set to wed 'SexyBack' singer Justin Timberlake, and while they are both notoriously private about their relationship, she was happy to flash her ring at a 'Saturday Night Live' after party in New York, after Justin had made a guest appearance on the show.
A source told UsMagazine.com:
"Jessica was showing off her ring."
Another partygoer added: "They were very lovey, Holding hands. They kissed a few times in front of the crew."
Justin, 31, is thought to have proposed to Jessica - whom he has dated on and off for four years - in
December during a pre-Christmas break in Jackson, Wyoming.
Although they are said to be in no rush to tie the knot, Justin's grandmother, Sadie Bomar, is very excited to welcome Jessica, 29, to her family.
She said: "Jessica is a very sweet girl, she's upright and everything and we love her.
"She's a wonderful campaigner for the environment and Justin is too, a fine young man. Jessica will be a lovely member of the family."