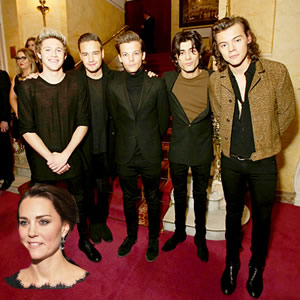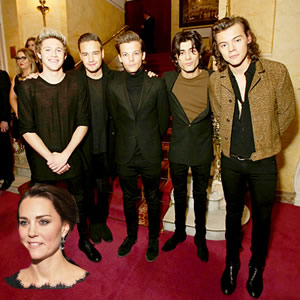 God save the Queen! At the Royal Variety Performance in London on Nov. 13, Princess Kate and Prince William met the other members of British royalty - One Direction.
All of the One Direction boys were looking dapper, but while Niall Horan, Zayn Malik, Louis Tomlinson and Liam Payne were clad mainly in black, Harry, 20, opted for the Cruella de Vil look he's been sporting lately - most notably in the video for "Steal My Girl" - in a leopard-print jacket.
We're pretty sure that we've never seen anything as royal and majestic as One Direction's Harry Styles shaking the hand of a pregnant Kate Middleton, looking every inch the princess in a Diane von Furstenberg gown.
Don't get it twisted - we're obsessed with Harry's longer locks and his more eclectic style.
Zayn wore a brown turtleneck under his black jacket, matching the color palette of Harry's leopard-print one. He also styled his hair in the Uncle Jesse-like style he's been favoring. Love. It.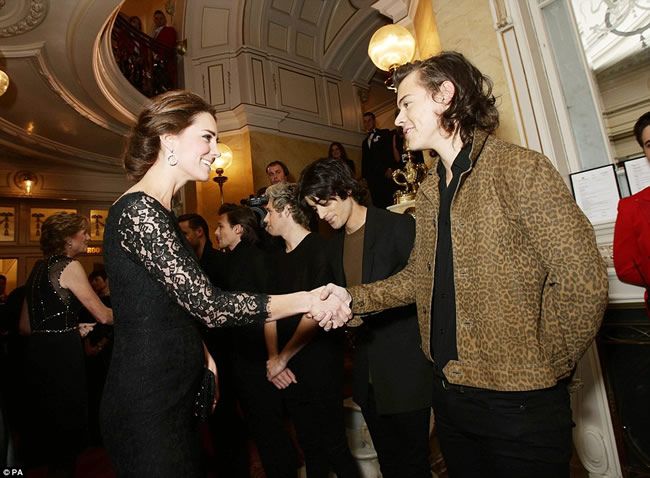 "I said congratulations on the bump," Harry told reporters about his introduction to Kate. "She didn't look bumpy," he amended.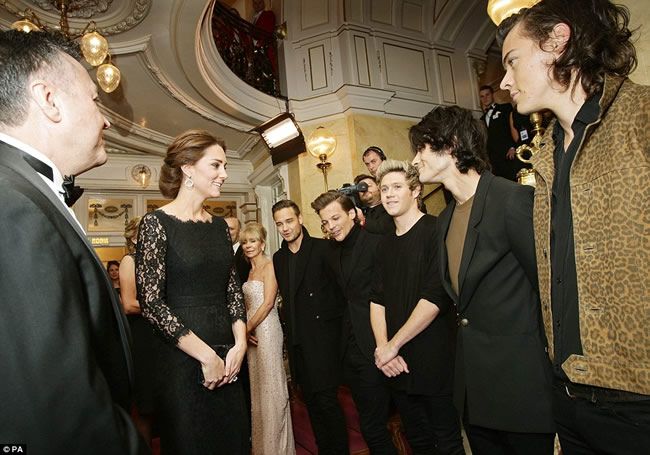 Meanwhile, Liam admitted that meeting Prince William made him "the most nervous I think I've ever been in my life!"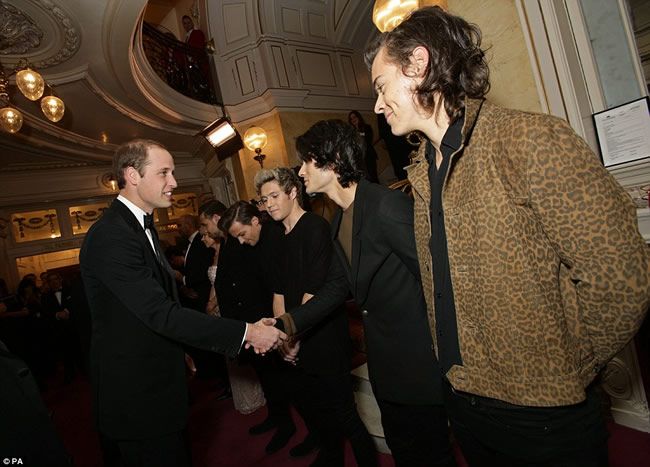 Louis panicked because he "didn't say ma'am. I said, 'Hi. How are you? I'm Louis.'" So sweet.
Prince William was dapper in a fitted black tux, while Kate's gorgeous lace gown was well-accessorized with diamond hoops and a black clutch. For her beauty look, Kate opted for a simple smokey eye and a low chignon.