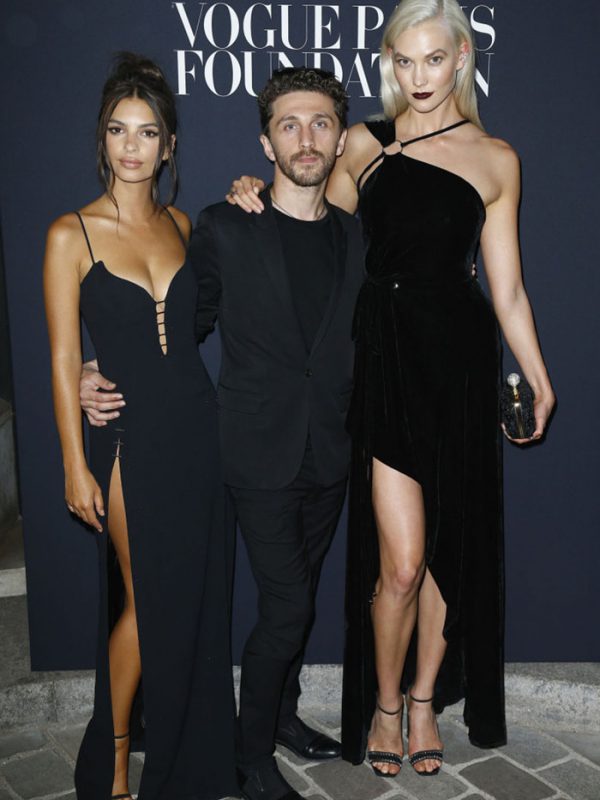 Kirsten Dunst, Tilda Swinton, Lewis Hamilton were among guests at the Vogue fund-raising dinner in favor of fashion museum Palais Galliera.
"Valerian" costars Cara Delevingne and Dane DeHaan were among the guests at the fourth edition of the Vogue Paris Fashion Fund dinner at the Palais Galliera, Paris' fashion and costume museum, alongside a chic crowd that included Rick Owens, Kendall Jenner, Olivier Rousteing, Victoire de Castellane, Julie de Libran, Anthony Vaccarello, Bella Hadid, Tilda Swinton and Kirsten Dunst.
Formula One driver Lewis Hamilton was only a flash in a red as he zoomed in just as guests were sitting down for dinner, followed by Kate Moss.
"Lewis Hamilton is here?" French actress Ana Girardot had asked earlier, looking around for the three-time Formula One champion. She seemed keen to ask him about the sport, as she is about to start filming a biopic on his predecessor, French racing driver Alain Prost.
"Wait, what's the day today?" Dunst queried, saying she felt a little jet-lagged since arriving in Paris, where she attended Dior and the show of her friends Kate and Laura Mulleavy of Rodarte.
While in Paris, the former Marie-Antoinette wasn't going for cake. The actress revealed her preference for a very French fare of rosé and a cheese board at La Palette, an iconic café-restaurant which she discovered while filming the historical drama a decade ago.
While "The Beguiled" is still fresh in all minds it netted its director Sofia Coppola a historic Palme d'Or at the 2017 Cannes Film Festival Dunst also stars in "Woodshock," a film written and directed by the Mulleavy sisters that hits theaters Sept. 15, as Theresa, a woman dealing with loss and mind-alteration.
"All I want is a glass of Champagne and to have some fun," exclaimed Bouchra Jarrar after Olivier Saillard lifted her up in a bear hug. She was enjoying the gentle glide into the holidays, a change of pace from previous years. is certainly much quieter than when I had my namesake house," the couturier, now helming Lanvin, said.
Fresh off her ANDAM win in the accessories category and with her haute joaillerie presentation on July 5 at the Ritz, jewelry designer Ana Khouri was not relaxing quite yet. "There is always a pressure because you're only as good as your last piece," the Brazilian-born Khouri said, revealing that she's considering opening a showroom and atelier in Paris. "But I'm rewarding myself by meeting up with my family in Puglia, then heading back to Brazil for a visit. I just want to absorb everything that's going. A lot of people contacting me, another phase."
Jewelry designer and man-about-town Elie Top had put the penguins back in the evening's "penguin suit" black tie dress code, showing off his vintage Sixties shirt studs and matching cufflinks figuring the flightless bird.