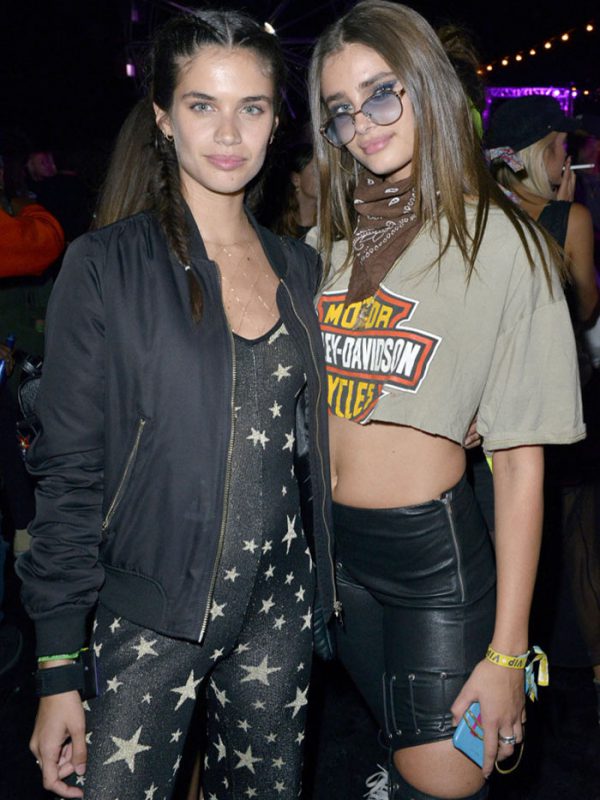 Leonardo DiCaprio, Rihanna, Aaron Paul, Alessandra Ambrosio, Diddy, and more celebrities were all spotted at The Levi's Brand Presents Neon Carnival with Tequila Don Julio event
Amped up by Saturday performances by the likes of Lady Gaga, Bon Iver and Gucci Mane, Coachella Valley Arts and Music festival partygoers continued their Bacchanalia streak at the Neon Carnival, sponsored by Levi's and Tequila Don Julio.
Thousands of revelers descended upon the Desert Resorts Airport in Thermal, Calif., for the DJ-helmed, no-holds-barred extravaganza, which lit up the desert skyline with its can't-miss Ferris wheel and amusement park rides.
The Brent Bolthouse-produced event, now in its eighth year, attracted a celebrity-filled crowd including Rihanna, Selena Gomez, Leonardo DiCaprio, Joan Smalls, Halsey, Alexander Wang, G-Eazy, The Weeknd, Drake, French Montana, Vin Diesel and Diddy.
A Tinder-themed matchmaker bumper car ride drew the likes of Taylor Hill and friends, while Alessandra Ambrosio and her pals hit the giant slide. Meanwhile, DNCE's Joe Jonas was spotted fueling up on pizza, following a day of party-hopping with girlfriend, "Game of Thrones" starlet Sophie Turner, including a stop at Republic Records and SBE's The Hyde Away.
Partygoers including Aaron Paul (one of the first arrivals of the night with his wife, Lauren), Scott Eastwood and James Franco, who all politely declined requests to be interviewed or photographed, took in the scene from their perch in the star-packed VIP bleachers, rubbing shoulders with the likes of former Coachella headliner Drake, who made an appearance after midnight with his entourage following a surprise performance with Future earlier that day.