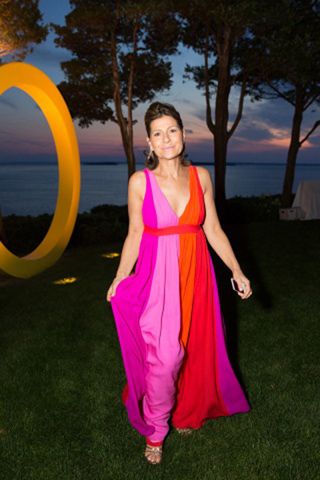 At Saturday evening's second annual Paddle for Pink event, which raised $1.2 million for the Breast Cancer Research Foundation.
At Saturday evening's second annual Paddle for Pink event, which raised $1.2 million for the Breast Cancer Research Foundation, the theme was taken very seriously. Gathered around the pool at Richard and Lisa Perry's North Haven abode, guests, like so many flamingos wearing shades of pink from ballet to magenta, perused the customized paddleboards available for auction. Some, such as Aerin Lauder and Martha Stewart, posed next to the boards they'd designed and even put their signature near the board's tail.
Stewart's ocean blue caftan offered a preview of what her trompe l'oeil woodgrain design would look like out on the sea, while Lauder's sunshine yellow shift matched the hue of her own custom board. Hannah Bronfman and Brendan Fallis held court on one of the lounge areas set up around the lawn, where Hilary Rhoda joined them, wearing a Lisa Perry top and skirt that echoed the color of her eyes.
Donna Karan chatted with Gabrielle Reece who, with her husband, surf great Laird Hamilton, was one of the special guests of the evening and guardian angel of the six-mile paddleboard race that had taken place that morning. Surprisingly, Hamilton did not win the competition but was the first to admit it.
"My objective in the paddleboard race was to support people and help them get through it. Trying to win is a selfish act, and today was about giving. I was the last one at the starting line, and I was the last one to come in." Why was the black-clad Hamilton not wearing pink? "You know for me, just putting a shirt on is dressing up, so I thought if everyone was wearing pink, I could wear black and kind of be a standout. Or stand alone."
Indeed. The rest of the party, including hostess Perry, were Bazooka bubblegum dreams. Perry even created a dress especially for the event, a paneled deep-V maxi dress from her eponymous clothing line. "I actually had this in our holiday look collection, with silver and bronze and different metallics, and I thought, Oh my gosh, I'm doing this dress in all these pinks, but then, of course, I had to add orange, mix it up a little bit." Another "guest" who infused orange with a medley of pinks? The breathtaking sunset over Noyack Bay; luckily, everyone in attendance had a front-row view.
source: vogue