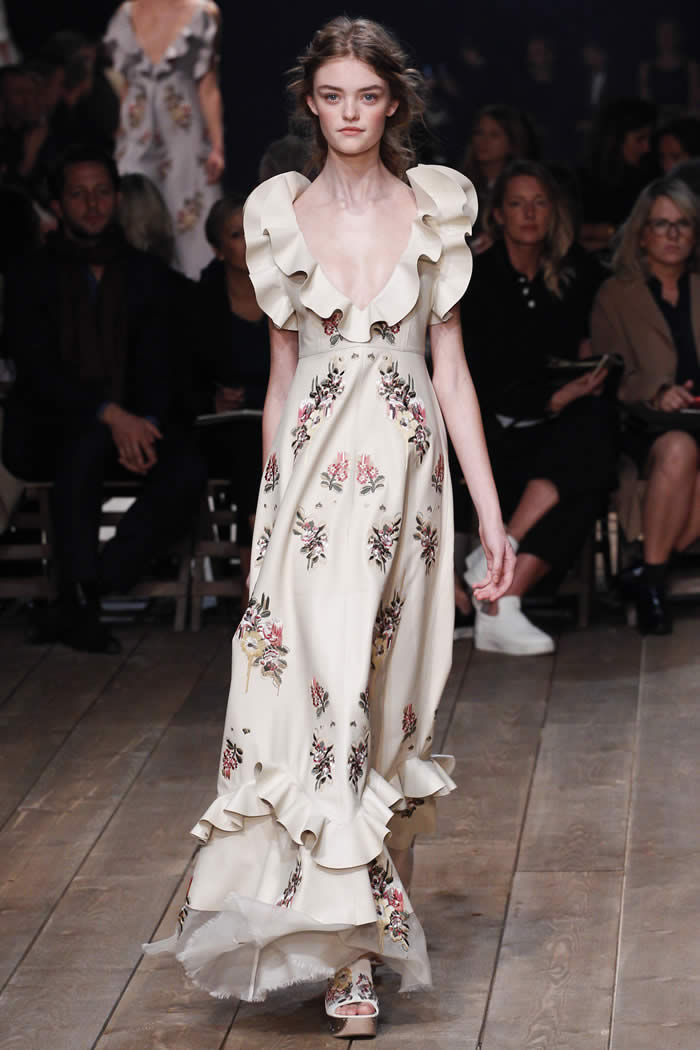 Alexander McQueen Collection for Paris Fashion Week Spring 2016
The collection was based on a reality from the distant past: the Huguenots, the persecuted French Protestant sect that fled France in the late 17th century and settled in Spitalfields in London. Many were trained silk weavers who brought their craft with them, eventually building Spitalfields into a stronghold of the silk industry. Burton paid homage to their artisan prowess, quite possibly outdoing it with couture-level shredded silk faille floral jacquard; silk taffeta with naturalistic floral fil coupe jacquards; embroidered leather, and French lace worked into tulle with patterns of doves and trellises of flowers woven in. Flowers were essential effects. Apparently, the Huguenots arrived in London with little more than bulbs and seeds in their pockets, planting them to grow inner city gardens.
Each look was special, but shout-outs go to the thin leather dresses scattered with Spitalfields-inspired flowers and sculpted ruffled necklines, and the two French lace gowns - one black, one white - mbroidered over with contrasting, large-scale lace doves, their wings spanning the length of the garment.
Though inspired by craft, techniques and people from long ago, the collection was of the now. The dresses were fluid with modernity. There were pants, too. Burton brilliantly tempered the flou with tailoring. Jackets and low-rider trousers were cut with drama yet ease of fit, and layered with the tough grandeur of harnesslike body jewelry made of thick chains and antiqued jewels. Nothing is more of our time than denim, which Burton presented briefly - two looks - featuring elaborately embroidered distressed denim that had been washed, taken apart, lavished in floral embroidery and reassembled. The denim, trousers and streetish white-soled flat shoes kept this dream of a collection in the real world.
For backstage gallery visit here