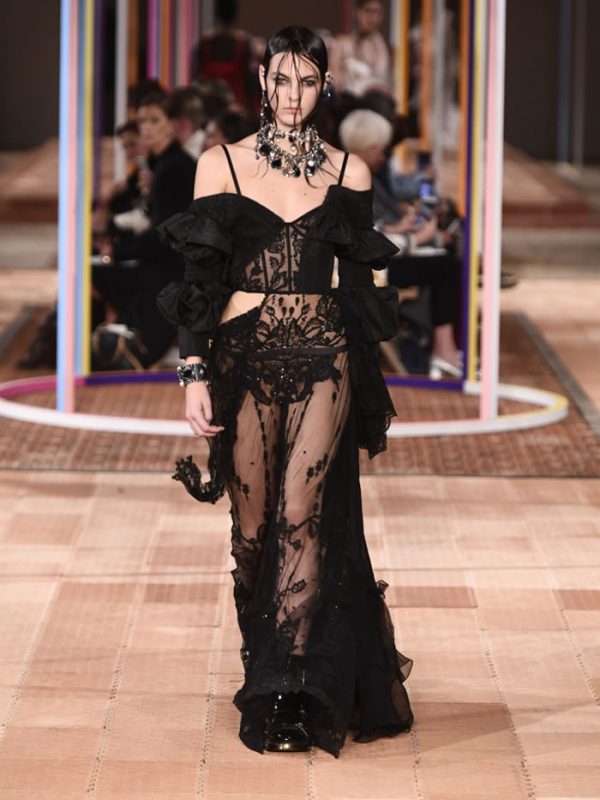 Designer Sarah Burton talked about her desire to deliver an optimistic collection. "So many terrible things happen in the world. We should celebrate people and fashion and creativity."
The fashion bubble. We all know what it means: that from right after Labor Day until whatever date in early October, our lives are consumed by fashion. Sorry, friends; life partners; kids starting school, whether pre-K or college, fashion takes priority, the most important thing.
Only we all know that that's not really true, that many things are far more important than fashion. Just ask anyone in the industry who was on the show circuit on Sept. 11, 2001. On Monday, a day of unimaginable tragedy in the U.S., Paris Fashion Week went on, the fashion throng assembling for the Alexander McQueen show as the Las Vegas death toll mounted. There's no good way to transition to a fashion review, but to not acknowledge the event feels wildly uncomfortable.
Backstage before her show, Alexander McQueen's Sarah Burton talked about her desire to deliver an optimistic collection, a notion expressed by a number of designers this season. "So many terrible things happen in the world. We should celebrate people and fashion and creativity," she said. "I wanted to celebrate beauty and femininity. I wanted to do an uplifting collection."