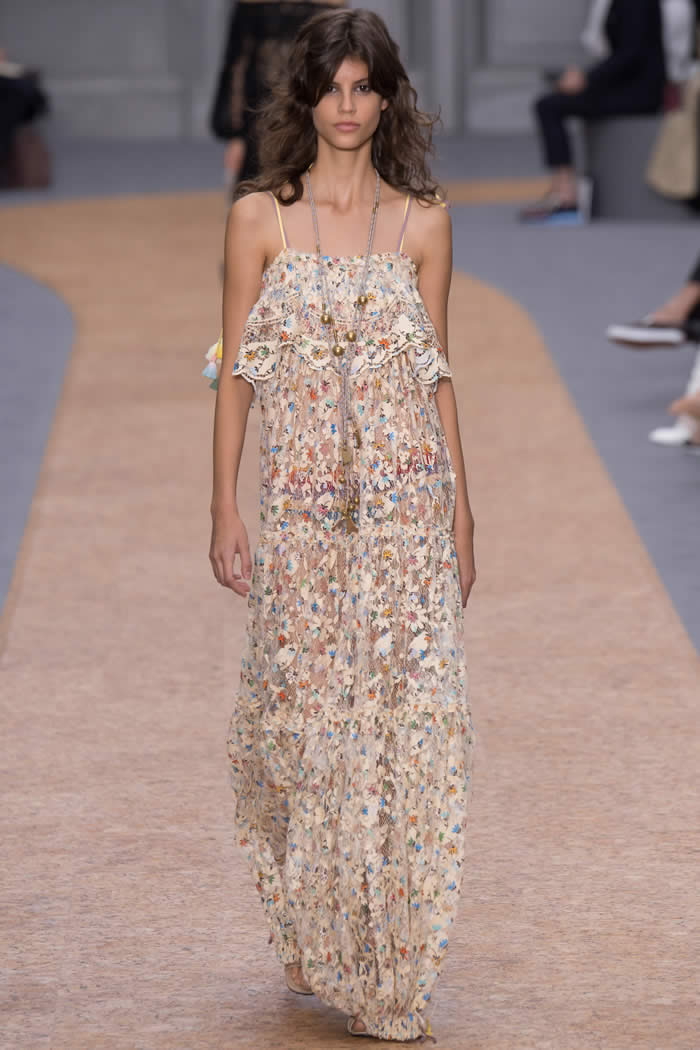 Chloe Collection for Paris Fashion Week Spring 2016
A large chunk of the collection used gentle rainbow stripes appearing down the side of white silk jersey track pants; on the ombre-tipped tiers of a floating, off-the-shoulder georgette dress; and in the soft, vertical georgette pleats that were gathered and suspended from drawstrings on a sweeping tank dress and enormous balloon pants strewn with multicolored braided strings and tassels. She elevated light, youthful sophistication with exquisite fabrics and craft. Call it the rainbow connection - loveliness wins.
The collection's spectrum went beyond colorful stripes, but everything played to the carefree attitude of beachy, surfer/skate chicks living in an endless summer. Waight Keller called her girls "individualists," which seemed to be her way of describing a pointed casualization of Chloé's look. The sweetness of the label's signature doily dressing and hippie flou, here updated in billowing genie pants with maximalist bohemian appeal, was cut with stonewashed denim and retro tracksuits. Done in 100 percent silk knit, Waight Keller's track gear was a lot fancier - and more expensive - than, say, classic polyester Adidas Originals.
If not original to Chloé, the athletic stuff underscored the collection's way of upscaling everyday casual. "A piece can seem quite normal but actually is incredibly beautiful," Waight Keller said. "I think that mix is truly how women dress today." It's smart business - look at all the imitations of Vans slip-ons that have flooded the luxury market.
Watch Paris Fashion Week: Live