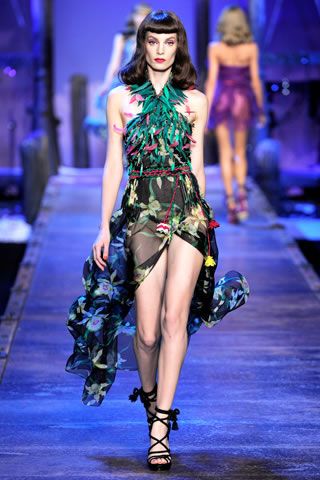 John Galliano set sail in Paris on Friday morning with his Spring/Summer 2011 collection for Christian Dior. He sent a series of nautical-themed outfits strutting down the runway to be fawned over by the likes of Kate Moss, Lou Doillon and Rachel Bilson.
The show also combined masculine and feminine influences, sailor uniforms and exotic themes to create a what Galliano described as "off-duty elegance with a tropical twist". Kate Moss and Diane Keaton, models with short 1950s pin-up fringes, bright lipstick and waved hair wore sheer dresses in rich purples, pinks, orange and azure; which reflected the designer's reputation for combining bright colours.
The collection, for spring/summer 2011, mixed a variety of marine themes, from Polynesia and the docks of Marlon Brando's "On the Waterfront" to the Rodgers & Hammerstein musical, "South Pacific", and Rainer Fassbinder's 1982 film, "Querelle". The catwalk was a rusting slipway, set against a harbourside setting of wooden pilings, chains, gantrys and ropes. The clothes blended tough-guy T-shirts, sailors' trousers, life-vests and nautical cagouls, with flimsy, chiffon mini's, bubble-hem dresses, and fringed, 'hula'-gowns.
Models, styled in the manner of the 1950's movie pin-up, Bettie Page, with false fringes, flick-up hair, and bright red lips, posed and gave jaunty salutes in faux captain's hats at the end of the catwalk. But their 6-inch, needle-heeled espadrilles, festooned with feathers, suggested they would have difficulty walking the plank.