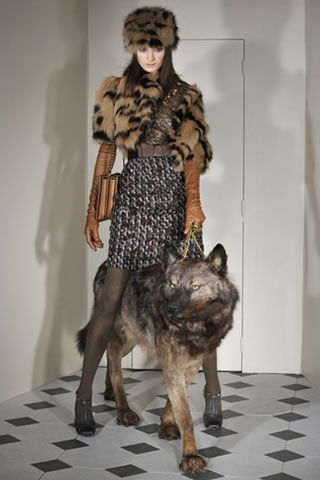 Jeanne Lanvin showcased her tremendous Pre-Fall 2011 Collection in New York her latest 2011 collection based on silk scarves around a low ponytail.
There were cocktails, but the presentation was plenty civilized. Demure dresses made from black and navy scuba were accented with ruffled collars and a smattering of gemstone brooches. Knee-grazing bourgeois coats were kept minimal and clean or given rich texture with belted patchwork fur and tweed. (Matching Russian fur ushanka included.) High-waisted skirts and tapered wool pants paired easily with expertly tailored wool flannel suitcoats beckoning business-minded types across the globe. But what anchored the opulence and gave the collection a youthful air were the warm ribbed tights, relaxed thermal long johns (worn with heels, of course), and printed silk scarves wrapped casually around a low ponytail.

So many women are getting into evening dressing during the day, and I thought there was something quite flamboyant about it. With that in mind, he gracefully blurred Sunday best into one versatile separate after another--think floor-length ivory satin skirt beneath a relaxed charcoal sweater, belted loosely at the hip. Even the layers of pearls draped nonchalantly around the neck or a seventies gown complete with a printed waist sash and headscarf felt effortless, not overdone. How about the oversized halter gown in a stunning cognac crepe? It will no doubt be a heavy hitter come fall, but don't call it cognac. Let's go with whiskey, Elbaz whispered with a naughty grin.