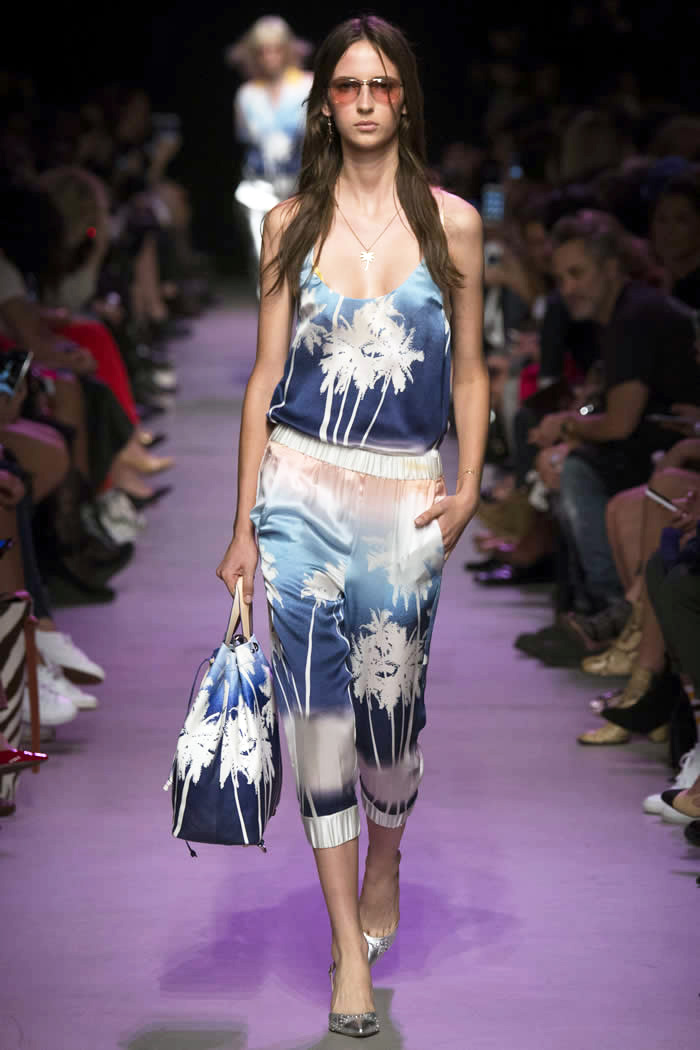 Paul & Joe Collection for Paris Fashion Week Spring 2016
Paul & Joe sent out a metallic pink embossed postcard as the invitation for its Spring show, but it may as well have been fronted with a photo of Miami. That's where founder Sophie Mechaly mined references for a collection that was fun, frisky, and swathed in palm fronds. More precisely, she said she drew from Scarface and Magnum, P.I. to arrive at key looks such as the halter maxi dresses and slim, pastel pantsuits.
Just as there will always be flora and fauna prints in a Paul & Joe collection, so too will there be modified denim, sweet flourishes (broderie anglaises, ruffle accents), and a boyish wink (shirts or shoes); the difference each season comes from how Mechaly doses them. The Miami throwback allowed for a new twist: retro jogging attire remixed as silk blousons and shorts or hybridized as a studded tuxedo pant. The theme also meant she could go gutsy on glitz, from the silver leather trousers to the sequined baby doll and the metallic boots. Just in case those pieces didn't sufficiently incite the spirits, she added a vintage-style T-shirt with the line "Go for it." Mechaly was already wearing it, like a souvenir from the show.