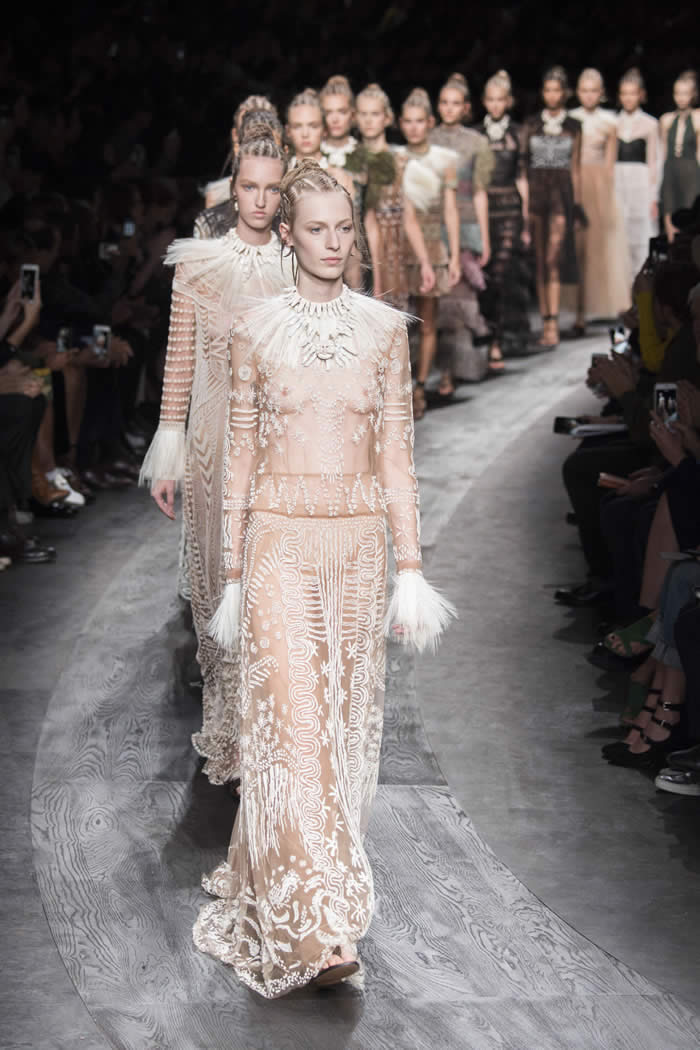 Valentino Collection for Paris Fashion Week Spring 2016
The shows came from opposite ends of the current-event spectrum. Last season closed with a jaw-dropping display of unexpected comic timing when Ben Stiller and Owen Wilson resumed their roles as Derek Zoolander and Hansel, respectively, as they began production on Zoolander 2. For spring, Chiuri and Piccioli ripped their inspiration from the front-page headlines: Immigration.
He and Chiuri didn't fully explain why Africa was their focal point, but drawing on its various tribes, as well as the influence it had over artists including Picasso and Braque, certainly gave the designers a lot with which to work. And they did so beautifully, crafting enough exquisite treatments to make a fashion lover's head explode.
There were colorful patchworks, both folkloric and modern. Tribal embroideries were worked up and down sleeves and collars of day dresses. Two gowns in blush tulle delicately embroidered with white tribal markings and trimmed in majestic ivory feathers around the collars and cuffs were absolutely breathtaking. A wild tie-dye moment represented more robust daywear options, with athletic military jackets and cargo pants worn with backless fringed knits. Leather work was exceptional, on the woven mesh dresses suspended from etched harnesslike tops, carved corsets layered over printed dresses and a maxiskirt cut in vertical strips of studded leather layered over a black lace dress. Some of the collection's most impressive moments came when Chiuri and Piccioli interwove indigenous African motifs with others that were classically Western.