There is no doubt that Kylie Jenner may be one of the most fashionable teenagers out there. She may be the youngest of the Kardashian family, but her wardrobe is more enviable than all of her older sisters! If you are religiously scroll through her Instagram and keep up with her Snapchat stories, there is no doubt that you would want to copy her style. Or if you just want to infuse a little Kylie with your otherwise bland closet, try these hacks ensuring you will dress to impress, as well as mirror Jenner's fashionable outfits. You don't even need to be a Kardashian to dress similarly, as the younger sister of gorgeous and successful model Kendall Jenner mixes edgy street style with chic elements in a way that feels totally accessible – and affordable – to us normal citizens.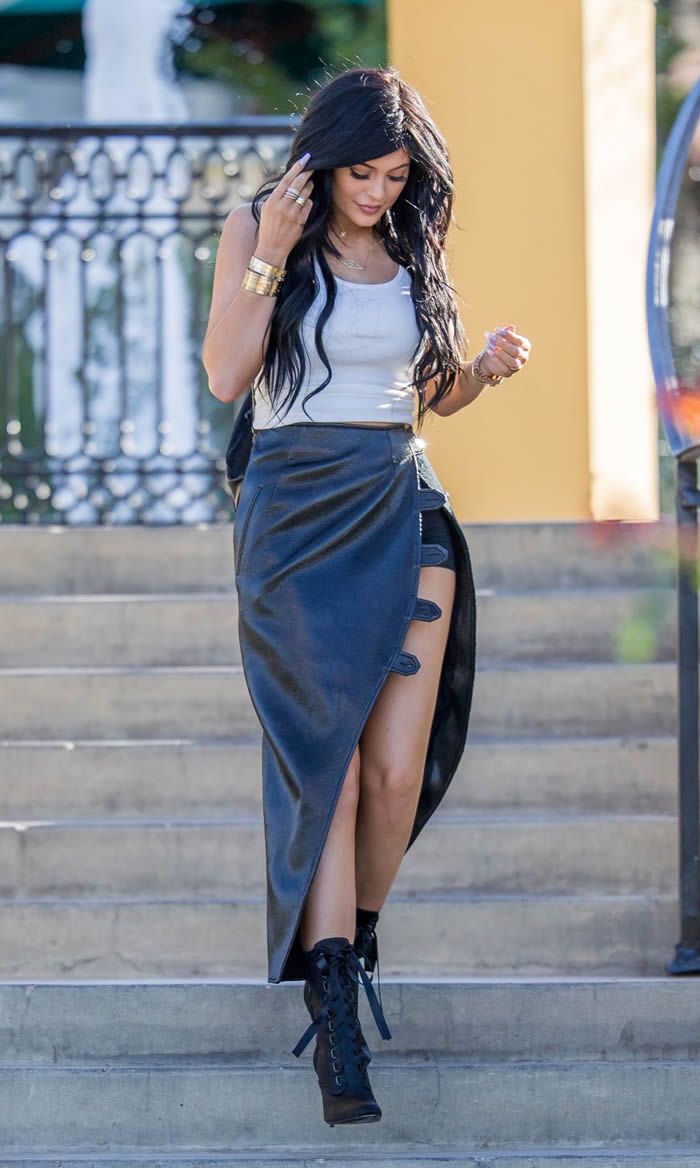 Wear Black. Yes, it sounds too simple. But it does work. Kylie is often seen wearing black, whether it is a casual LA sighting, or a more glamorous gown for an awards show, do not underestimate the power of this seemingly simple colour. It's flattering, slimming, looks good with everything, and incredibly versatile. No wonder not only Kylie, but her stylish older sisters are frequently seen in this hue too. Black outfits work day and night, whatever the occasion, so be sure to collect timeless black pieces. Ideas to start you off could be a tailored blazer, a peacoat, a dress, jeans and even a stylish blouse.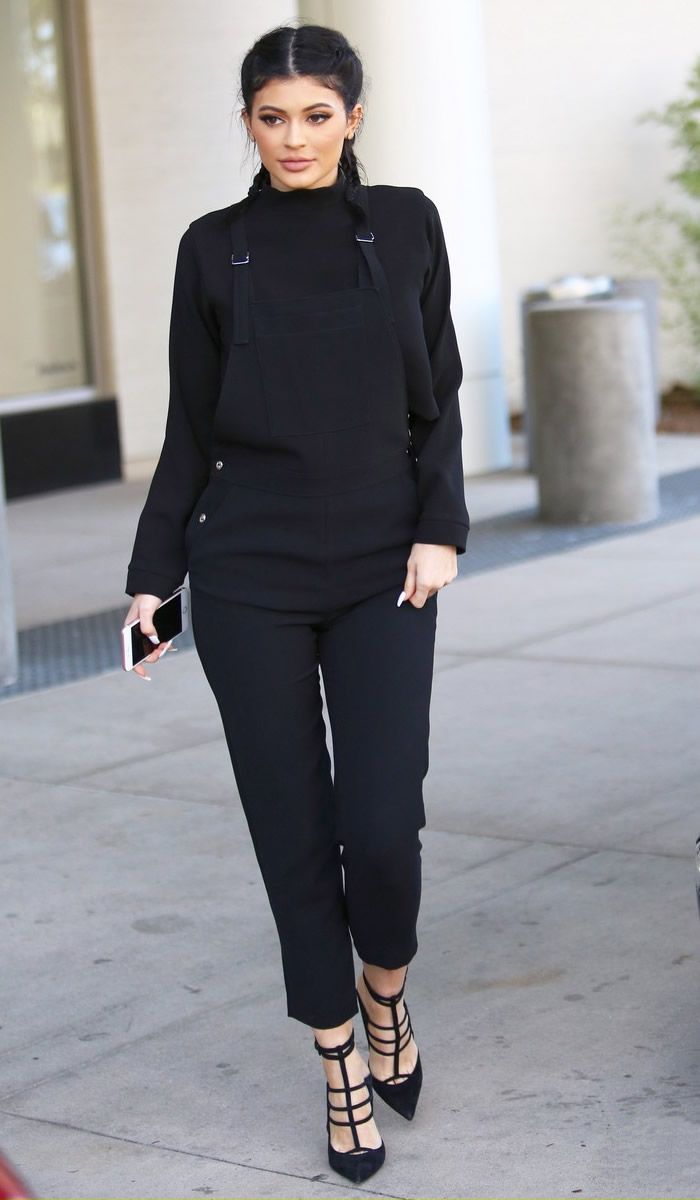 Lace-up Boots. Want to update your tame black or suede ankle boots? Follow Kylie and try thigh-high lace up boots. They may scare you as they seem like a bit too much, but they can easily dress up a little black dress or a crop top and shorts combo. Be prepared to be the centre of attention, as these boots are attractive. Try wearing these with a gown with a thigh-high split to infuse Hollywood glamour with grunge. Or opt for ankle-length lace up boots with ripped skinnies and a white shirt. But if they are good for Kylie Jenner, then they are definitely good for you too!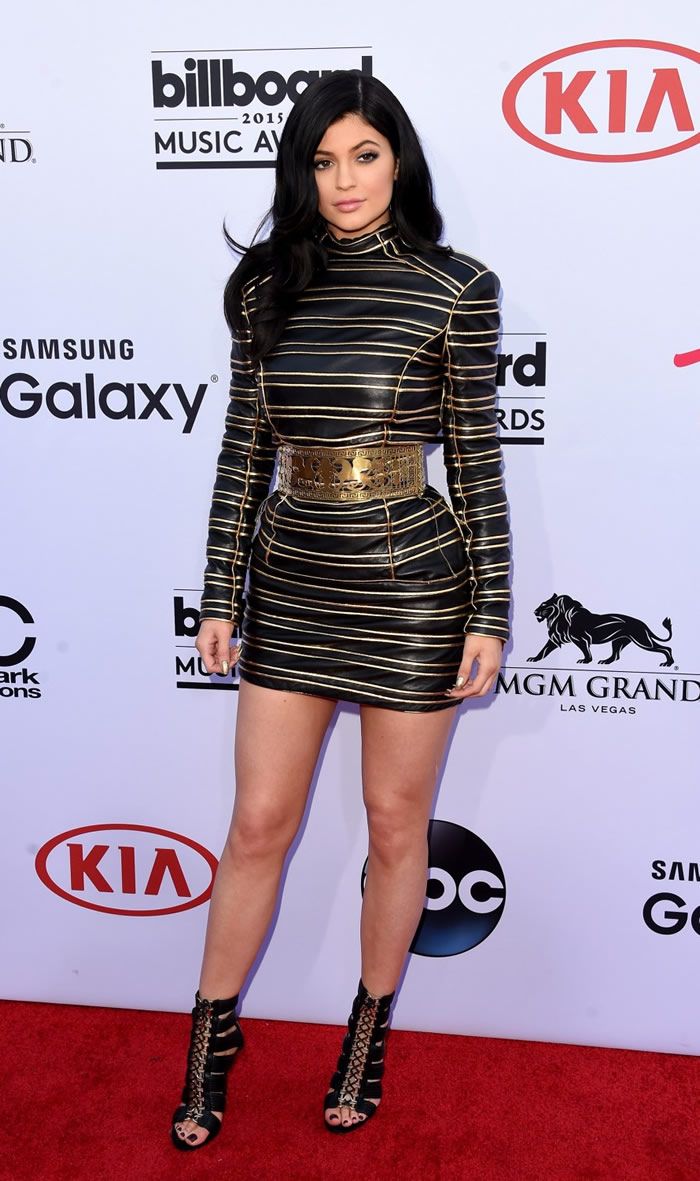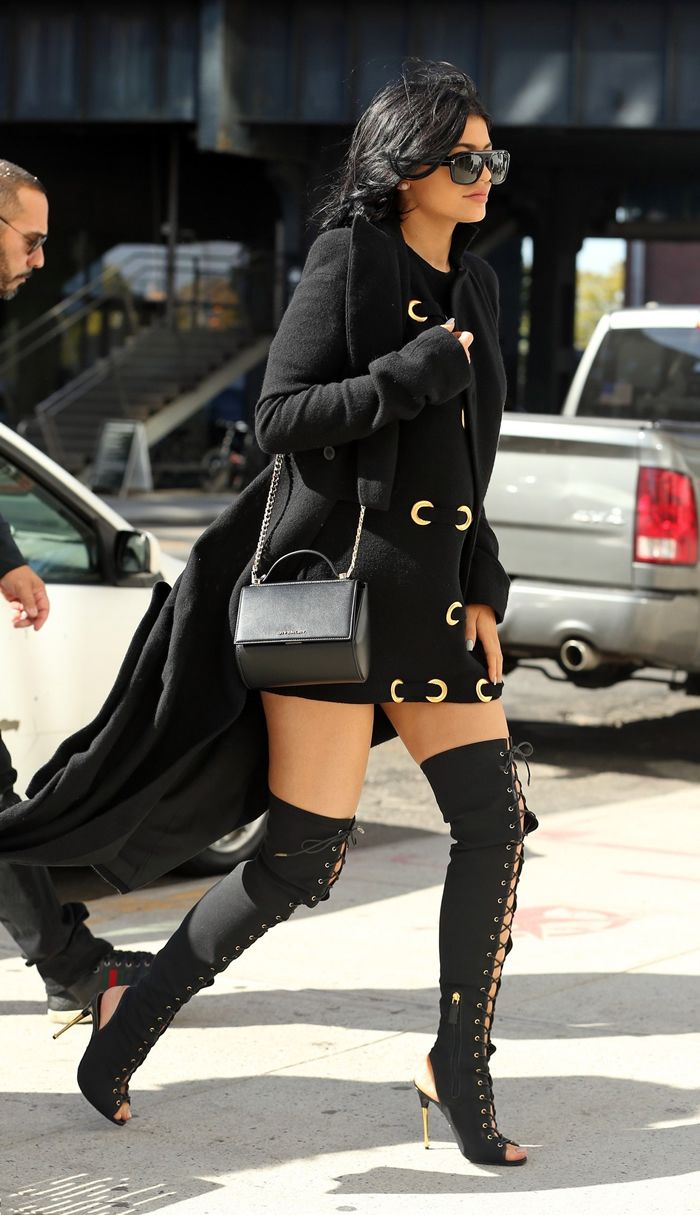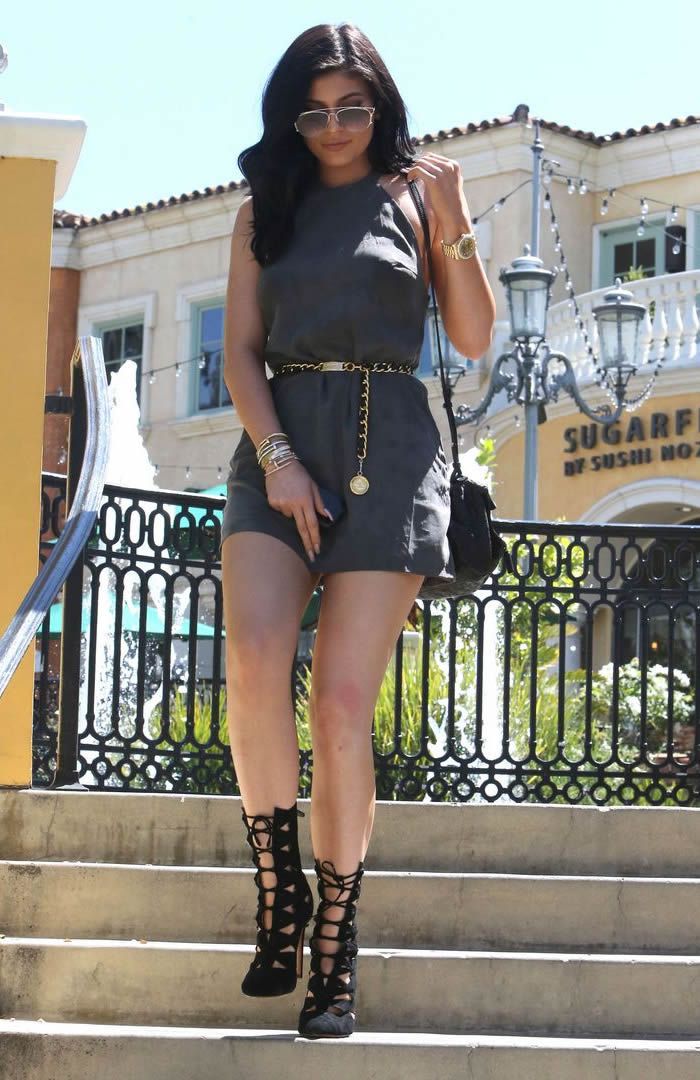 Statement Pieces. If you follow Kylie on Instagram, then you probably understand. It could be a gorgeous Hermes handbag or a Balmain sequinned blazer, but any statement item is guaranteed to make a boring look turn amazing. Going to a formal dinner but its too cold to wear your strappy black dress? A sequinned or embroidered blazer thrown on top will instantly add glamour and make you stand out. The same would look great paired with a simple office suit, taking the look from day to night. Happy with your outfit but looks too grey and dull? A rose gold or white and gold handbag or clutch will surely give the "fashion blogger" look, as well as making others jealous of your new attractive arm candy. Even a leather jacket can be a great investment, as it gives a "biker-chic" look to your getup. Plus, Kylie loves them.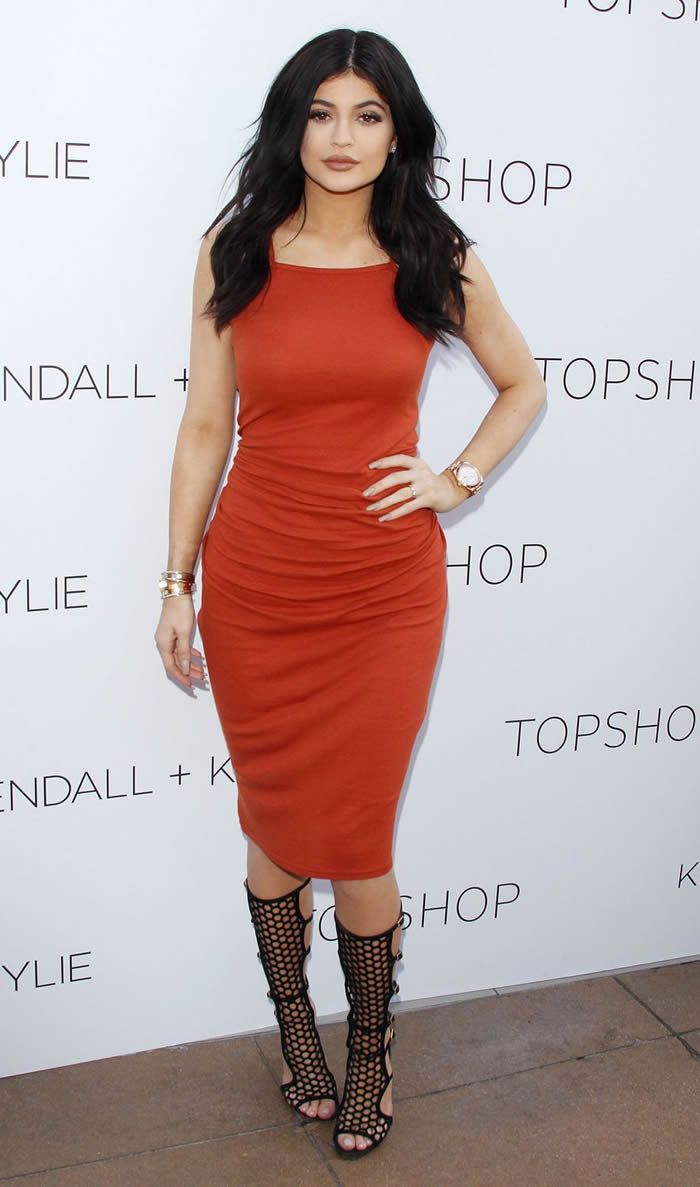 Jeans. Another simple tip, and one which you might already have. Whether it's short shorts or shredded skinnies, the Keeping Up With The Kardashians beauty does wear jeans a lot, and of course, looks incredibly great. Don't be afraid to trade in your normal denims for a ripped pair. They suit most people. You could even buy a white pair, and wear them with a nude or black top and pointed-toe heels, which will earn a nod of approval from Kylie herself, as well as showcasing a new, clean and modern update. As for shorts, the pairs with torn hems are flattering, and look equally good, especially if you have toned legs to show them off. Oh, and the lace-up boots the 18-year-old reality star swears by.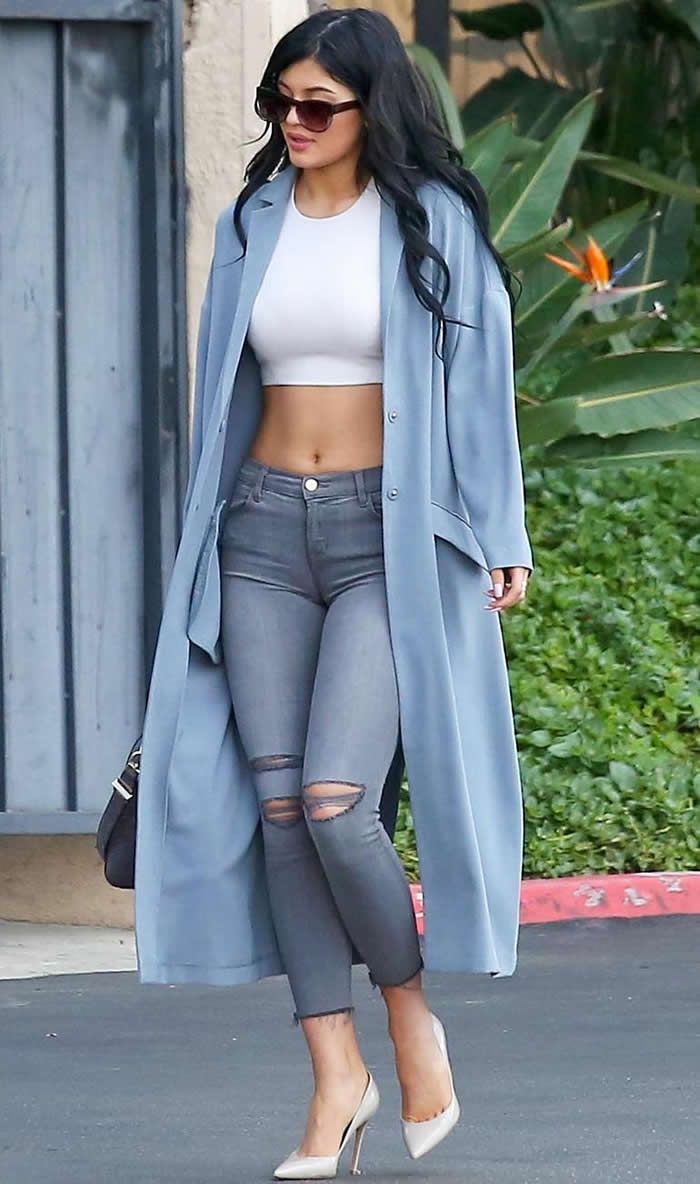 Earthy, Neutral Tones. Excluding her hair, Kylie Jenner opts for neutral colours for her stylish outfits. Although they are more daring than her elder siblings', the tones keep them looking classic and stylish. Gone are the days when white, brown, beige and tan were considered "old people colours" – now, Jenner incorporates them in her huge closet, and they look anything but boring. It's a great idea to include simple pieces in your closet too. After all, 'less is more'. Try a tan dress in your next Christmas party, with some sequins or crystal embroidery, for a classy and elegant style. A beige coat is also a must investment, because as we know, it is extremely in vogue and looks very put together over your winter closet.
by Mariam Ayaz