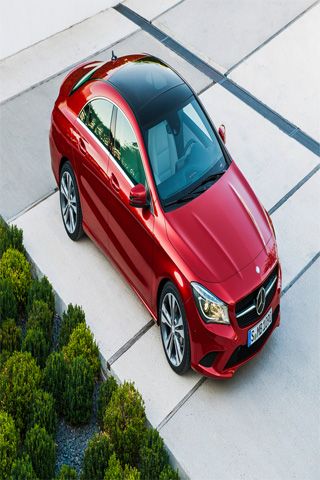 The North American International Auto Show in Detroit, MI is the world debut of the 2014 E-Class family that Mercedes-Benz has extensively updated. Sedan, wagon, cabriolet and coupe showcase new efficient engines, new assistance systems and a new design i
The North American
International Auto Show
in Detroit, MI is the world debut of the 2014 E-Class family that Mercedes-Benz has extensively updated. Sedan, wagon, cabriolet and coupe showcase new efficient engines, new assistance systems and a new design idiom.
Many new or optimized assistance systems from the future S-Class celebrate their world premiere in all E-Class Models. They blend comfort and safety. Mercedes-Benz refers to this as "Intelligent Drive." This includes systems capable of preventing accidents with crossing vehicles or pedestrians for the very first time. Active Lane Keeping Assist can also prevent collisions with oncoming traffic. With these innovations Mercedes-Benz underscores its pioneering role in vehicle safety
COLLISION PREVENTION ASSIST
ATTENTION ASSIST 2.0
1: ECO Start/Stop
2: Sport models feature integrated star in grille
3: Dashboard design
4: New Optional Feature Highlights:
5: 4-cylinder diesel powertrain
6: 4MATIC all-wheel drive on BlueTEC
7: Full-LED lighting
8: Surround View Camera
9: Parking Assist Package
10:
New generation Driver Assistance Package, featuring:
11:
DISTRONIC PLUS® with Steering Assist
12:
Optimized Active Lane Keeping Assist
13:
BAS PLUS® with Cross-Traffic Assist
14:
PRE-SAFE PLUS® for rear-end collision
15:
Autonomous emergency braking (PRE-SAFE® Brake) for pedestrians
2014 E-Class Coupe and Cabriolet 😀 riving pleasure at the highest level: Passionate, sporty, intelligent
DETROIT – Mercedes-Benz has restyled the Coupe and Cabriolet members of the E-Class family for the 2014 model year. The bold new styling is combined with sophisticated new assistance systems which are part of Mercedes-Benz "Intelligent Drive." These new systems include technology that can help prevent accidents with crossing vehicles or pedestrians as well as an enhanced version of Active Lane Keeping Assist. Visually, Coupe and Cabriolet have been brought in line with the new Mercedes- Benz design idiom. These models also feature Exclusive, luxurious appointments for refined driving, which are hallmarks of the entire EClass family. The 2014 E-Class Coupe and Cabriolet go on sale in the U.S. in Summer 2013.
The classic Coupe and the four-seat Cabriolet versions of the Mercedes-Benz E-Class are among the most coveted vehicles in the premium medium-size segment. With intelligent and efficient technology as well as luxurious and comfortable appointments, both are uncompromisingly designed for passionate driving enjoyment. They are therefore regarded as emotionally appealing highlights of the successful E-Class family. Both on the outside and inside the design is fresh, sharpened and so ideally reflects the many new technical features.
Dr. Joachim Schmidt, Executive Vice President Sales and Marketing Mercedes- Benz Cars: "Three words suffice to very briefly characterize the Coupe and the four-seater Cabriolet: stunning, athletic, passionate. Especially gratifying is that both cars also offer the most intelligent engineering that currently can be had. This makes both of them genuine dream cars.