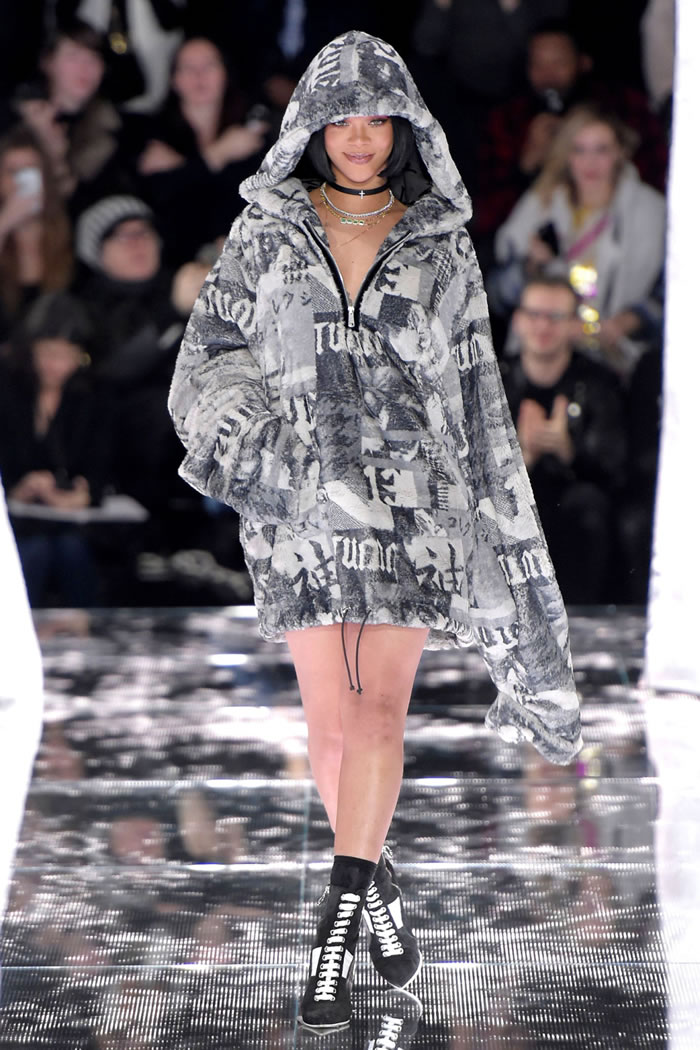 Fenty Puma by Rihanna Fall RTW Collection for Fashion show New York 2016
Puma put its cards on the table in the high-stakes game of celebrity collaborations Friday, properly launching the Fenty Puma by Rihanna collection during New York Fashion Week in the 8 p.m. time slot at 23 Wall Street. Maybe it's fairer to say that Rihanna put Puma's cards on the table. She is the German athletic company's highest-profile collaborator by a long shot and they are clearly happy to have her as "creative director," a title she assumed in December 2014 when Puma, which is controlled by Kering, signed her to a three-year contract.
"It's a lot of room to be creative," Rihanna acknowledged during a post-show interview. "Puma trusted me in a major way that a lot of companies wouldn't."
He said it; she said it, but ultimately the clothes confirmed that Rihanna was calling the shots on this one. It was not a shy collection.
Fearless when it comes to her personal style, Rihanna's wide-ranging yet distinct point of view has baited megabrands before: Dior named her a brand ambassador last year; she's worked with MAC Cosmetics, and designed a collection for high street retailer River Island. She wears vampy glam pearls, corsets, boas as well as boyish street Raf Simons, men's wear, Vetements always with a tough, semismutty edge. And she does more than just pull it off.
Asked the same question about a friendly competition with West, a frequent musical collaborator of hers (she's featured on his new "The Life of Pablo" album he streamed as part of his fashion show Thursday), Rihanna said, "Usually I do love to compete with the guys. That's my thing. I don't like to compete with girls. Guys play hard and they're also in another realm of respect, but with Kanye, he's my brother and I always want him to win. I have a soft spot for him."
In order for Fenty Puma to slay, it has to sell. The fashion show was the first time any retailers had seen the collection. Gulden said Puma planned to meet with retailers the following morning for feedback. The collection will be priced above average for Puma. "That was intentional,"
Rihanna
said. "If you could get it at Puma already, then I probably shouldn't put it in the collection."