From rustic terracotta tiles to sleek concrete, veined marble to timber planks, the possibilities for kitchen splashbacks are endless. With materials, colors, finishes, and layouts, you can dictate the overall style of the heart of your home. Don't settle for mainstream styles; instead, opt for a unique design that suits your home, and lifestyle, and expresses your personality. Let's explore some popular kitchen splashback ideas that are making a splash.
Marble Splashback
In this kitchen, home to two chefs, an enchanting aesthetic takes center stage. According to Merlin Wright, design director of Plain English, "When a splashback is in a niche or enclosed space, it can work well to fill the space with a splashback of the same material as the benchtop. In this case, the stone has been capped with shelves to create a dresser-like feel."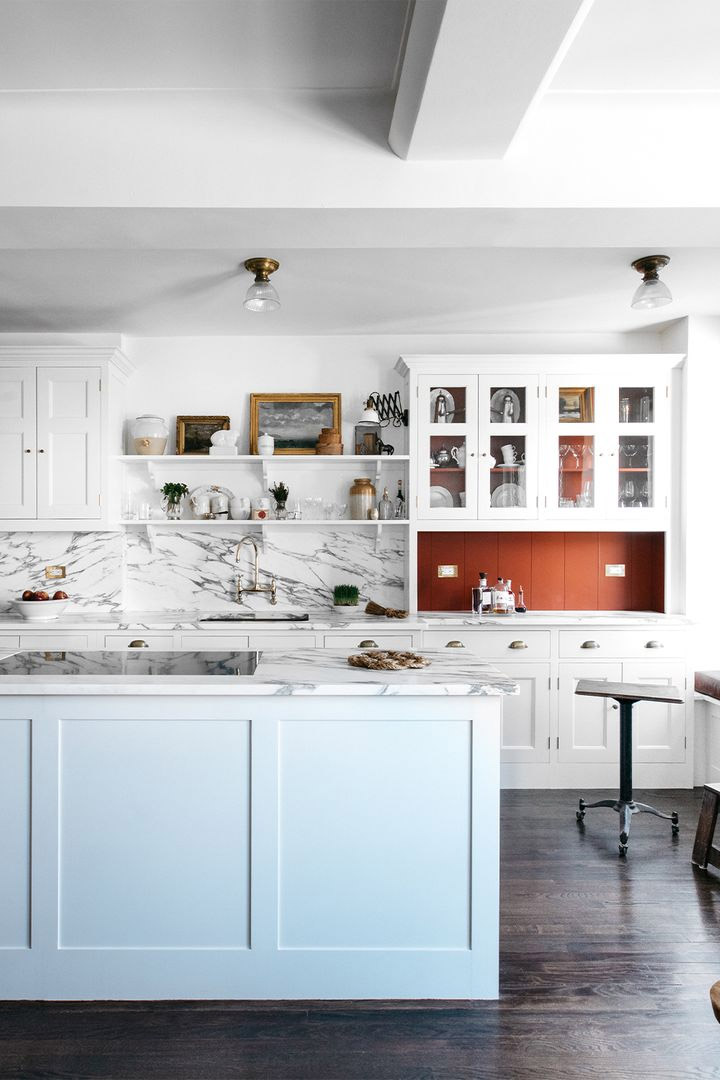 Sumptuous marble surfaces exude luxury. Take, for example, the elegant marble splashbacks and benchtops in this New York apartment's Shaker-inspired kitchen. The marble is streaked with eye-catching dark veining, creating a captivating visual. Designed by British cabinetmaker Plain English, this Georgian-inspired kitchen seamlessly blends modern appliances, vintage finds, and heritage design elements.
The detailed brass hardware, stylish shelving, and Folgate cabinetry in a soft white hue exude timeless elegance. The dark timber flooring complements the marble tones, resulting in a serene space that could be considered the sweetheart of kitchen design.
Kitchen Window Splashback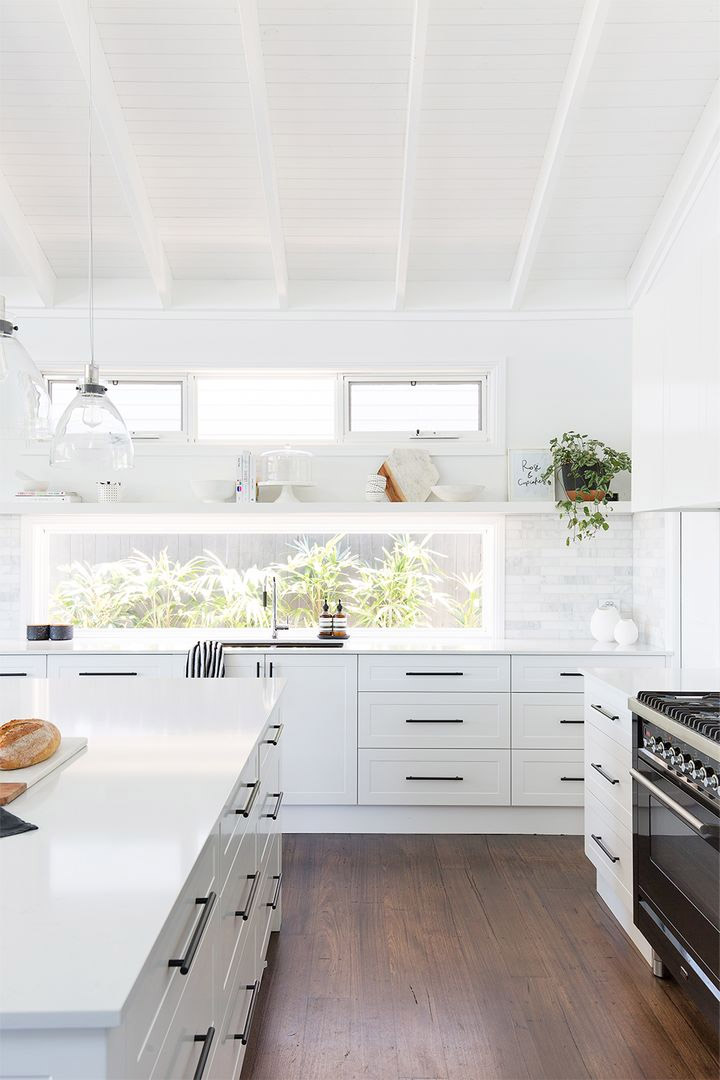 Ingeniously combining form and function, the kitchen window splashback steals the show. The clever use of materials introduces texture, while the louvered glass and sleek hardware shift the focus to the lush green tones of the garden outside. The elongated proportions of the window are mirrored in the cabinetry, extra-long marble subway tiles, and drawer profiles, creating a seamless and elegant look.
Tile Splashback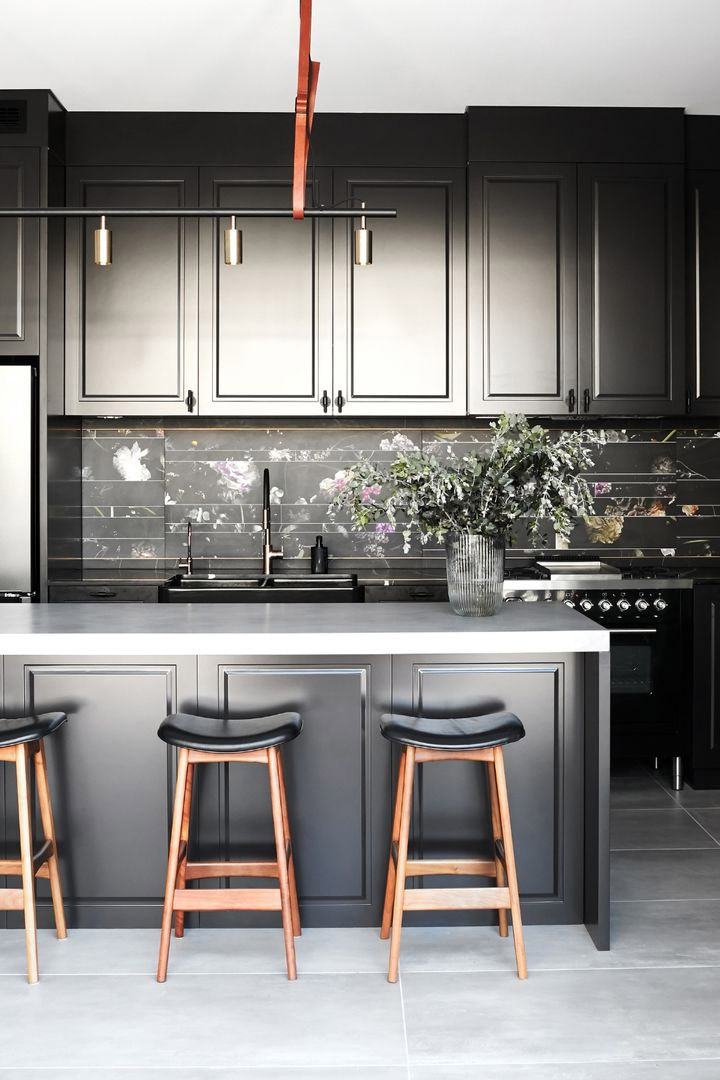 "Tiles are a great way to introduce current trends and add something entirely different to a kitchen," says Charlotte Riggs of Bondi Kitchens & Joinery. In this dark and moody kitchen on the Lower North Shore of Sydney, ceramic Vallelunga & Co 'I-Sense' tiles from Elite Bathware create a stunning backdrop.
Charlotte Riggs, the director of the design and joinery team, explains that the tile's shape draws attention in a positive way, and the horizontal layout adds length. The small pops of color from the flowers soften the moodiness of the black tiles. Metallic accents and timber stools add additional layers of texture. These ceramic slabs are crafted using HD printing and modern ceramic techniques.
Subway Tile Splashback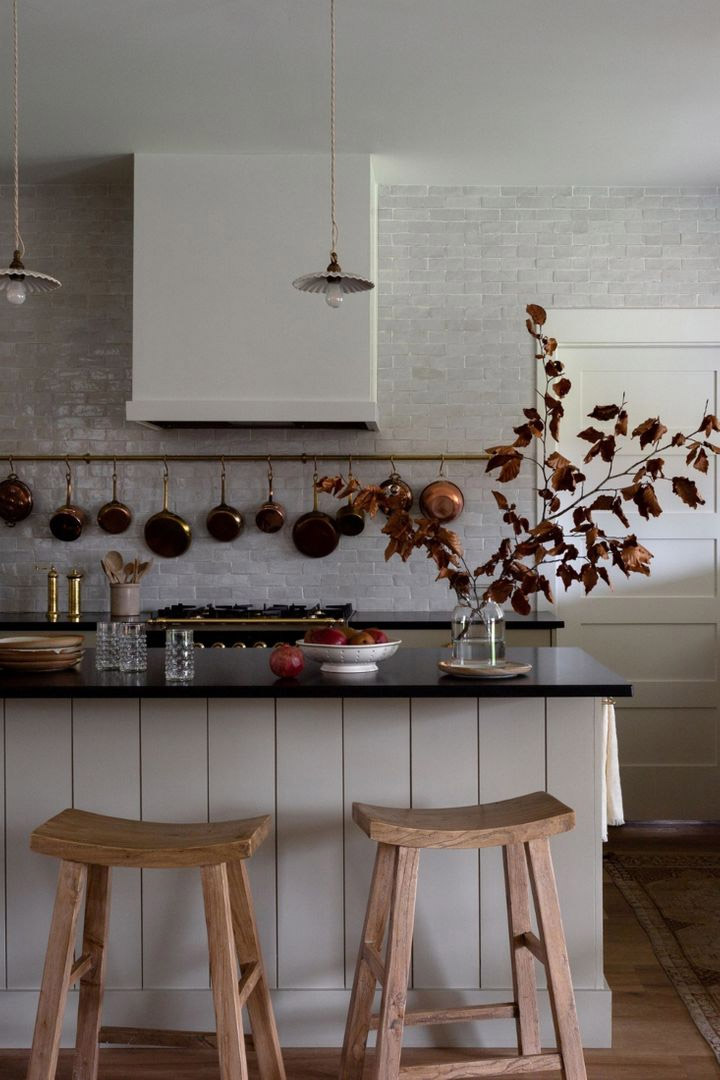 A wraparound splashback creates a sense of unity in this farmhouse-style kitchen designed by Light and Dwell. Resembling shimmering scales, the smooth sea of glazed subway tiles sets the stage for bold autumnal colors to shine. Copper pots and pans hanging from a brass rail, aged brass tapware, and tactile pendant lights add character and visual harmony. A vintage-style runner softens the space from the ground up.
Meanwhile, double-candle wall sconces infuse the room with warmth and coziness. In a large kitchen like this, horizontally laid tiles create a sense of length. For tighter spaces, they can be stacked at a 45-degree angle to create the illusion of movement.
Paneled Splashback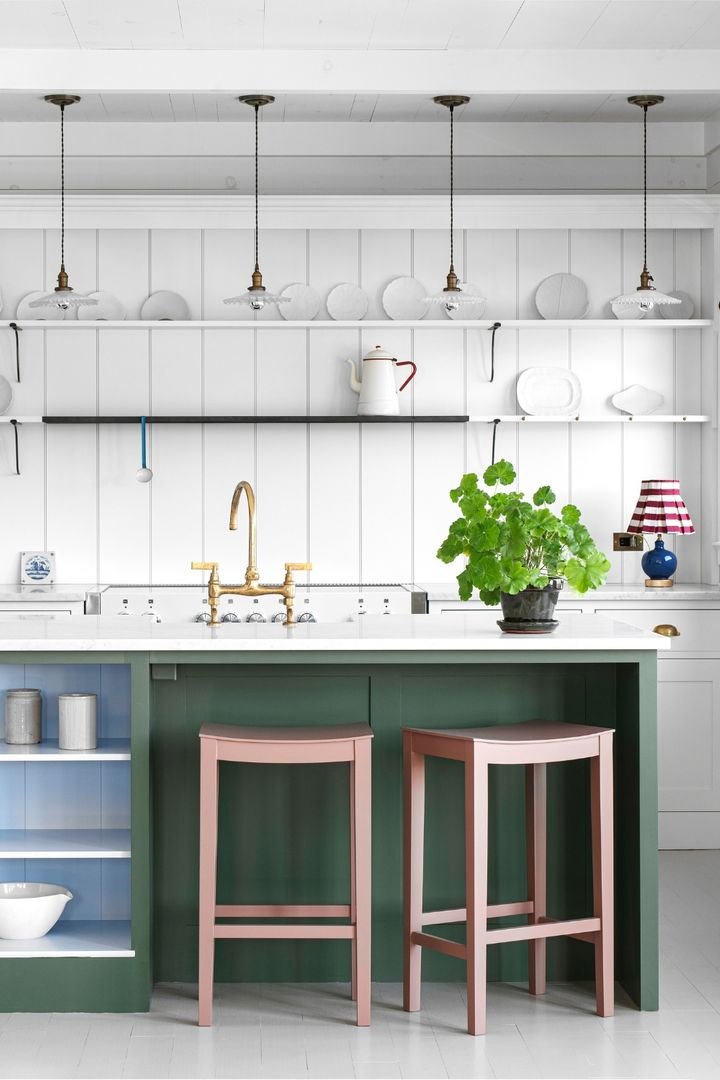 In this sunlit, cottage kitchen designed by Plain English, the tongue and groove splashback exudes a handcrafted aesthetic. Merlin