Winning her third consecutive Outstanding Lead Actress in a Comedy Series Emmy Award for "Veep" star Julia Louis-Dreyfus was perfectly normal, but was she ready the for the surprised long kiss she recieved from Bryan Cranston on her way to the stage to collect her figurine? We don't think so.
The 11 seconds long, tight lip-lock lasted as long as the 53 years old actress emmy's award acceptance speech, as she said "I'm a mess, I'm a wreck, I don't have anything prepared."
Cranston, 58, had set up the gag moments earlier by reminding his fellow nominee of the on-screen kiss they shared in an episode of "Seinfeld" when they co-presented the award for Outstanding Lead Actor in a Comedy Series.
Long before his "Breaking Bad" breakout, Cranston had played dentist Tim Whatley, who briefly dated Louis-Dreyfus' Elaine.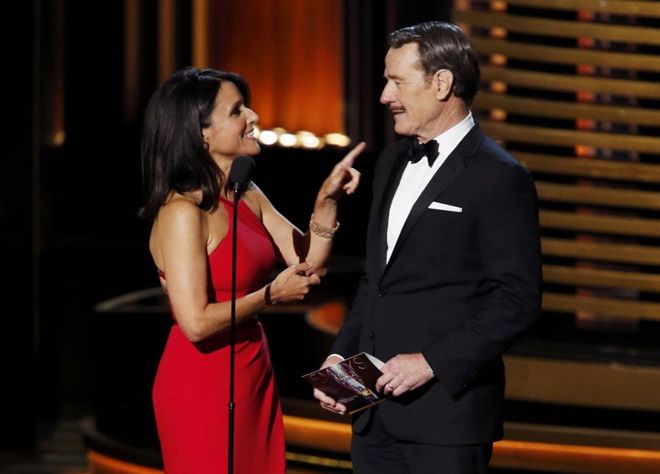 Thou Julia Louis-Dreyfus winning Best Actress In a Comedy Series for Veep wasn't a surprise (still happy!), but Bryan Cranston and his evil, tying-a-damsel-in-distress-to-railroad-tracks mustache stealing a passionate smooch was. We believe Anna Kendrick said it the best: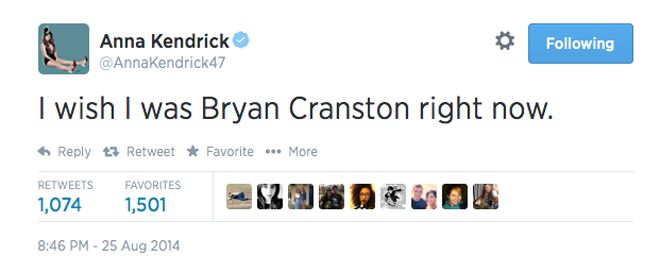 Julia Louis-Dreyfus and Bryan Cranston Make Out… by designerzcentral