The rapper posted a video that shows him riding a golf cart. Suddenly Kanye, clad in a hockey jersey, jumps out of the cart and starts dancing to Rebecca Black's "Friday." Kim can be heard laughing while filming her husband. The couple's eldest daughter, North, also got in on the action and danced with her dad.
"IT'S FRI-YE-YE!!!," he captioned the video.
Not all is reportedly on the up and up for Kimye. TMZ reported that the West family is on a vacation in the Caribbean in an effort to "save" their marriage.
IT'S FRI-YE-YE!!! pic.twitter.com/Yh6j5bearq

— ye (@kanyewest) August 8, 2020
Kim and Kanye's marriage has been under a microscope of late, particularly given his Twitter rants and the fact that they've reportedly spent very little time together over the past few months — she's been in Los Angeles with the kids, while he's been living at the family's $14 million ranch in Wyoming. Multiple reports said he was even ignoring Kim's calls for a few days. Kanye also tweeted last month that he's been eyeing a divorce, though he later deleted the headline-making tweet.
Kim later implied that her husband is in the midst of a bipolar episode.
The new video was posted just after Kanye faced another blow to his already-floundering Presidential campaign. On Friday, election officials in Illinois, his home state, said that more than half his submitted signatures are invalid, which means his name will not be on the ballot. He recently dropped his effort to get on the New Jersey ballot, as well.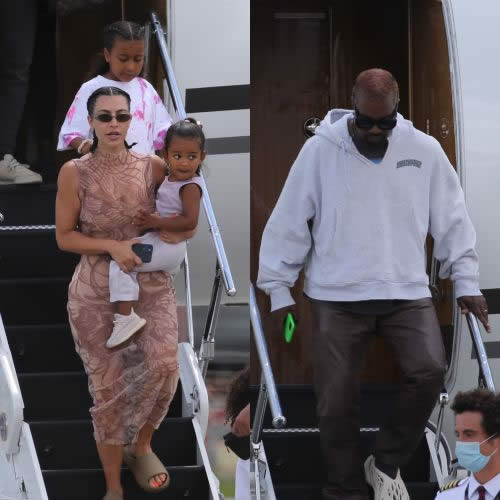 Kanye's name will not appear on the ballots in enough states for him to win the electoral college.
Earlier in the week, reports said Republican operative were helping Kanye get on the ballot in states, hoping it will siphon votes from presumptive Democratic Presidential nominee Joe Biden. When told by Forbes on Thursday that his bid looks like an effort to pull votes from Biden, Kanye said, "I'm not going to argue with you."
Regardless, he's accepting donations to help fund his campaign.