Beauty is not about vanity – it's about our identity," said L'Oréal Women of Worth honoree Alison O'Neil, as she addressed the room of beauty execs, celebrities and fellow honorees at the L'Oréal Paris Women of Worth dinner in New York Tuesday night.
O'Neil, founder of the nonprofit Beauty Becomes You Foundation, which provides services such as facials and manicures to senior citizens, was one of 10 honorees being lauded at L'Oréal Paris's 10th annual dinner. The Women of Worth program recognizes 10 women who have started grassroots charitable efforts in their communities, and awards them $10,000 each to fund their organizations. This year's National Honoree, Schinnell Leake of Extra-Ordinary Birthdays, a Washington, D.C.-based organization that throws personalized birthday parties for children in homeless shelters, was granted an extra $25,000. The National Honoree is chosen via a public vote on the L'Oréal's Web site.
The night's honorees were presented by a faction of L'Oréal spokesmodels and supporters, including Julianne Moore, Hoda Kotb, Freida Pinto, Mary Alice Stephenson, Eva Longoria, Karlie Kloss, Andie MacDowell, Ariana Huffington and Aimee Mullins.
The mood inside the banquet hall at the Pierre Hotel was cheerful and celebratory, though emotions were running high, as video highlight reels of each organization's work played before the honorees took the stage. "This is my first year [attending], and I'm fighting back tears," said Karlie Kloss, onstage in a white Rosie Assoulin gown to introduce Maria Rose Belding, the 20-year-old founder of Means, a service that matches excess food with donation centers.
"I use waterproof mascara that we make," joked L'Oréal Paris president Karen Fondu. "That [formula] needs to be improved – extra-waterproof next time!"
Accepting recognition and a cheering audience didn't come easily for every honoree. "It's not about me," said Garden of Innocence founder Elissa Davey, whose organization buries deceased babies who have been abandoned. "It's about the children."
As one presenter noted, promoting self-worth can be a challenge. "The first time I had to say 'Because I'm worth it,' it was actually hard," said Mullins.
Especially because validation doesn't come easily, honoree Jaha Dukureh, founder of Safe Hands for Girls, the only U.S.-based grassroots organization focused on female genital mutilation, remarked that receiving backing from a beauty company was a "big deal," and a reminder that she is on the right path. "FGM is a taboo issue," said Dukureh. "People don't want to be associated with it."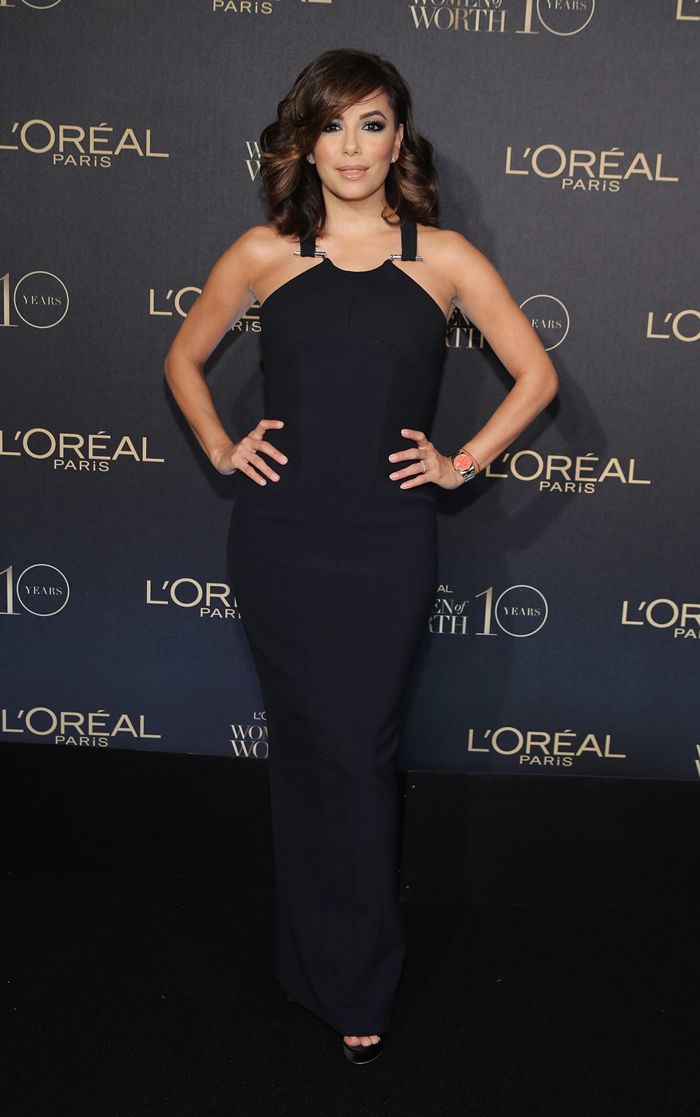 Belding echoed Dukureh's sentiments. "When you validate what we do, you validate the existence and experience of the at least 25 million American women and girls who struggle with food insecurity."
Leake's Extra-Ordinary Birthdays throws parties to give homeless children living in shelters without possessions or space to call their own, the ability to feel that validation. Parties come complete with personalized cakes, costumes, games, presents and even a photo album to commemorate the occasion. "It's a reminder that they're special."
Longoria, a 10-year L'Oréal Paris ambassador, noted on the red carpet that the philosophy behind Women of Worth harks back to the brand's "Because I'm worth it," tagline. "It's always been [about] making sure women understand their value and self-worth in society."