In fact, chasing the leaves has become a vacation motivator on its own. Some destinations in the U.S. have become practically synonymous with leaf-peeping, like the Berkshires in Massachusetts, the Catskills in New York, or the Rocky Mountains in Colorado. To facilitate your leaf-peeping experience, we've rounded up some of the best places across the country to admire fall foliage this year, from New Hampshire to California and the gorgeous expanses of orange and yellow leaves in between.
Not sure when to go? Check out the amazing interactive map from the tourism website Smoky Mountains, which predicts fall foliage for each week across the United States. Consider going to your chosen destination a bit after peak season to avoid bumper-to-bumper peeper traffic on popular thoroughfares, but don't go too late or the leaves may have already fallen.
New England
Bennington, Vermont
Honestly, the entire state of Vermont could be on this list. From Burlington to Stowe to Brattleboro, this tiny state packs in a ton of gorgeous towns. Bennington is a small town (around 15,000 residents) just outside the Green Mountain National Forest, a prime location for leaf peeping.
White Mountain National Forest, New Hampshire
Looking for a road trip? Take the Kancamagus Highway through White Mountain National Forest for a beautiful, peaceful drive. Don't miss Franconia Notch State Park and New Hampshire's famed covered bridges along your route.
The South
Blue Ridge Parkway, North Carolina
This scenic highway winds through miles and miles of forest, which makes for lovely rippling leaf landscapes in the fall. If you need even more foliage action, base yourself in Asheville and also explore Great Smoky Mountains National Park, which extends into Tennessee.
Tallulah Gorge State Park, Georgia
Located next to Chattahoochee National Forest in the mountains of northern Georgia, this state park features a 1,000-foot-deep gorge that — you guessed it — looks amazing in the fall. Tallulah Gorge also features a series of six waterfalls.
The Midwest
Lake of the Ozarks, Missouri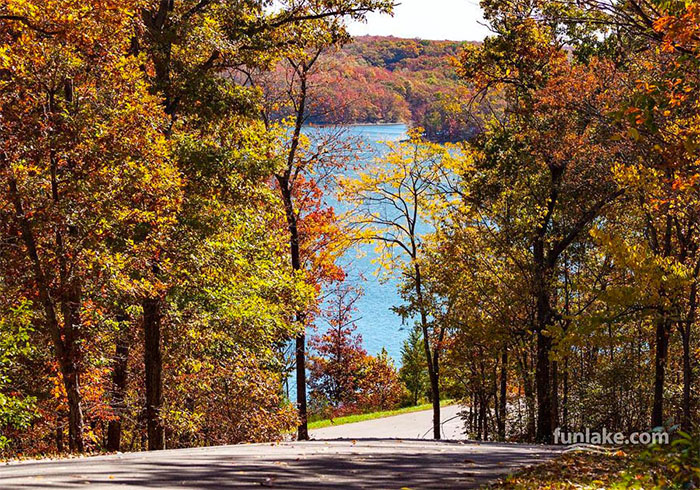 Typically thought of as a summer destination for Missourians, this popular lake in the central part of the state is also worth a visit in the autumn. You might even get lucky and visit on a day that's warm enough to enjoy the lake while admiring the changing leaves.
Spearfish Canyon, South Dakota
Autumn may be one of the busiest times for Spearfish Canyon because of its vibrant aspen and birch trees, but it still won't have the leaf-peeping hordes you might find in other states. Enjoy waterfall hikes and plenty of wildlife sightings without the crowds.
Mountain West & Southwest
Capitol Reef National Park, Utah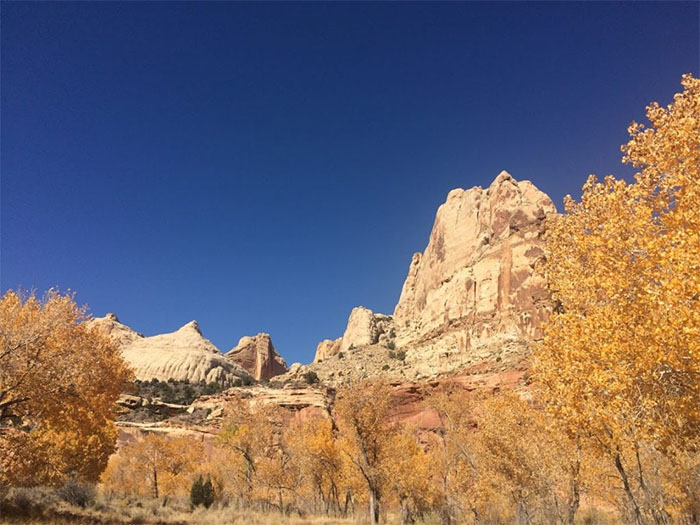 Capitol Reef may be Utah's most underrated national park, which is sad for many reasons, not least of which is that its fall colors are breathtaking. It gets millions fewer visitors each year than Utah's most popular parks, so you won't have to fight crowds to enjoy its changing leaves.
The Enchanted Circle, New Mexico
New England may have the most popular reputation for fall foliage, but don't discount the pockets of autumn color that can be found all the way across the nation in the American Southwest. Base yourself in Taos, New Mexico to explore the 80+ colorful miles of The Enchanted Circle Scenic Byway.
West Coast
Sequoia & Kings Canyon National Parks, California
Although these are technically two separate parks, Sequoia National Park and Kings Canyon National Park are adjacent, which means it's easy (and recommended!) to visit both in one trip. Moderate to serious hikers shouldn't miss Twin Lakes in Sequoia National Park, which is especially beautiful in the fall.
Silver Falls State Park, Oregon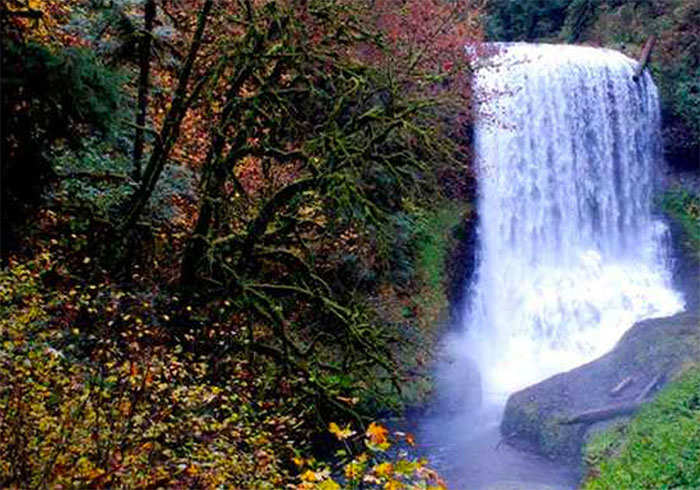 Most Oregon leaf-peeping guides will probably send you to the Columbia River Gorge (for good reason), but Silver Falls State Park is absolutely worth a visit as well. Located just a bit over an hour south of Portland, it offers more than 20 miles of trails and plenty of waterfalls to catch your eye among the dazzling leaves.