The pair have seemingly taken their relationship to the next level, as sources told E! News the exes clocked in some one-on-one time during an outdoorsy vacation in Montana last week.
Following their appearances at the VAX LIVE concert on May 2, Bennifer flew to the state's Yellowstone Club for a cozy getaway—and it might have been just what the doctor ordered to fix her broken heart.
Last weekend, J.Lo and the Justice League actor were seen driving to the airport together in Montana. Ben was spotted behind the wheel, while Jennifer stared ahead from the passenger's seat. On the tarmac, the A-listers seemed to hold hands as they boarded their flight on May 8. Jennifer, wrapped in a patterned sweater, reached back to hold onto Ben as their trip came to a close.
Though Jennifer and Ben were engaged from 2002 to 2004, they reunited again when she returned to Los Angeles after filming Shotgun Wedding in the Dominican Republic. She was newly single at the time, following her public split from Alex Rodriguez on April 15.
According to a source close to Jennifer, she and Ben "have been in touch here and there throughout the years." The insider explained how things heated up more recently, saying, "Ben reached out to her to see how she was doing and they had dinner together a few times within this last month. It's natural between them and the chemistry is unreal. They picked up where they last left off and are enjoying each other's company right now."
Ben also paid a visit to her Los Angeles home on April 30 before their concert appearance, although a source noted they were "just friends" at that point.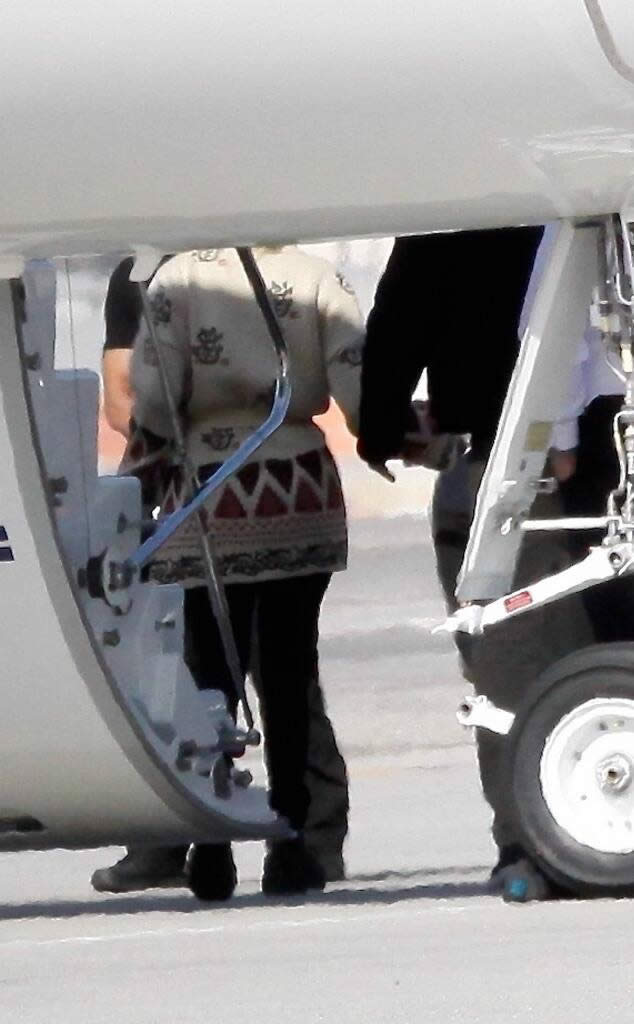 At the beginning of April, the former fiancés showcased their flirtatious banter during an interview with InStyle, during which Ben joked, "Why do you look the same as you did in 2003 and it kind of looks like I'm in my 40s… at best?" J.Lo admitted, "He still looks pretty good too."
Alex, for his part, has been "saddened" and "upset" by the latest developments between the Hustlers actress and Gone Girl actor, per another source close to Jennifer.
"A.Rod is shocked that J.Lo has moved on," the source shared with E! News. "He truly thought they would be able to make it work and reconnect. He has been reaching out to J.Lo trying to meet with her and she has been very short with him."