However, avid fitness fanatics Kate Middleton and Meghan Markle have stayed on top of their workout regimens during lockdown, although they both have very different routines that they follow.
While competitive Kate opts for a higher intensity workout on a daily basis, Meghan a yoga devotee likes to centre herself and connect more with her body and mind.
What's obvious is that both women have found something that works for them, which has helped them to stick to it, which is a key factor.
Roberta Fiorito, co-host of the Royally Obsessed podcast spoke to Harper's Bazaar about the types of exercise enjoyed by both the Duchess of Cambridge and the Duchess of Sussex.
He explained that when it comes to Kate Middleton, she loves anything with a bit of competition.
This is often evident when she and her husband William attend sporting events that require them to get involved, and Kate always puts an effort in to beat her husband.
The royal specialist also shared that one of Kate's favourite activities is running, and she reportedly does daily runs around Anmer Hall which is the couple's Norfolk home where they have been staying.
He said: 'This is something she's probably keeping up even in the cold weather with all the time they've been spending at their Norfolk home.'
Kate also enjoys skiing, rowing and cycling, and she even has an indoor rower in her house, allowing her to practice whenever she wants.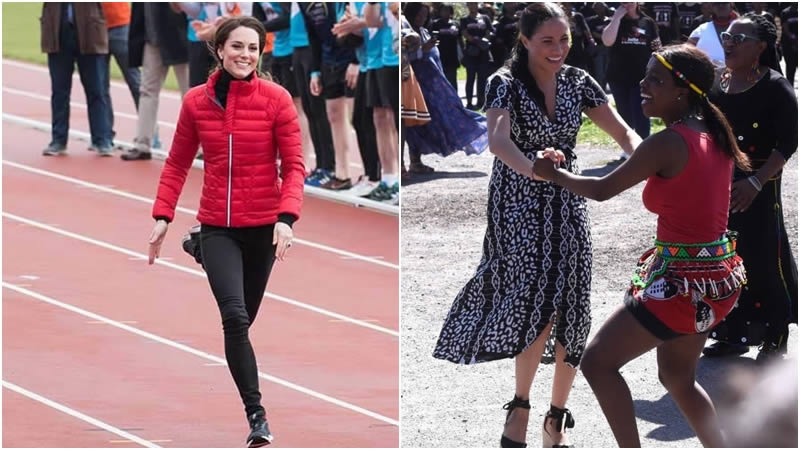 For the mother-of-three, it's about exercising daily and showing her children how important it is to move your body.
However, Meghan Markle has a different approach when it comes to keeping fit and it's more about mindfulness.
Speaking about this, Roberta told the publication: 'Meghan is obsessed with yoga and is really into the wellness and meditation side of working out. While Kate is more rigorous in her workouts, Meghan is into more calming, meditative practices.'
This is probably ideal in lockdown where you can spend time alone and connect with your body. Meghan also enjoys taking her dogs on walks and runs, even considering running the London marathon and one time.
As well as this, Meghan enjoys doing pilates as she has previously said it was 'hands down the best thing you could do for your body'.
However, the Duchess of Sussex main love is reportedly yoga, no surprise as her mother Doria was a yoga instructor, so Meghan has been doing it from a young age.
Meghan definitely has all the amenities in her new Santa Barbara house to stay fit with a pool to swim laps in, an indoor gym, a wet and dry sauna in the home, and a playground outside for Archie.