According to the details, the cover of the most recent edition of the National Enquirer exclaimed, "Charles' Bitter Revenge On Meghan!" Upon her arrival in the United Kingdom (UK), Markle reportedly rebuffed the royal family including Prince Charles leading him to believe that she is just using his son for fame.
The source insisted that Charles blames Meghan for "ripping the family apart" and is "furious his hotheaded son Harry is too weak to stand up to her."
As Prince Harry apparently ignored his father's desperate pleas to divorce Markle, an inside source of the tabloid said, "Harry is blinded by love and clearly would rather walk away from his royal relatives than leave his new family – Meghan, Archie, and a baby daughter due in just weeks."
Also Read: Prince Charles Just Took a Bold Public Jab at Meghan Markle
Charles is not planning on taking the disrespect lying down and is allegedly planning to deny Archie and his sister any royal titles when he becomes king. But that isn't all the future sovereign is planning.
According to the report, Charles' "ultimate revenge" on Markle follows three points. The first is that Prince Harry and Meghan Markle's children will never receive royal titles. The second is that Harry and Markle will be written out of Charles' will.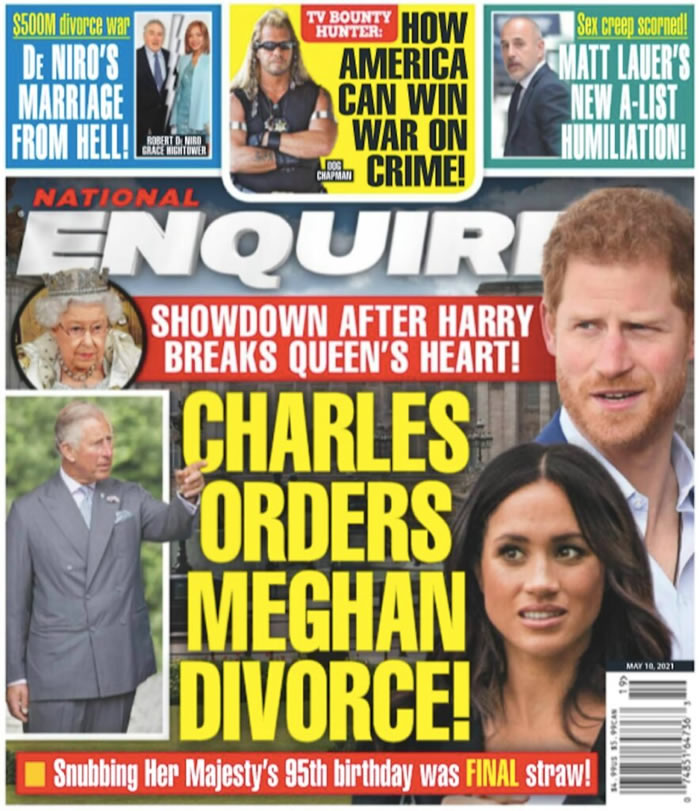 And lastly, Charles is ordering the palace staff to never mention Markle's name again. The tabloid's royal insider explains, "Charles is hitting Meghan where it hurts most – stripping her of power and prestige."
According to Gossip Cop, "it's unlikely Prince Charles has any intent to mess with the titles of his grandchildren. His grandson Archie just turned two, and his granddaughter is due in the summer. It's nonsensical to believe Charles would target the young Sussex children."