Franco, best known for his roles in 21 Jump Street, The Lego Movie, Neighbors, and the Now You See Me film series, is one of the most sought-after actors in town. Brie, a huge fan favorite after roles in cult TV hits like Community, Mad Med, Glow, and BoJack Horseman could arguably be called Tinseltown's current It Girl. As both actors edge toward age 40, more and more interviews keep asking the inevitable question: When will they have kids?
Not one to play coy or beat around the bush, Brie answered directly when asked by The Sunday Times. "I don't really want to have kids," she said (per the Independent). "It's great because I don't worry about when should I get pregnant — between seasons, while we're shooting the show — I don't think about it every day."
"It would be nice," she added. "But I think of all the things that would be so stressful. I think about how much we're involved in our cats' lives. Oh my God, if it was a child!"
High five to Franco and Brie for making an untraditional decision and proudly sticking to it! They're not the only ones: Chelsea Handler, Jennifer Aniston, and Sarah Silverman also don't have children — and are just fine with it!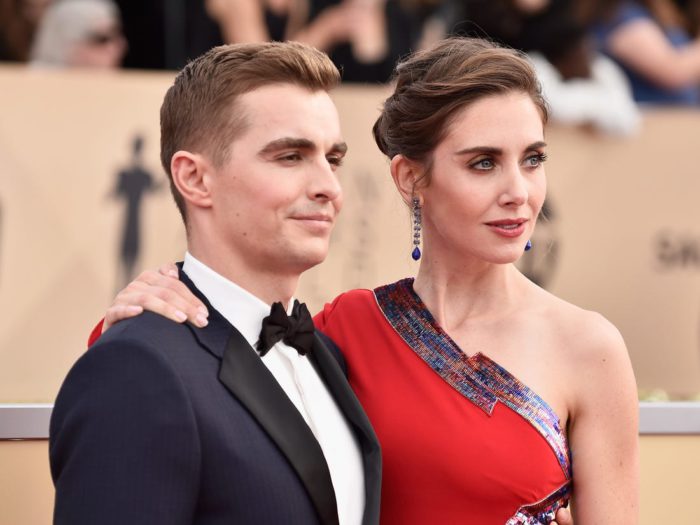 After booking the role in the Netflix hit show Glow, actress Alison Brie completely changed her fitness routine. According to an interview in Women's Health, Brie started to really double down on her strength training and talked about her history with body dysmorphia and her current struggle.
"I go back to red carpet photos where I thought I looked so horrible, and there are some where I now think, 'God, I looked beautiful,'" she told Women's Health. "And I'll remember: 'An hour before that I was in tears; I thought I was so disgusting.' I think it's something I'll probably be working through my whole life. And depression too."
She's one of the growing number of stars in Hollywood opening up about their mental health struggles in an attempt to help decrease negative stigma. Brie credits working out with helping her manage her depression.
"When I've been in a really serious depression, I'll drag myself to a yoga class — even if I don't want to be around people — tears streaming down my face," she said. "But, 'Get in class, get out of your head, get blood flowing.' It ends up helping eventually."
She also says her marriage to actor Dave Franco helps her tremendously. "I'm so lucky I'm married to a really wonderful, open person," she said. "We have great lines of communication, and I can talk often about my feelings."