Revisiting Chenonceau earlier this year, however, when the castle was planned as the setting for an in-person Métiers d'Art show (it has subsequently become virtual), Viard was struck by how closely the atmosphere of the place evoked La Pausa, Gabrielle "Coco" Chanel's own fabled house in Roquebrune in the south of France.
The 16th-century Chenonceau is known as the Chateau des Femmes (the Women's Castle) because of its association with some powerful ladies through its storied history, notably Diane de Poitiers, the influential mistress of King Henry II, and her rival, Catherine de Medici, the king's Italian-born, taste-making wife.
The chateau is flanked on either side by gardens created by De Poitiers who is said to have maintained her legendary beauty by bathing in the River Cher. Viard took the flowers and parterre designs as embroidery motifs, reimagined with what she playfully describes as a touch of Disney.
Viard was especially impressed by the chateau's kitchens: De Medici, after all, was said to have transformed the French culinary landscape. It was also De Medici who expanded the relatively small castle by building a vast gallery room that served as a bridge over the river. It was in this astounding room, with its distinctive black and white checkerboard floor, that the Métiers show was staged. No wonder that Viard was thinking of something "a little princess-y!" with this collection.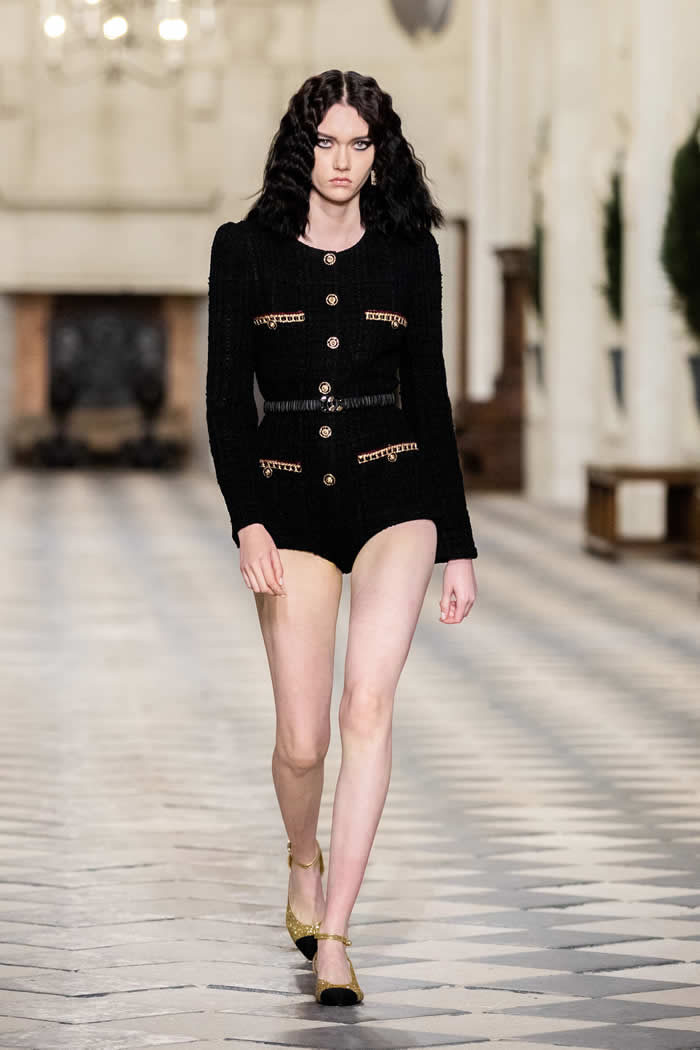 During a Zoom preview, the designer wondered, "Did Chanel really admire the women of that time?" The 1930s portraits of Coco dressed in dark velvet suits with white piecrust ruffs at the neck evoking the court artist François Clouet's portraits of De Medici and her ladies that Viard was rifling through certainly suggest that Chanel appreciated the "magnificent simplicity" of the period.
"You can find so many details," notes Viard. She was astounded to discover, for instance, that Catherine de Medici's symbol, repeated throughout the chateau, is a linked double C—very similar to the iconic Chanel logo that is so much a part of the brand's DNA. (Viard has worked with photographer Juergen Teller this season to document many of these potent details).
For the Métiers d'Art collection, Viard wanted to showcase the exceptional workmanship of the 38 various Maison d'Art suppliers that Chanel has acquired through recent years in order to preserve their skills, from pleaters and button makers to milliners and embroiderers (11 of these crafts houses will be consolidated in the brand's new 19M hub, opening soon in the north of Paris).
So that gallery over the bridge, for instance, inspired the largely black and white Goth princess looks, notably the chess board sequin miniskirts (and matching purses) worn over shiny lycra (or bejeweled stretch velvet) leggings, and an amazing woven tweed ball skirt paired with a black sweater with Renaissance white flower motifs growing up the arms.
There are capes, poet blouses, ruffled gauntlet gloves, and massaro's D'Artagnan boots for a bit of 16th-century dress-up swagger, but there are also lavishly beaded tracksuits, or a blossom-scattered denim shirtdress to the floor for milady's WFH days. Viard, as she explained, took inspiration from Lagerfeld's fall 1983 trompe l'oeil "shower" collection for Chloé that featured embroidered faucets and showerheads spouting crystal water sprays.
Her own playful trompe l'oeil, developed with the inventive embroidery house of Montex, reimagines the castle in Lego-like sequin bricks, used as cummerbund sashes that cinch the waists of full satin ball skirts worn with fragile organza blouses flourished with some of those Catherine de Medici–via–Coco Chanel ruffled collars.
The chateau's tapestries inspired intarsia knits and Lesage embroidered evening sweaters. Lemarie, meanwhile, famed for their feather and artificial flower work, are responsible for the trellis of black ribbons laid over translucent organza that evoke Chenonceau-era court dress with a light 2020 touch.
That dialogue across the centuries is also expressed in the playful drama of a floor-length black velvet coat that opens to reveal a pale tweed body, gilt buttoned like a traditional Chanel jacket. Just the thing to ward off a castle's chills.