Beloved by some of the hottest models and members of the fashion pack, including Alexa Chung and Miranda Kerr, for their minimalist yet chic look, a pair of white jeans can be relied on to elevate and brighten up any outfit. Make the white jeans outfit your summer staple this year with some of our favorite ways to wear them.
Caitlin knows that blue pinstripes go a treat with white jeans, as she pairs the two in an off the shoulder tank top, and distressed jeans. Finish this style with statement heels to complete the look.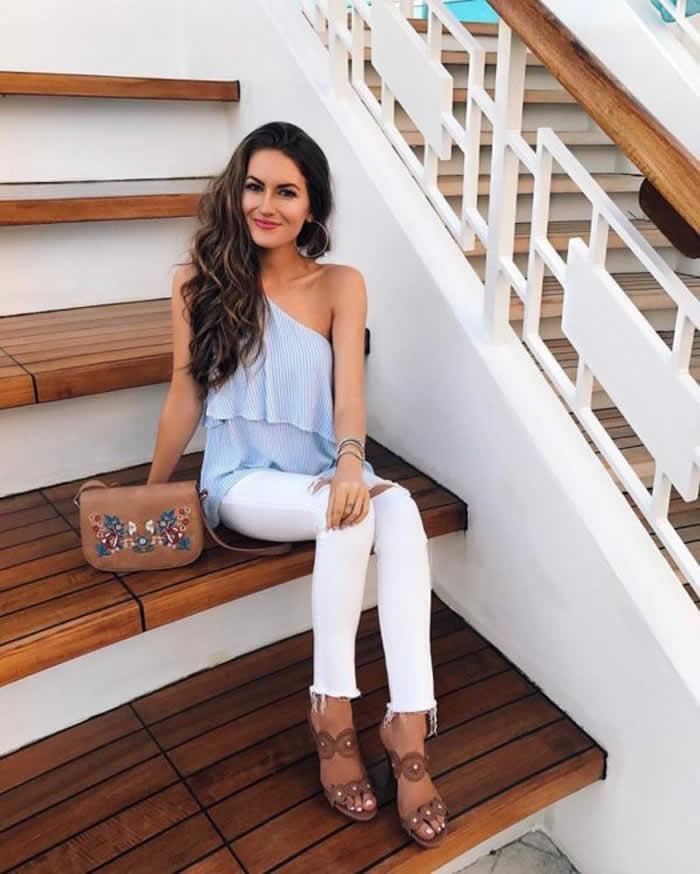 Wearing distressed white jeans with a shoulder-less denim top, Christine Andrew has created the perfect spring/summer look.
Read Also: How to Wear Gingham Print
She wears this style with suede nude heels and a white cross body bag.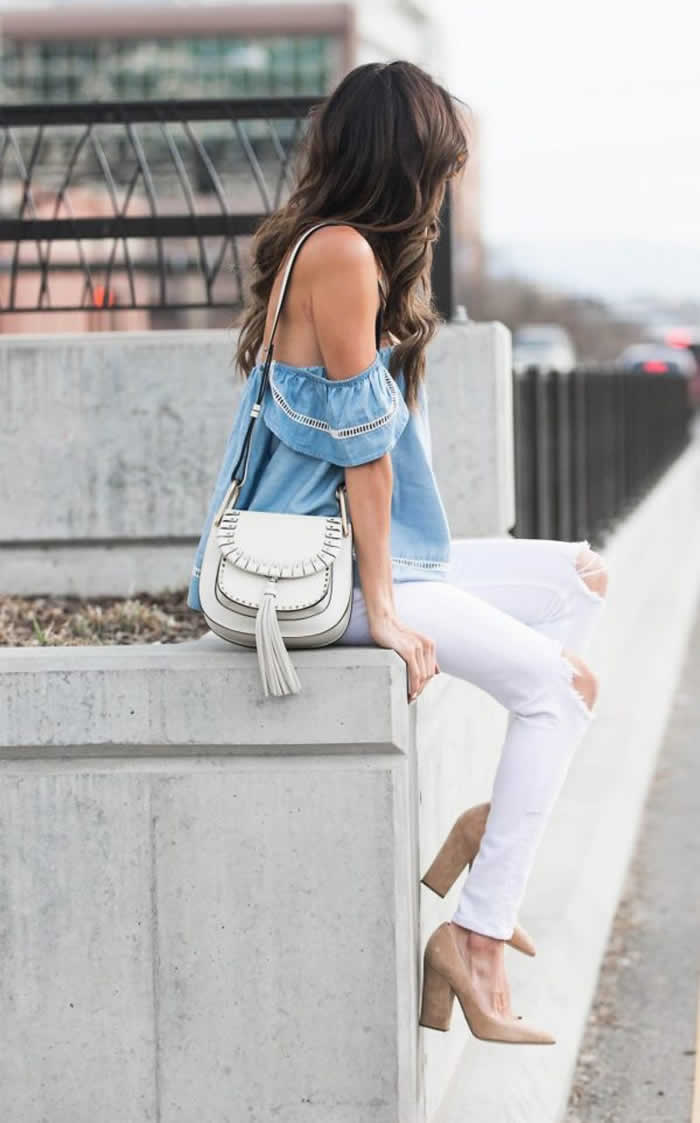 Barbora Ondrackova pairs white jeans with an effortlessly chic grey coat, creating a sophisticated aesthetic which is perfect for any occasion! Wear a style such as this with minimal accessories so as not to take away from it's stripped back, cool look.
Helena Glazer combines two of the hottest fall trends here; white jeans and distressed denim!
Read Also: This Is What You Need To Wear This Summer
Wear this look with a button down blouse to get that laid-back boyfriend style which we all crave!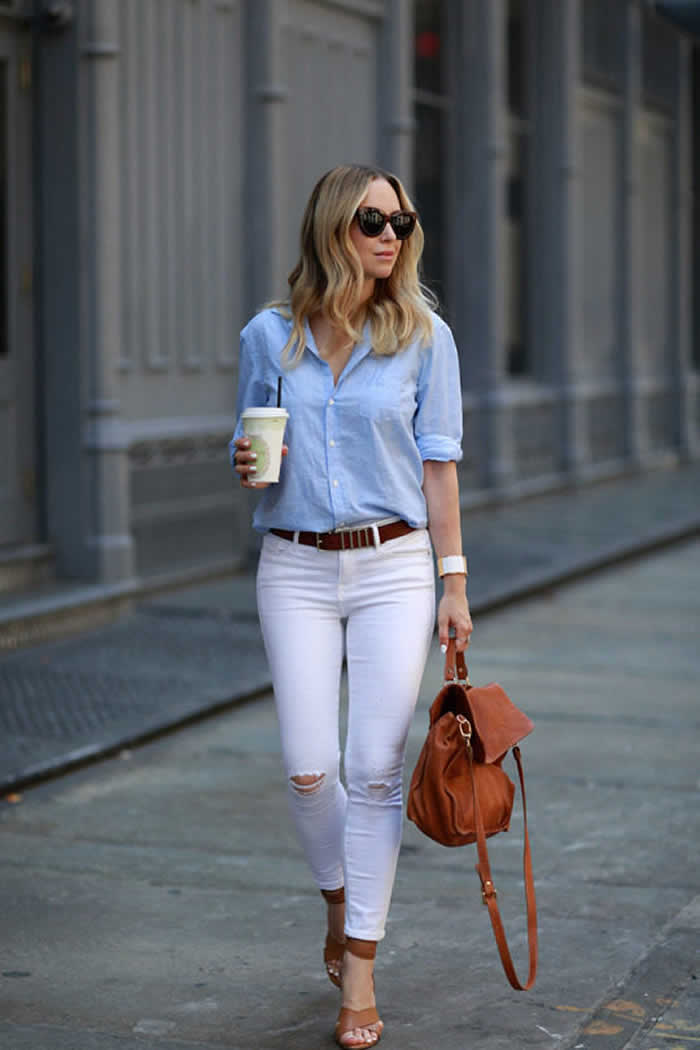 Bust the myth that white jeans are exclusively for summer, and wear a pair with a knit sweater and boots for a cool and casual fall look! We are loving the contrasting colours of Paola Alberdi's outfit; there is no better way to wear this trend!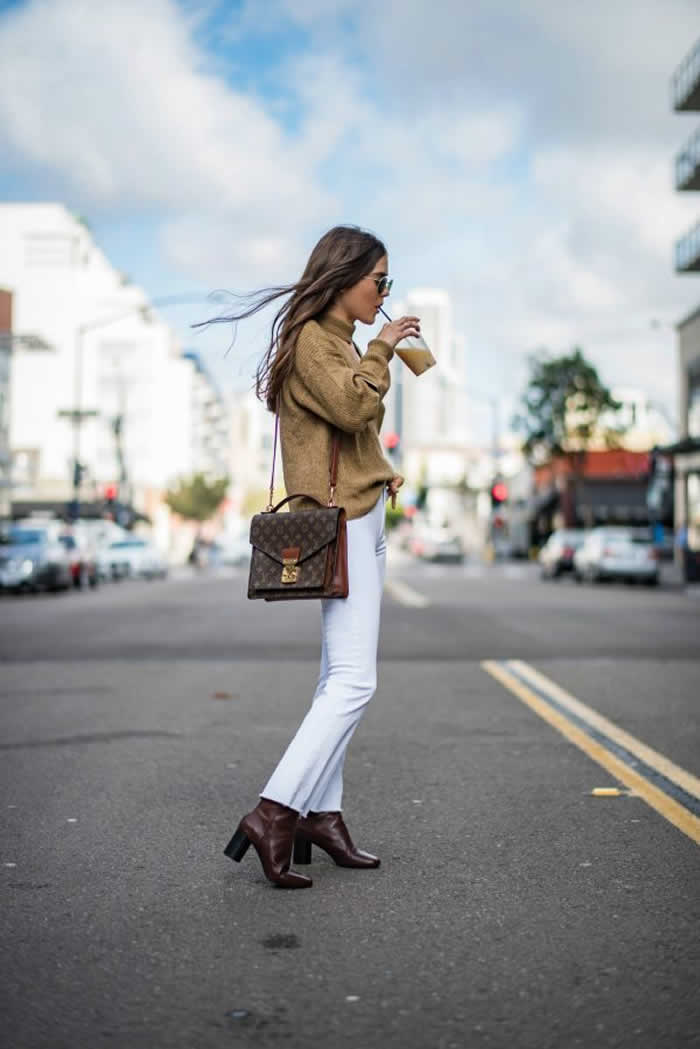 Keep a neutral colour scheme with white jeans to achieve Barbora Ondrackova's elegant summer style. We love the combination of nude and beige to compliment the stark white of these jeans.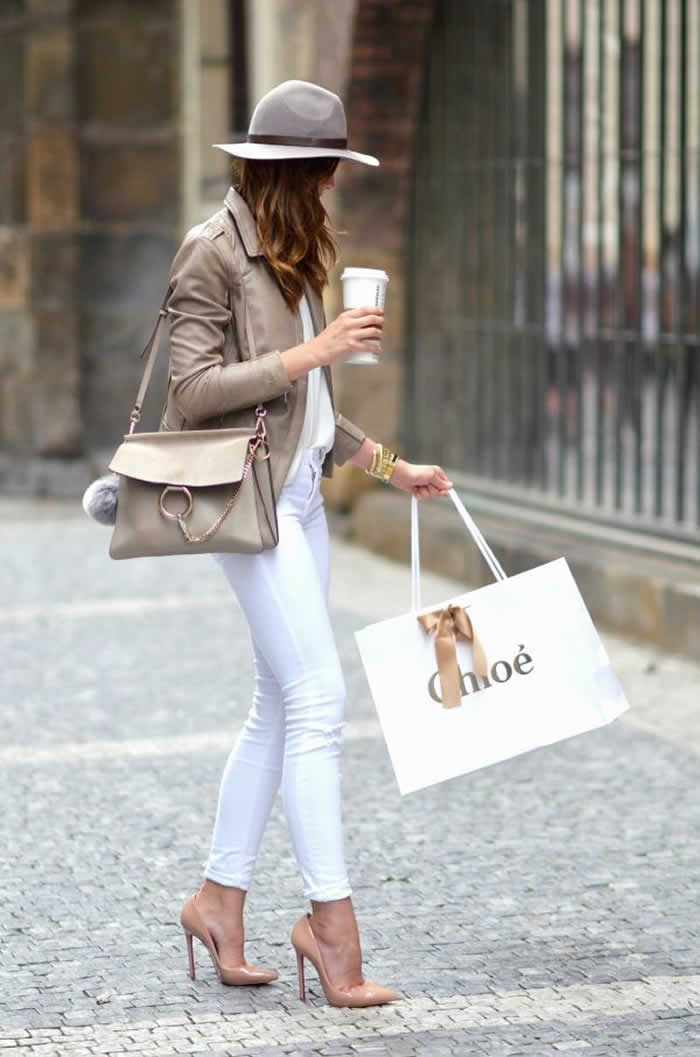 Go all out this September and give the all-white look a try! Aimee Song demonstrates just how glamorous this style can be, pairing distressed white jeans with a plunging V neck top. Bring this look together with a leather belt to copy this awesome look.
Read Also: Summer Fashion 7 Shoe Trends You'll Be Seeing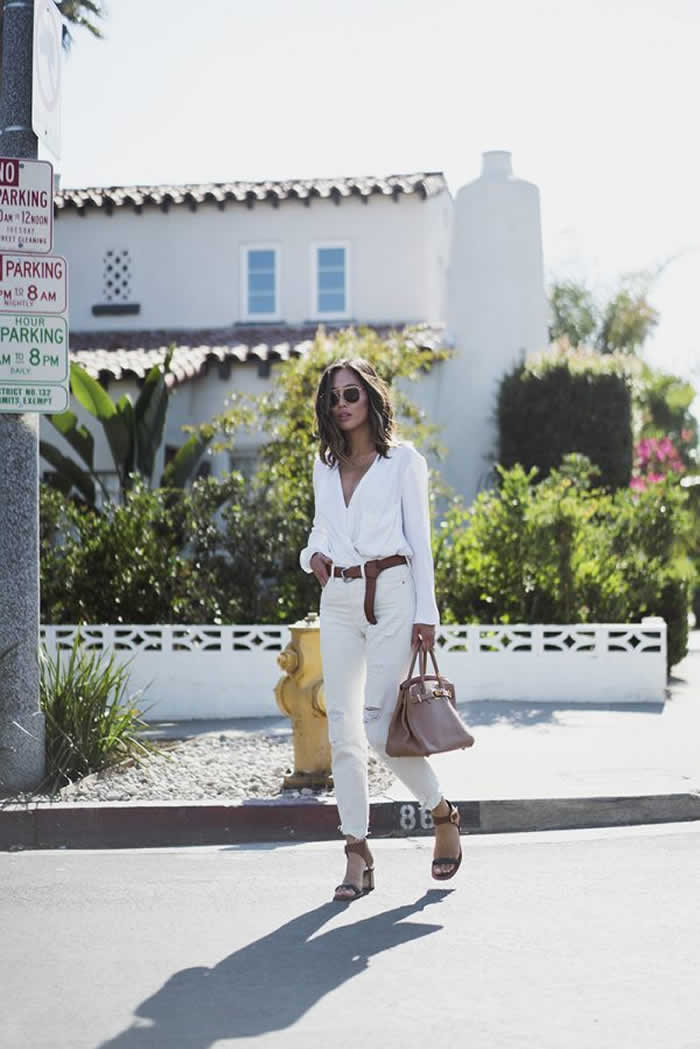 White jeans are an absolute summer essential! Try wearing a pair of high waisted jeans with a crop top and denim jacket to get Jessica R's simple but elegant style.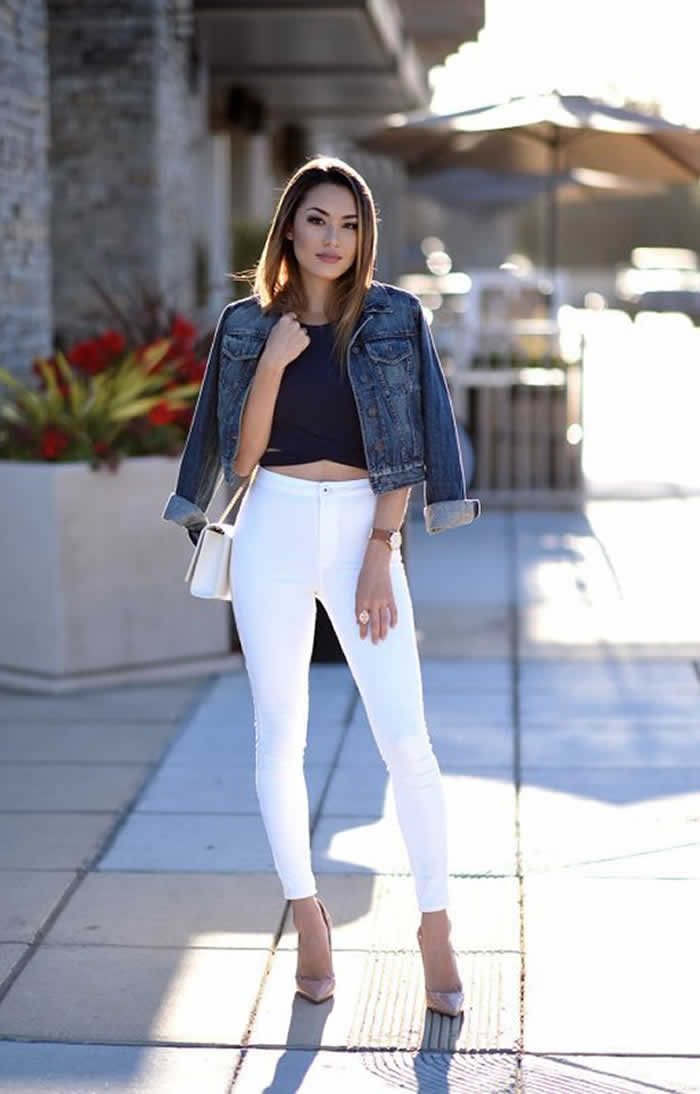 Jessi Afshin has created a super cute summer look by pairing distressed white jeans with an off the shoulder denim top and fresh white classic converse. Try this look yourself for an achievable casual look!
White jeans are the perfect match to a statement printed top like this cute blue & white striped blouse from Banana Republic. Amy Jackson wears these two pieces with a pair of neutral coloured heels to achieve a simple but stylish summer look!
Try layering all white fabrics over white jeans like Merrick White to achieve this gorgeous and graceful style.
Read Also: How To Style Your Jeans This Spring With Amy Jackson
We love the intricate details of this top, and the whole outfit just screams summer glam!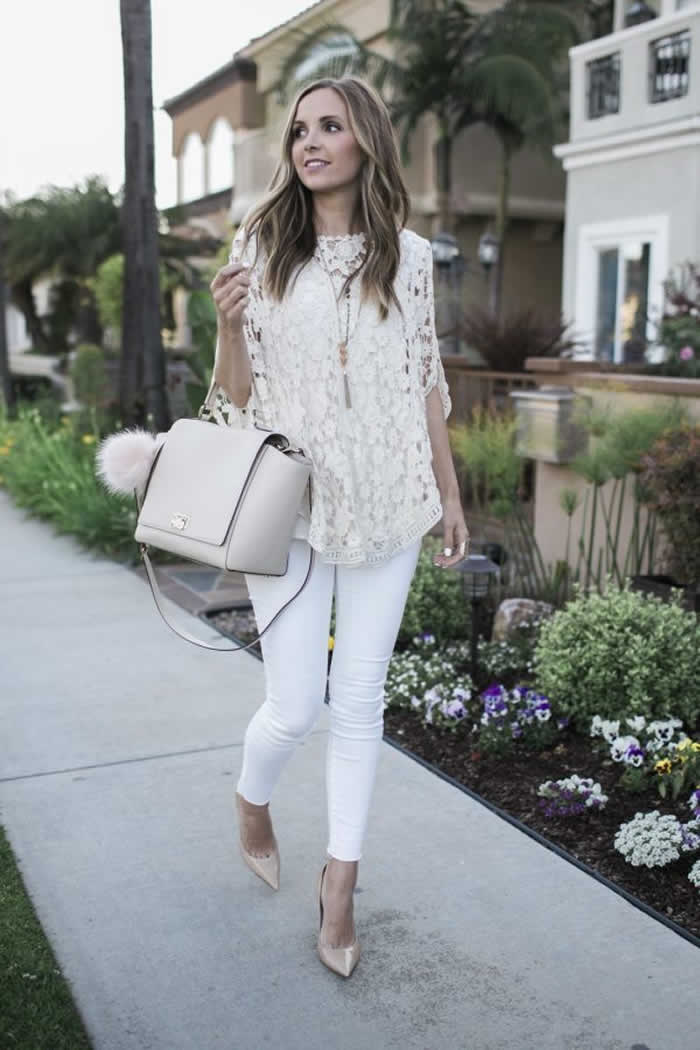 Barbora Ondrackova is rocking this striking style consisting of white jeans, a shoulderless top with bell sleeve detailing, and a pair of nude heels to match nude accessories.