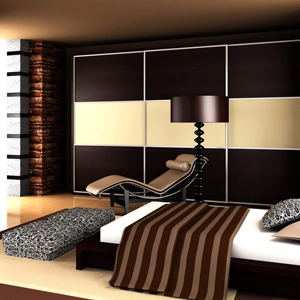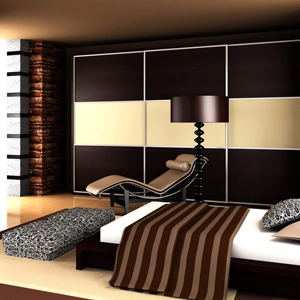 Bedroom reflects personality and surprisingly, it also affect mood and feelings.
Bedroom is such a private place where a person wants to be most comfortable, away from the worries, dream of the desirable things and so great significance is laid on the
interior design
of the bedroom.
Bedroom Interior Color Theme
Before you begin with shopping for the interior, pick the colors based on your personal choice as well as the size of the bedroom. Shades of black, red, brown and other dark colors are suitable for large bedrooms only because they give a warm and packed feeling. Small size bedrooms should carry lighter colors to give a spacious feeling. Colors like peach, light blues, and light greens can be complimented with ivory shade in lamps, curtains, blinders, decoration pieces etc.
Bedroom Interior Furniture Design
The dark, colossal and plain wood is in fashion again! If you have the light
wood furniture
, replace it with dark wood. Dark wood looks ravishing when complimented with dark colors. However, if you are obsessed with 'white' in bedroom then go for the forever classy combo of white (shades of off-white, ivory, etc.) and dark brown. This will not only keep the tone of the bedroom theme low, but also give it the elegant finish. On the other hand, if you want to keep the interior of your bedroom very dim and subtle then you can even pick the color of your furniture. Use shades of white or beige paint in your furniture.
Flooring
Another important task is flooring. Carpeting is no more in. The more stylish and convenient is wood or marble flooring. But rugs, of course have become an essential part of every room. You can choose to have a particular seating area in your bedroom and let the rug rest there. But if you don't have a seating area then you can simply put it before your bed and put nice floor cushions of two-three sizes over it.
Bedroom Interior Wall Decor
The absence of a textured wall or a rock
wall in a room
makes it look incomplete. While picking on the theme of the interior of the bedroom the main wall of the room must be pre decided. It is usually at the most prominent angle in the room, either behind the bed, or the seating area. Bright colors (according to the theme) should be displayed on the wall with desirable textures and a few large wall hangings can be put up to enhance the overall look. In case of lighter shade textures, decorate the wall with bigger number of wall hangings. The idea of personal pictures would create a more intimate ambiance. However, random pictures of flowers and wallpapers can be displayed.
Other Bedroom Interior Design Essentials
For any kind of interior lamps are a must in a bedroom. The yellow light create a pleasant and soothing mood in the room. Moreover, the blinders or curtains also are an essential element in a bedroom. Even if the windows are small, use cane blinders instead. Bedroom interior must also accommodate a couple of chairs, sofa set, sofa cum bed, or even bean-chair based on the available space.
A bedroom that has a good interior design is always spacious and gives a serene feeling.