If you're on a limited budget, but still hankering after a more modern space, here are some clever ideas for quick, easy, and affordable updates.
1. STICK TO THE EXISTING KITCHEN LAYOUT
If it ain't broken… Keeping the current kitchen layout will reduce your costs considerably – moving cupboards, plumbing, walls, electrics, and so on takes a kitchen renovation into big money. And the more you can do yourself with a cosmetic makeover, the more you'll save.
2. RE-USE YOUR APPLIANCES
Before you throw them out, give your appliances a thorough scrub inside and out with a gentle abrasive cleaner and look at them from the fresh legs of a kitchen makeover. If your appliances are still in good working order, re-use them – including your kitchen sink. Then spend the money you save on a fabulous new mixer tap!
3. PAINT
The simplest way to begin a budget reno is to paint. Instantly lighten up a gloomy, tired space by giving the walls, ceiling, door, and window frames a couple of coats of a bright, neutral color or white. If you're painting over timber paneling, you'll need to apply a stain and tannin blocker first – your local hardware store can advise on this, as well as on the most suitable paint for kitchen areas.
4. UPCYCLE EXISTING FURNITURE
And while you've got your paintbrush out, spruce up an op-shop table and a few mismatched chairs to form a dining suite – they all match if they're the same color!
5. CABINET MAKEOVER
The next thing to consider is the kitchen cabinets. If they're structurally sound but just dated or a hideous shade, you can paint or replace the doors, drawer fronts, and hardware for a fraction of the money that it would cost to replace the entire cabinetry.
Whether your cabinets are timber or laminate, there is a paint product to suit.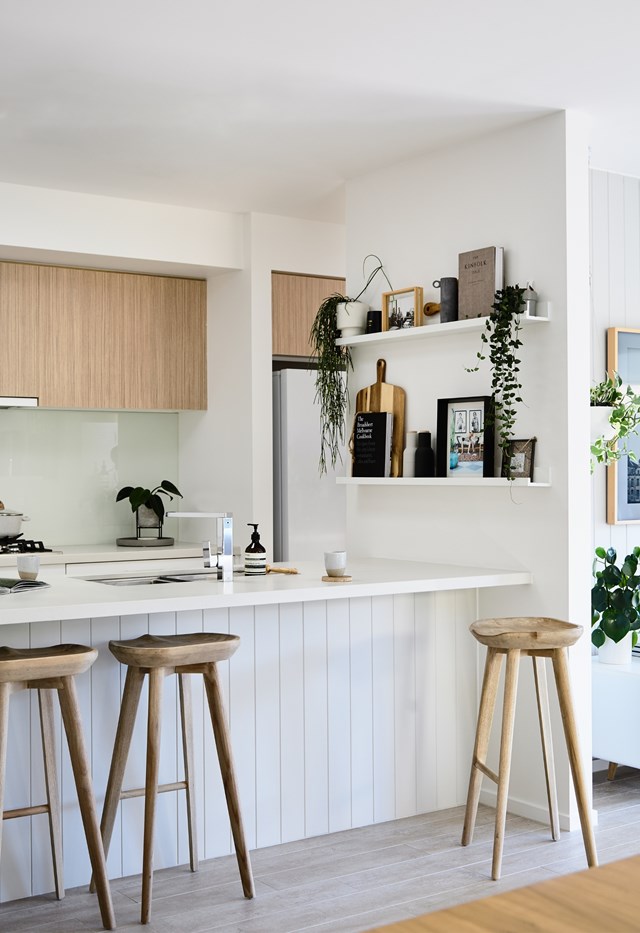 Most kitchen cabinets are a standard size, so that replacement doors can be fitted to existing units. If you feel daunted by the idea of painting all the cabinet doors yourself, check out the cost of having them painted by a kitchen spray-painting service – this might even be less than replacing the doors, and the finish is hard-wearing and professional.
6. REMOVE CUPBOARD DOORS
Another quick fix is to remove the doors completely from existing over-bench cabinets or replace them with simple, open shelving for an airy, modern look. You can even paint or line the back of the shelves with colorful paper to add color and interest.
7. A NEW BENCHTOP
If your benchtop and splashback have seen better days, you have several options. You can replace them, of course – there are thousands of low-cost alternatives to choose from and many are perfect for DIY. You can also resurface them, using the range of clever products now available at your local hardware or Bunnings.
8. PAINT A TILED SPLASHBACK
Give a tiled splashback a whole new look with tile paint and transform your benchtop with a resurfacing kit that offers a variety of 'stone lookalike' finishes.
9. RENEW POWERPOINTS & LIGHT FITTINGS
Finally, spend a little on new power-point covers, light switches, window coverings, and light fittings.