The designer is introducing a collection of about 40 pieces that reinterpret some of his signature styles. Perhaps "new" isn't the best way to describe the collection Ralph Lauren is introducing on Wednesday at his flagships, ralphlauren.com and Bergdorf Goodman. Informally referred to as "Icons," though there's no official name, the offer is comprised of some of the designer's best-known signature styles that have been curated into a specific group of evergreen items within the women's collection.
The styles have been updated in terms of fit, fabric and proportions and will be accompanied by a new ad campaign photographed by Steven Meisel, directed by Fabien Baron and styled by Karl Templer. "All my life I've been drawn to pieces of clothing that had an authenticity and timeless spirit created not with fashion in mind, but to serve a purpose," said Lauren. These are the iconic pieces that have "always been at the center of my personal style and have inspired this collection I've personally curated."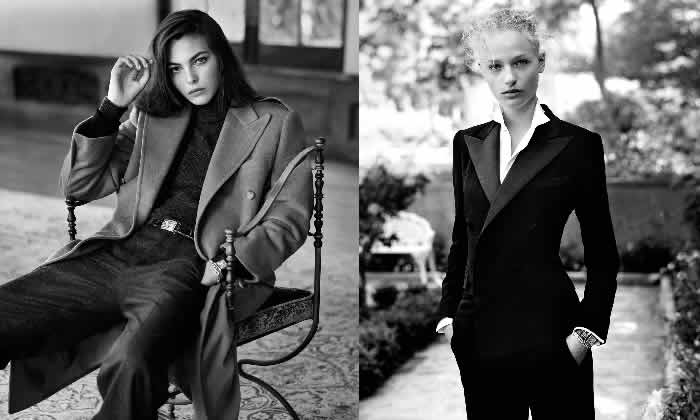 The collection focuses on 10 key pieces: British Warmer, the Tuxedo, the RL Blazer, the RL Safari Jacket, the Fireman's Coat, the Navy Peacoat, the Army Field Jacket, the Officer's Jacket, the Tweed Jacket and the Sailor Pant. To round out the offer, there will be cashmere sweaters, broadcloth shirts, wool-flannel trousers, jeans, accessories such as the Ricky bag and timepieces, for a lineup of about 40 items total. Retail prices range from $1,000 up to $8,000.
To me, real luxury is about things that last, that have an enduring kind of elegance and character that never go out of style, like the women that wear them," said Lauren. Meisel shot a series of lifestyle portraits of models including Vittoria Ceretti, Margaret Qualley, Stella Tennant, Jacquetta Wheeler, Frederikke Sofie, Fei Fei Sun and Cameron Russell in the heritage looks. The campaign, which includes digital and social components, will break in December issues.