Named for the location of Neverland in the "Peter Pan" books, this Alaskan property is loaded with magical touches.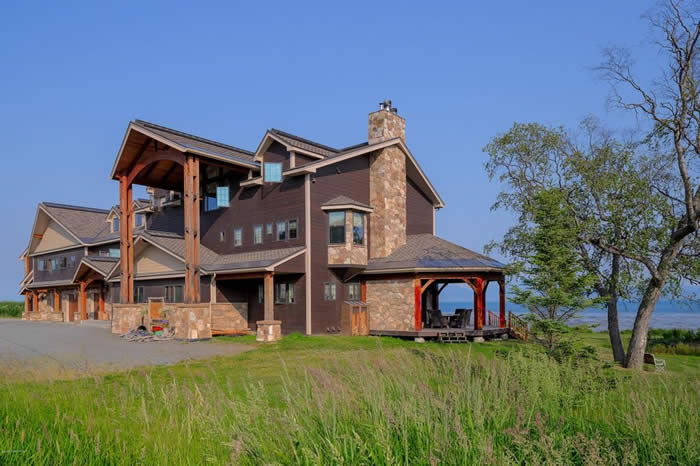 "This property is truly unlike really anything anywhere, but in Alaska specifically, it's the crown jewel of real estate," says the listing agent, Richelle Killian. "The owner built it with a vision: to have a truly luxurious vacation spot, because it's something that Alaska lacks."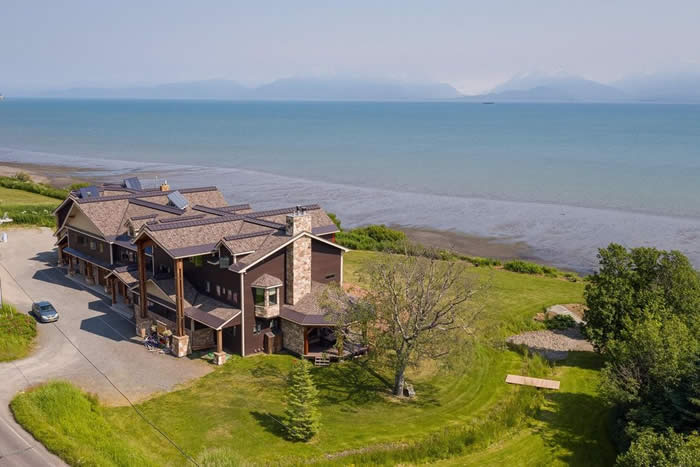 If you're curious about comps in the luxury real estate market way up north, the second most expensive listing in the 49th state is a $3.5 million home in Anchor Point.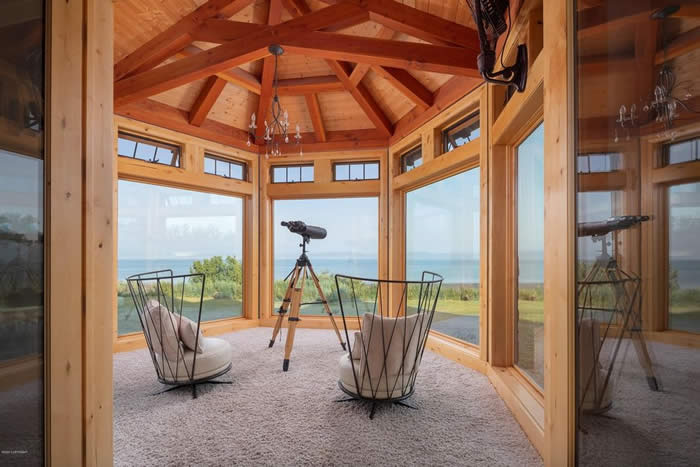 Suffice it to say, Second Star sits in another galaxy.
Built in 2011, on 2.5 acres on Kachemak Bay, the mansion measures in at 17,000 square feet. It features eight bedrooms that sleep up to 30 people, 12 bathrooms, plenty of entertaining space, and breathtaking views.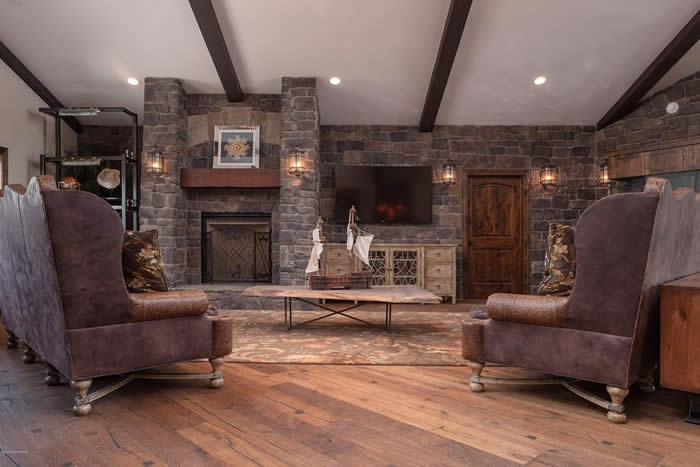 "When you're looking out anywhere on the backside, you're looking over Kachemak Bay and into the mountains," Killian explains.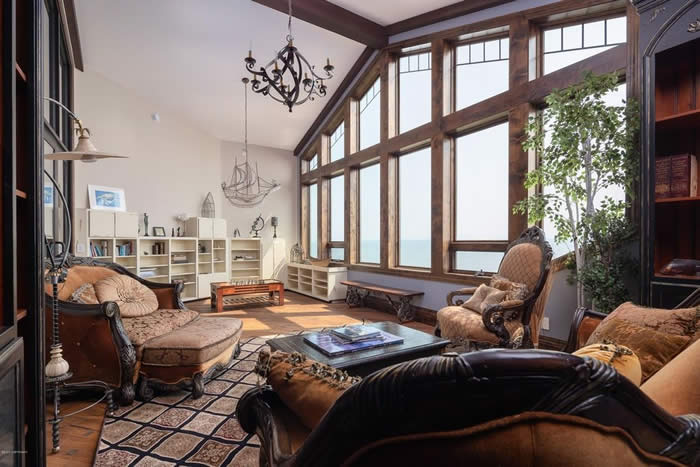 "So you've got ocean wildlife, you've got a viewing room with a telescope, where you can see bears in the mountains. You can see everything. You can see all the way down to the Homer Spit and see the boats coming in and out."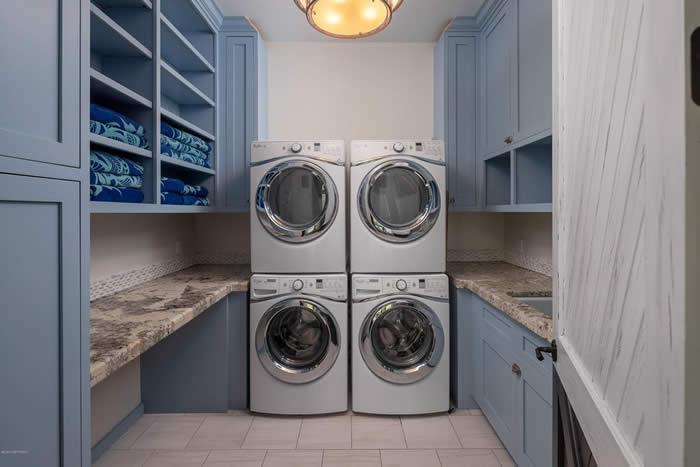 All the home's high-end furnishings are included in the purchase price. The furniture alone, which is mostly custom-made or one of a kind, is estimated to be worth around $300,000. There's an additional $250,000 in custom lighting, including several chandeliers.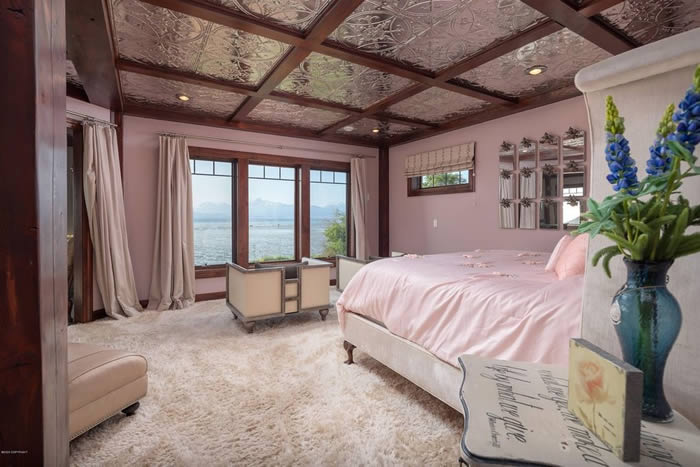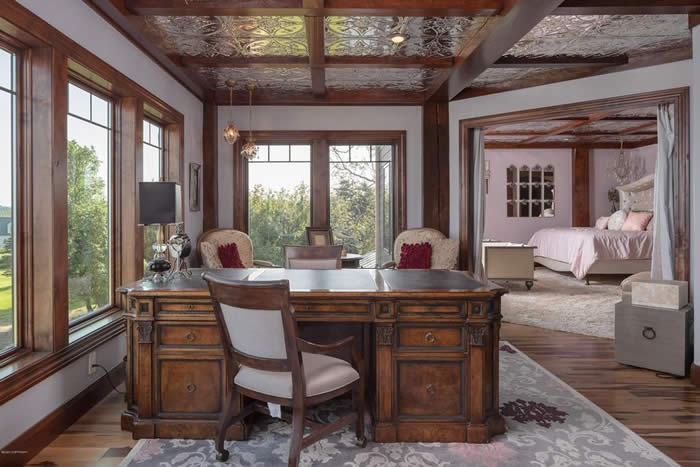 "It's not overly fussy. [The owner] did it in such a way that it's luxurious but it's not unlivable," Killian explains. "You feel like you can run through the property, you can have kids running around, they're not going to break things. It truly is a functioning home."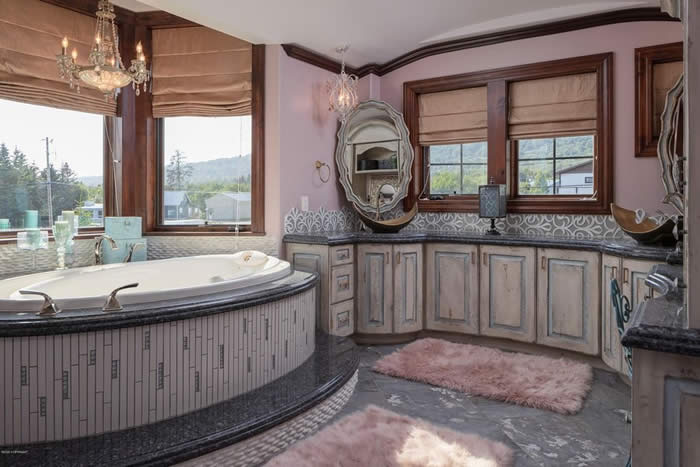 For a buyer expecting a posse of visitors, there are five sets of washers and dryers. The floors are all hardwood, with in-floor radiant heat. Solar panels provide most of the electricity, and there's a six-car garage.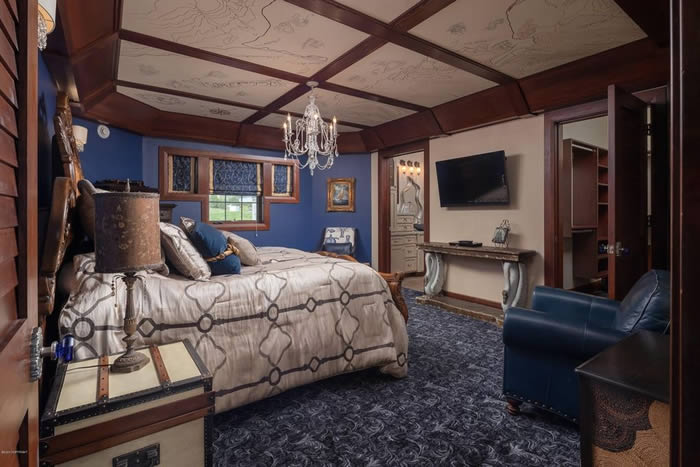 "It's just breathtaking from top to bottom. There's no corner that you turn that you just aren't taken aback with something," Killian says. "Whether it's another custom chandelier, or just the detail in the wood floors, every single detail is just brilliant."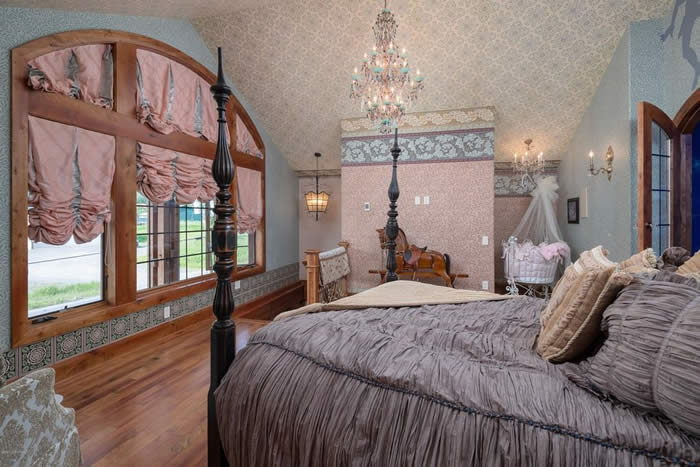 Each of the mansion's eight bedroom suites is designed with a theme. The master suite has 14 chandeliers, a master bath with a marble shower, a private office space, and a walk-in closet.
There is also a nautical suite, designed to feel like a wooden ship, with treasure maps on the ceiling.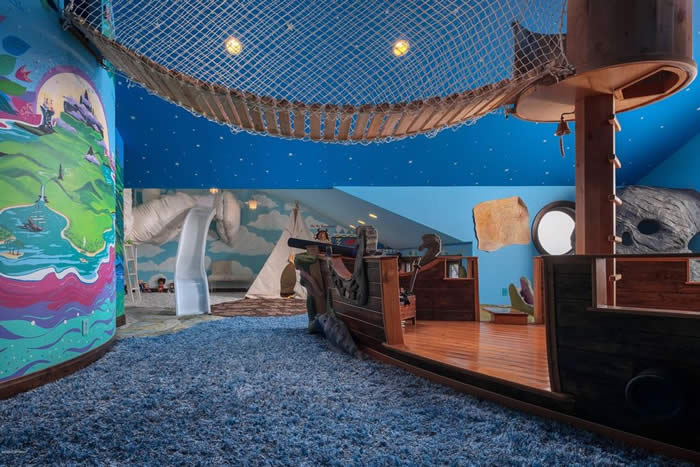 The "Darling" and "Neverland" suites are meant for kids—or a kid at heart. The bedroom was inspired by Wendy Darling's room in "Peter Pan" and a door leads to Neverland.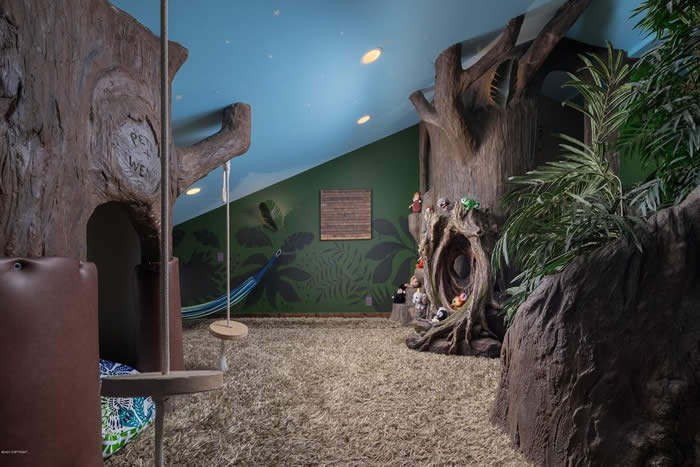 "Everything is so beautifully detailed—from the crocodiles, the boats, and the mermaids," Killian says. "Then you've got these big clouds and the clouds have beds inside them. There's a bed inside the ship. There are beds inside the trees. So you can have just the most amazing, magical experience for your children."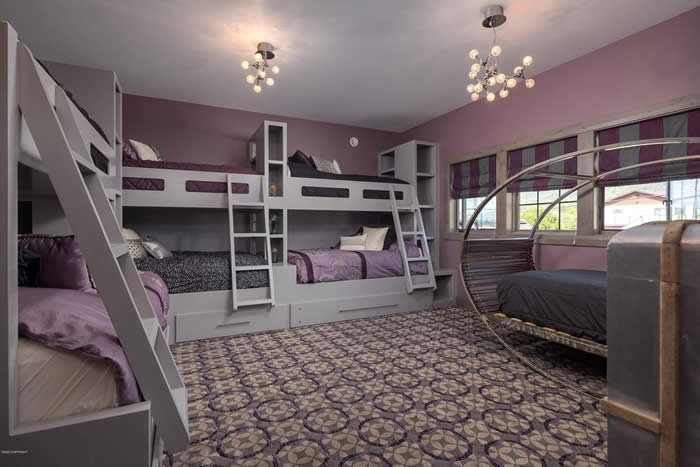 Then there's the "Slumber Party" suite, which sleeps 12 and comes equipped with a unique and modern feature.
"Every one of those bunks has a USB plugin for charging a phone," Killian says. "How perfect is that for a group of teenagers?"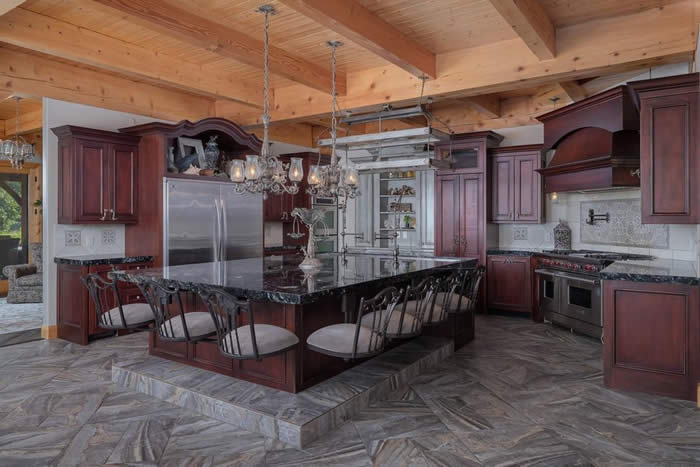 According to the agent, the home's entire layout encourages togetherness. There are two kitchens, one with a hidden scullery to hide preparation space, a dishwasher, washer and dryer, and the pantry.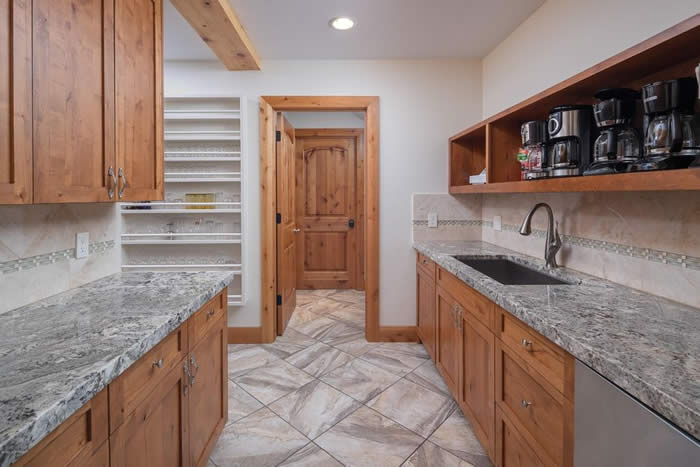 The main kitchen can seat 30 people for meals and has high-end finishes and appliances. Upstairs, near the game room, is a secondary kitchen for entertaining.
There are very few televisions in the house, but there is a 30-seat movie theater for group viewings. The hallway leading from the library to the movie theater is set up like a market in Paris, with storefronts to explore.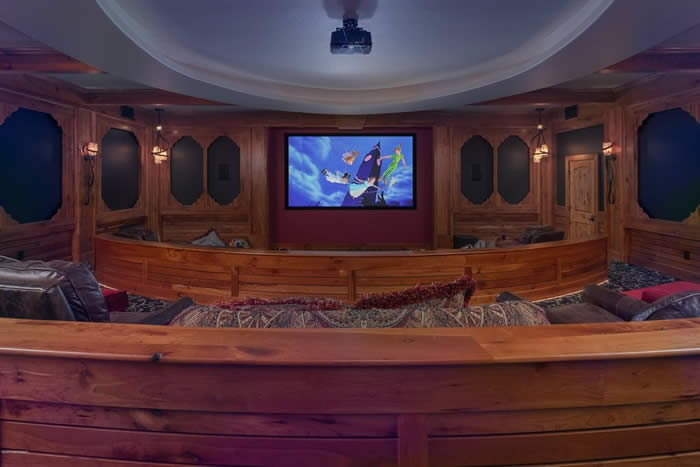 "It's super cool, because there's all sorts of little hidden niches. When you first walk down the hallway, you can see a window of a candy shop. But there are two hidden entrances for kids to find, to actually get inside that candy shop and get to the candy," Killian notes.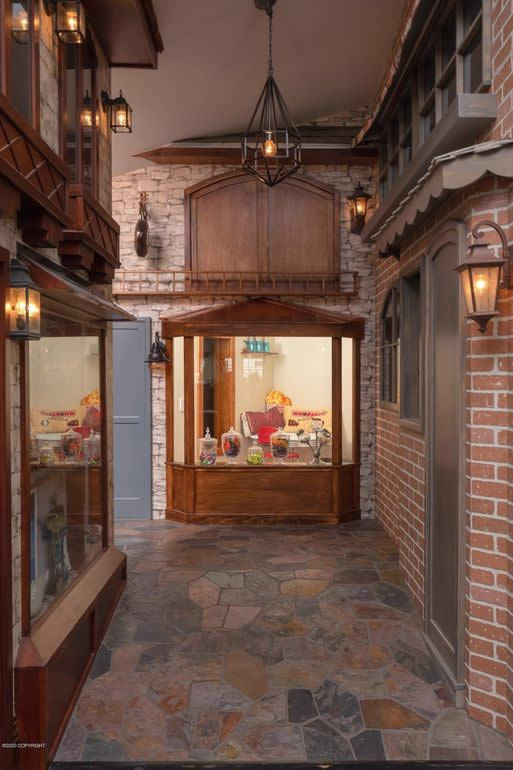 For even more diversion, a luxury spa area features an indoor pool with a treadmill inside it, a Turkish bath, sauna, and massage room.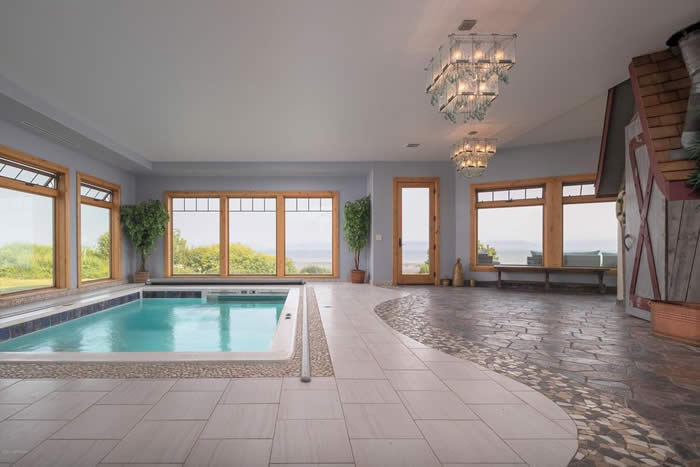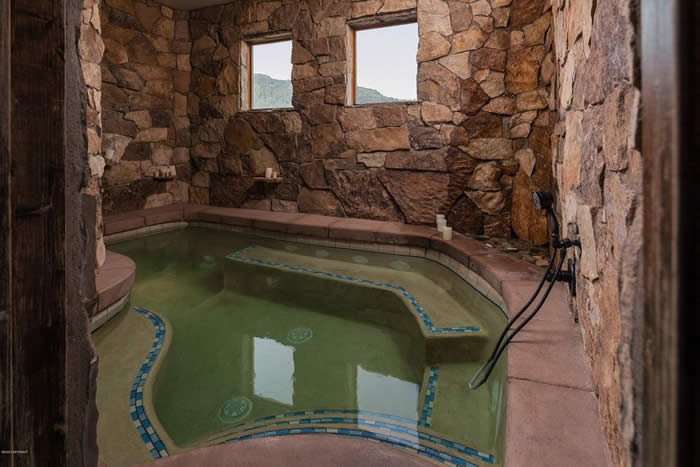 Currently, the home is available for rent by the night. Rates start at $3,500, and the home is often completely booked for a year in advance.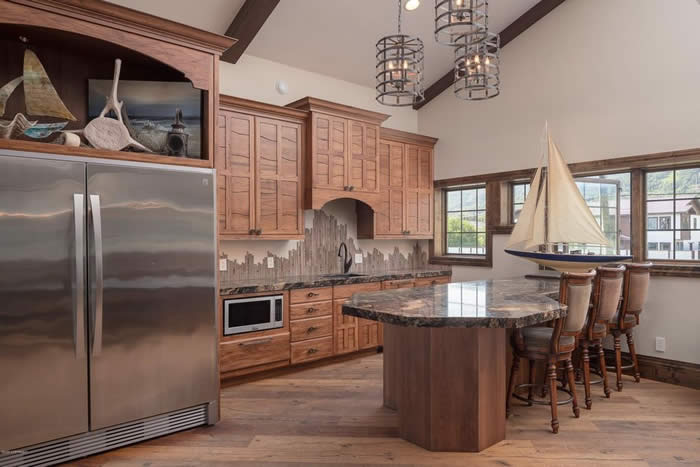 "It has been the No. 1 wedding destination in Alaska for several years in a row now," Killian says. "I mean it's perfect. It's right on the ocean, it sleeps 30 people. You can have your entire wedding party there for a week, and have everything right on site."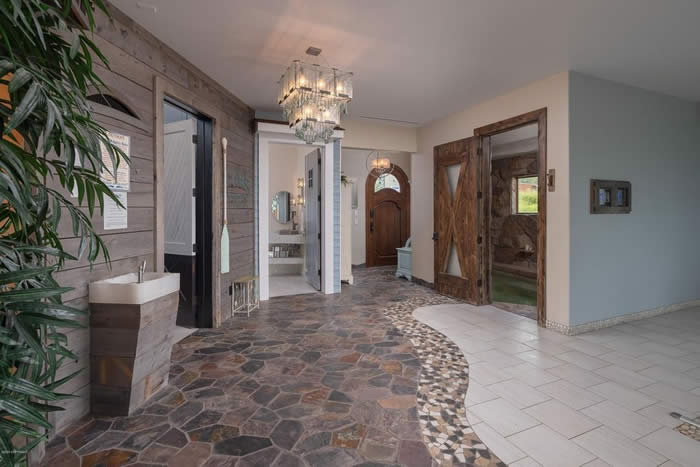 The property is about a three-hour drive from the Anchorage airport and close to the small Homer airport.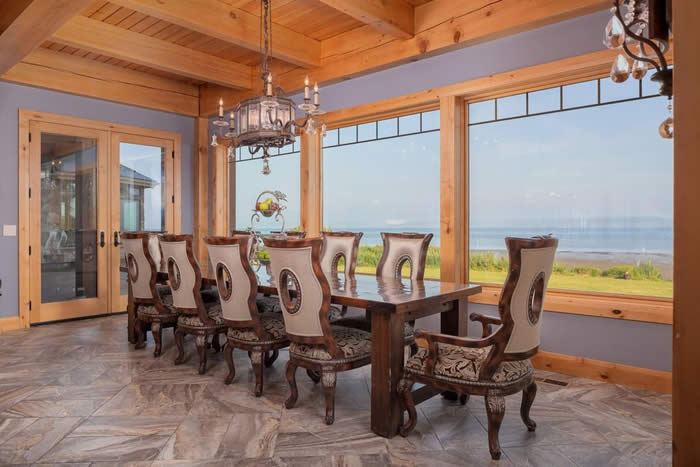 The town of Homer is south of the state's largest city on the Kenai Peninsula. Around 5,800 hardy souls call the place home, and in the summer months, the average temperatures seldom exceed 70°F.
Killian says some actors and musicians have expressed an interest in taking a look at the property as a vacation home, but there may be another kind of buyer.
She says a potential buyer with cash to spare might simply be looking for "a second home to completely get away."
Meanwhile, she adds, someone "who could see the potential in the rental side of it and maintaining it as a luxury rental, is also a strong possibility."