Plus, we love to see what the British singer is wearing because she always pulls out all the stops. And the ultra-glam Versace dress she just wore is seriously OMG-worthy.
In the first snap, the brunette babe showed off her silky and fur-trimmed gown beside a pretty epic bouquet of multicolored roses.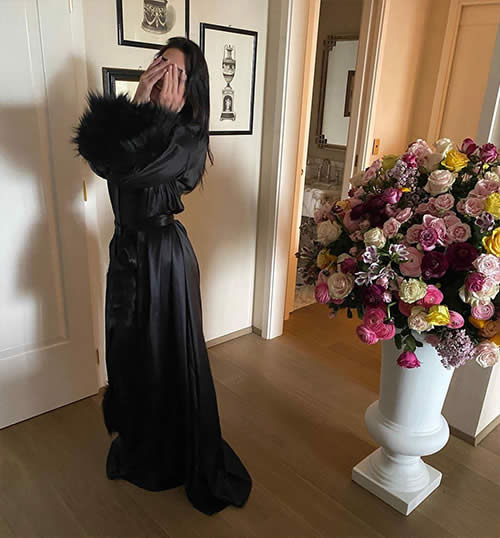 In the next pic, Dua was truly one of the people, and snapped a classic mirror selfie that showed off the amazing sleeves of her dress even more clearly. Captioned "Buongiorno" with the kiss emoji, Dua's April 13th post got over 3.7m likes.
In the last slide, we spied a Versace logo on the back of Dua's dress—or is it a robe?
Either way, it's the epitome of luxury and we're here for this level of at-home glam.
It's not the first daring Versace dress she's worn—we still think about the incredible one-shoulder pink Versace gown Dua wore to the Grammy's this year.
Dua is definitely a style icon in her own right and this look proves it! The 25-year-old "We're Good" singer looked sexy and glamorous in her all-black outfit.
So much so, that she's making us want to wear a silky fur-trimmed robe for our next Zoom meeting.