Lily James is doing good in terms of her career. But the 31-year-old actress has been romantically linked to her married co-stars Dominic West and Armie Hammer, which prompted others to call her names.
Daily Mail published a report claiming that Lily James was involved in Armie Hammer's divorce from his wife of 10 years, Elizabeth Chambers. James and Hammers starred in Netflix's Rebecca. The pair play as a married couple in the movie.
However, anonymous sources spoke with Daily Mail and told the outlet that James and Hammer flirted on the set. She allegedly flirted with Hammer even if she knew he was happily married.
At the time, James' romance with her boyfriend Matt Smith, 37, had been cooling down, according to the report.
"She was not subtle. And he was into it, no doubt about it. She was touching him constantly, giving him long smoldering looks," the source said.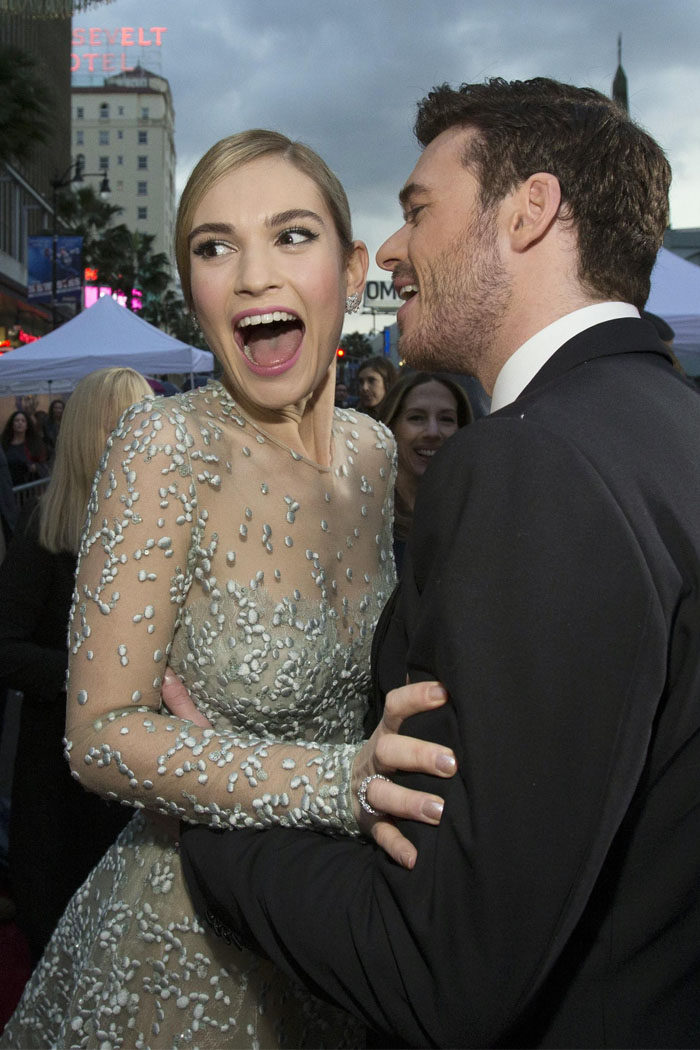 "While he was filming, he chose to have weeks away in the English countryside instead of returning to see his family who were also in the UK. This is all very typical of him."
Chambers reportedly discovered passionate messages between Hammer and a woman who signed herself as Adeline. Hammer also allegedly saved a number under the same name on his phone.
James has no first name in the film. However, she was referred to as Adeline on the movie call sheets and her trailer, sources claimed.
Micky could not verify the claims on the report.
Meanwhile, one netizen claimed that James wasn't called Adeline on the Rebecca set. Instead, she was named Daphne du Maurier as a nod to the author.
For the record, because Lily's role in Rebecca is never named, during filming they used the name Daphne for her on set as a nod to Daphne du Maurier, the book's other. @DailyMailCeleb is out right lying about the 'Adeline' name.

— lily james source (@lilyjamessource) October 26, 2020
Prior to Daily Mail's report, photos of Lily James kissing his married The Pursuit of Love co-star Dominic West made headlines. Many were shocked because the public knew that he was married. However, the two were too close for comfort in the shots.
James was reportedly shocked when West and his wife, Catherine Fitzgerald, held a press conference and told the media that they are still together.
This "Lily James-is-the-devil" narrative that has been emerging over the last month is really not OK https://t.co/b4IgfUQG2w

— Amy Kaufman (@AmyKinLA) October 25, 2020
Twitter slammed Lily
Since Lily James was linked to two married men, some immediately dubbed her a "homewrecker" on Twitter.
"lily james is 100% a homewrecker smh," one netizen wrote on Twitter.
Let me guess, Hammer hated his wife enough to cheat on her. https://t.co/ULWrRRvE5N

— SJWJamesBond Wants Nazis Banned ︽✵︽ Agent of GIRL (@mvbrat91) October 25, 2020
"It's going to be very hard for me to not see Lily James as anything other than a homewrecker even though Armie Hammer and Dominic West are equally at fault," another added.
It's going to be very hard for me to not see Lily James as anything other than a homewrecker even though Armie Hammer and Dominic West are equally at fault.

— Priyant (@Priyant1987) October 26, 2020
However, many also defended Lily James. Several netizens reminded the others that there would be no affair if the two men were not involved. So, James isn't the only one at fault. West and Hammer are equally guilty as well.
lily james is 100% a homewrecker smh

— shaina (@shainaasf) October 25, 2020