Finding the right balance between functionality, coziness and style seems difficult to achieve when decorating our homes. No matter how much money we spend on decent furniture, rooms always seem to be lacking something and look nothing like the perfect spaces we see in magazines. Sometimes the situation can be solved with a few small tricks that only require a few minutes of your time and don't involve spending any money. Read through the following tips to find out how you can make your home look more stylish with minimal effort.
1. Treat the front door the same as the indoor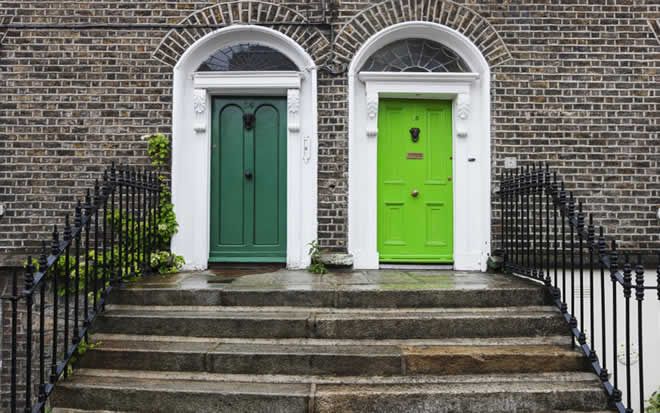 The first impression you create about your home should not be overlooked, even if you live in an apartment building. Treating the outside of the entrance with the same attention as the inside is a great way to add style to your home. Put something from the inside of your house (nothing particularly precious though), hang a seasonal wreath or decorations, or update your house number sign. Plants are always a great idea, as long as they get sufficient light.
2. Display stuff in threes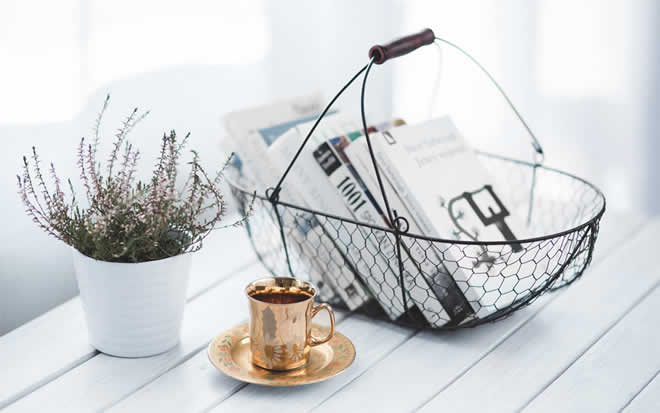 As in many fields and disciplines, the rule of three is vastly used in decorating and styling. Displaying a trio seems to be more appealing visually and more balanced, especially when sizes, heights and materials bring some variety. Start small by testing in a little corner or table and then apply the concept to different areas throughout the house. Just make sure you're not overdoing it, otherwise the effect won't be read right.
3. Layer your carpets and rugs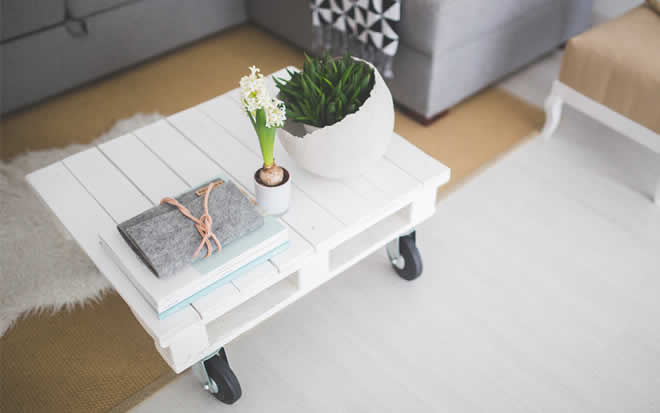 Professionals use this tip a lot to save money on client projects or to "cheat" on shoots. Not only does this method cost less to bring a room together, but it also doesn't deprive you from getting the pattern you love in case you can't find the right size. It's also a great way to test how you feel about a bolder choice and it makes the whole room feel cozier and more stylish. Start by layering a small bold rug on top of a bigger neutral carpet or rug.
4. Stack your books in alternative ways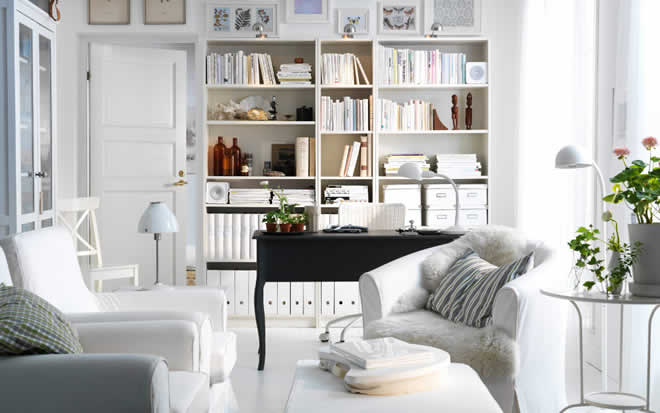 While the usual vertical or slightly tilted stack in bookshelves is common for a classic home, alternative placement speaks for a bolder style. Try alternating between vertical and horizontal book piles in shelves. Horizontal stacks will break the pattern of the vertical lines and add more visual interest, making it much more easier to style the shelves with additional objects. Just make sure the rhythm is random and not the same all over, as it defeats the purpose by creating a rigid pattern that's heavy on the eye.
5. Display conversation pieces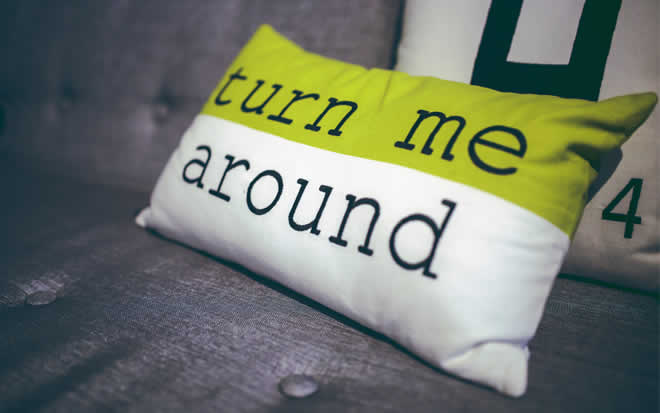 This tip is a little trickier than it sounds because you don't want to display your dear objects all over and find out nobody is impressed. In order to get people's attention, conversation pieces should be standing out from the surroundings and immediately draw the eye to them. Don't forget that you don't need to cross an ocean to find a piece worth talking about. As long as there's a dear memory related to them, distant or recent, anything can be a conversation piece (even a random picture or a thrifted piece).
6. Make liquid soap bottles fancier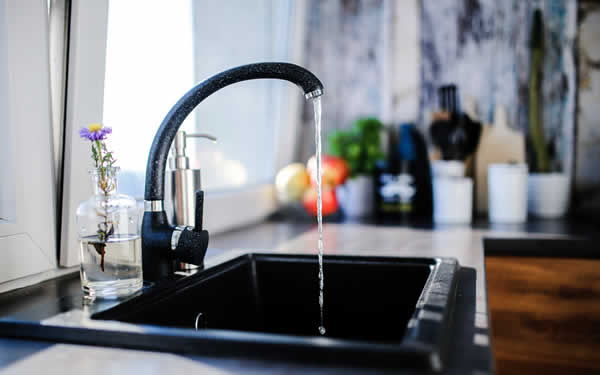 Next time you have a beautiful bottle of hand wash, save it after you use up the soap and refill with a cheap one. For a quick and easy fix, just soak the plastic bottles you usually buy in warm soapy water until all labels are easy to peel off. A transparent bottle looks less tacky and much fancier than a labeled one, even if it costs very little and is still plastic. Do this in the kitchen sink with dish wash bottles and on all bathroom sinks. While you're at it, add a bottle of random lotion by each sink, to slather on your hands after doing the dishes to keep them soft and feel more stylish yourself.
7. Keep the dust away Nothing kills style like dust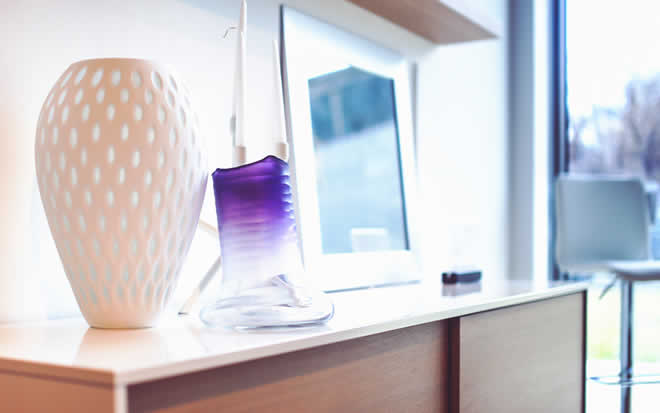 It might be just yesterday that you cleaned the whole house, but dust finds its way back no matter what. Test and see which surfaces are more visible in the usual light at home and be sure to swipe them more often in between general cleaning. You will be able to enjoy your home and stay relaxed and not get alarmed when guests stop by. To remember to do it often, keep an easy cleaning supply (even wet wipes will do) tucked somewhere near the problematic areas.
8. Display fresh flowers randomly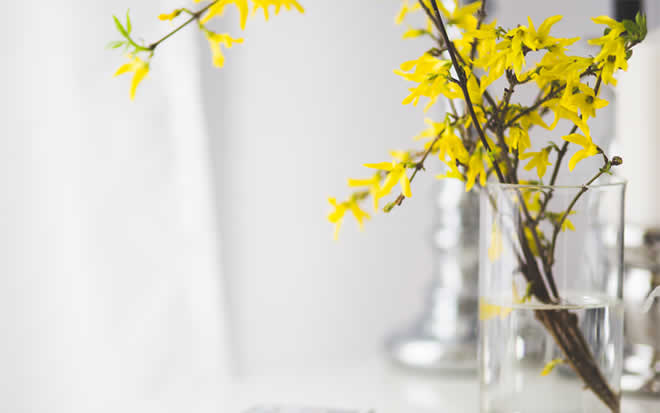 When you get flowers put them in a vase somewhere in a corner of the room, nothing too central. Bonus points if the flowers are mismatch from street vendors or a garden. The casual look and random placement gives the impression that you do this all the time and for your own pleasure, without trying too hard to impress others.
9. Move stuff between different rooms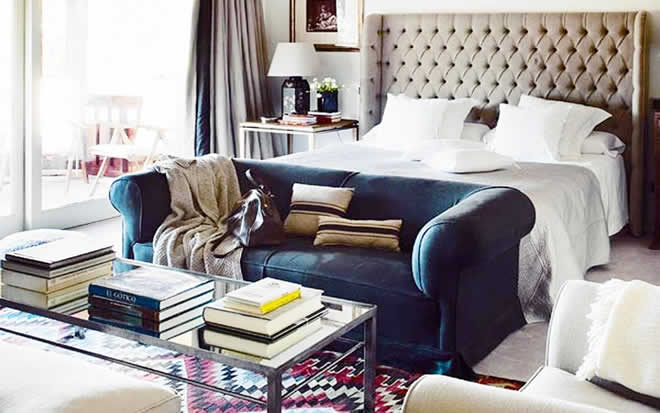 We're used to the logic of moving things around in the same room and it doesn't naturally occur to move things from room to room. Doing so provides a fresh way of rearranging furniture and layouts. Also many things might look better in a new space or might serve a better function. When there's no time or budget to go shopping, this is the fastest solution to freshen up every room in your house.
10. Keep white towels in the bathroom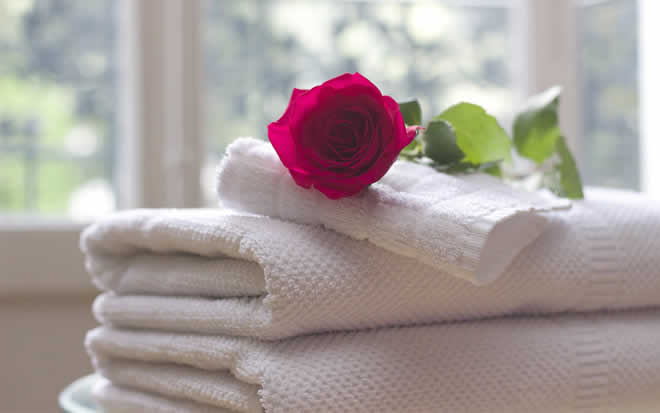 This is a personal choice, but the white color in towels gives the idea of freshness and cleanliness (they have to be actually clean though). Additionally, having more than one towel in the bathroom is great, because it adds to the idea of effortless hospitality and curated details.
11. Always have books on the coffee table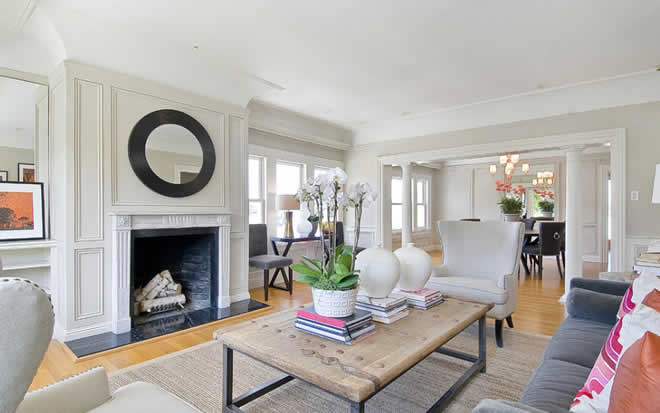 Books instantly add style and make for great entertainment moments with guests. Make sure to include what you love most and a couple of different genres, so everyone is pleased. You can have only books stacked in low piles or a mix of magazines, photo books and table books. This is a perfect setting to apply the rule of three and mix books with decorative elements and small objects.
12. Serve water in a pitcher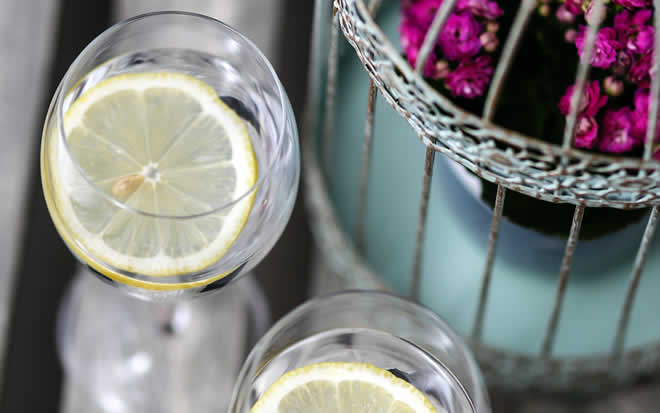 Whether you drink water out of the tap, refrigerated or bottled, keeping it in a pitcher allows for easy access for also looks fancier. There's nothing cooler than taking out a pitcher during meals with family or when guests are around. You can also add slices of cucumber or lemon to the water for a ridiculously quick, but super fancy touch. Add a pitcher to your bedroom nightstands as well, to make hydration easier and give your bedroom extra style points.
13. Paint mismatch pieces the same color and finish
If there's a lot of mismatch pieces of furniture around your home that don't stay well together because of their different style, finish or color; consider painting or even spray painting a few in the same color and finish to bring some unity to the space. Choose a couple of pieces that are scattered across the room and not too close to each other. There's no need to go overboard, as even a small dose can help bring unity.
14. Keep placemats on the table even when you're not eating
This might sound counter-intuitive, but it actually gives the illusion of tidiness at home and order in the family (especially if you have kids). Placemats are also a great way to add color and pattern in small doses, if that's your style. They can be inexpensive store-bought ones in plastic, rubber or paper. You can also make your own by cutting fabric or repurposing old sheets.
15. Display a bunch of the same element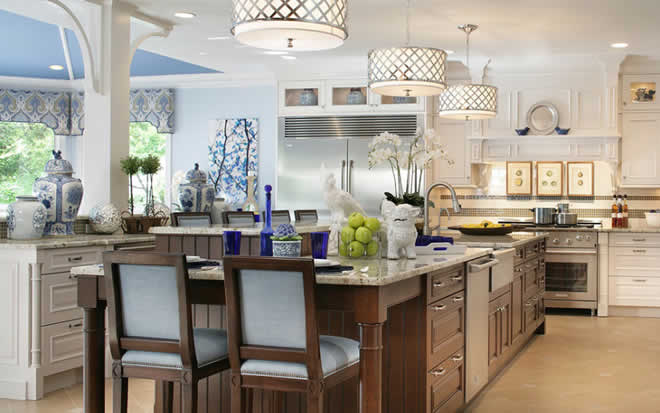 Choose one kind of produce you have in bulk at the moment. Fruit works best and the brighter the color the better. But you can also use some kind of vegetable or simple elements found in nature, such as stones or wood pieces. Place a bunch of them in a big vase or bowl and display somewhere visible (like the kitchen countertop or a shelf), but not too central, unless you are using it as a table centerpiece. The aim is to make a big visual impact by having the same element in bulk, so better keep it simple with the shape and material, going for a glass vase or porcelain bowl.